You are here
UNRWA an 'indispensable' symbol of hope — Safadi
Jordan, Sweden co-chair ministerial meeting to show support for UNRWA in New York
By JT - Sep 22,2023 - Last updated at Sep 22,2023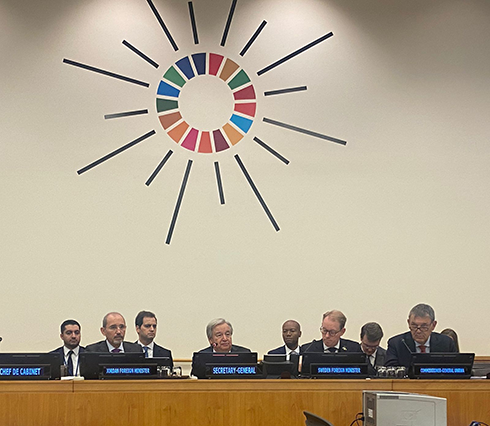 UN Secretary-General Antonio Guterres, UNRWA Commissioner-General Philippe Lazzarini, Foreign Minister Ayman Safadi and Swedish Foreign Minister Tobias Billström during a ministerial meeting to show support for UNRWA in New York on Thursday (Petra photo)
AMMAN — On the sidelines of the 78th session of the United Nations General Assembly in New York, Deputy Prime Minister and Foreign Minister Ayman Safadi and Swedish Foreign Minister Tobias Billström on Thursday co-chaired a ministerial meeting to show support for the United Nations Relief and Works Agency for Palestine Refugees in the Near East (UNRWA).
The meeting, which was attended by UN Secretary-General Antonio Guterres and UNRWA Commissioner-General Philippe Lazzarini, underscored the importance of garnering international support for UNRWA to ensure the agency's operations providing essential services to more than 5.9 million Palestine refugees in its five areas of operation, according to the Jordan News Agency, Petra.
Addressing the gathering, Safadi underscored the UNRWA's central role in providing vital services to Palestine refugees, and stressed the "indispensable" nature of the agency and its services.
He stressed the need for increased efforts to support UNRWA, highlighting the agency's role in providing food for families facing hunger, healthcare services for millions who would otherwise suffer from pain and disease, and access to education for hundreds of thousands of boys and girls who would be denied their right to education without UNRWA's support.
Safadi also stressed that UNRWA is a symbol of hope amid the growing despair caused by the unresolved Israeli-Palestinian conflict and the injustices suffered by refugees.
He stressed that UNRWA is in greater need of support now than ever before, and that sustained, transparent and long-term funding is necessary to ensure the continued provision of essential services to refugees.
Safadi expressed the hope that the meeting would result in the necessary funding to address UNRWA's budget deficit for the current year and to put in place mechanisms to prevent the agency from operating on a month-to-month basis.
"We cannot afford to let UNRWA down, as this would mean letting down millions of Palestinian refugees who depend on it, and pushing them further into poverty and despair," he said.
Safadi, during the meeting that featured the participation of 26 foreign ministers and representatives from various countries and international organisations, thanked Sweden for its unceasing support to the agency, as well as its partnership in organising conferences that have been instrumental in garnering support for UNRWA.
Jordan, in cooperation with international and regional partners, is making concerted efforts to mobilise the necessary support to UNRWA and to provide the financial resources required to bridge the budget gap.
Jordan and Sweden are working to mobilise political and financial support for UNRWA, organising international conferences and meetings since 2018, which have a crucial role in securing support for the agency and reducing its budget deficit.
Related Articles
Jul 06,2021
AMMAN — In a trilateral meeting in Madrid on Monday, Deputy Prime Minister and Foreign Minister Ayman Safadi, Swedish counterpart Ann Linde
Apr 22,2020
AMMAN — At the invitation of Minister of Foreign Affairs Ayman Safadi and Swedish Minister of Foreign Affairs Ann Linde, global ministerscon
Nov 04,2019
AMMAN — UNRWA employees ended a strike they started on Sunday following an agreement reached with the UN agency's management, mediated by th