You are here
Winners of 2nd edition of Abdul Hameed Shoman Foundation's Innovation Award honoured
By Maria Weldali - Aug 05,2021 - Last updated at Aug 05,2021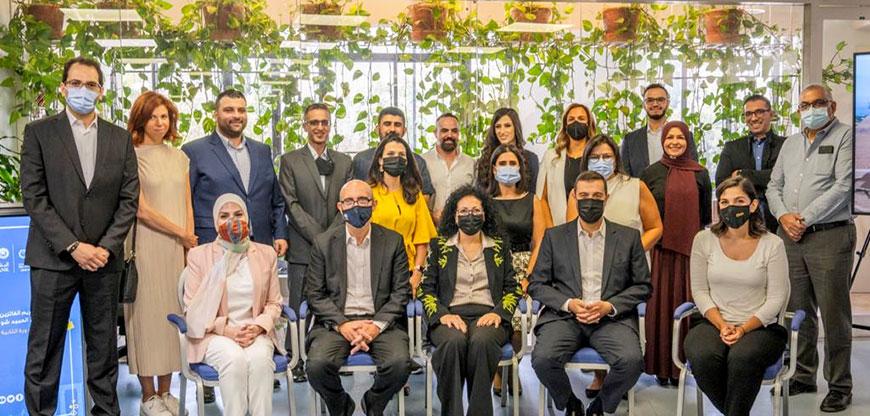 Winners of the second edition of the Abdul Hameed Shoman Foundation (AHSF) Innovation Award pose for a group photo with the AHSF team and evaluation committee members (Photo courtesy of AHSF)
AMMAN — Celebrating a year of "true will and determined efforts", the Abdul Hameed Shoman Foundation (AHSF) on Thursday honoured the winners of the second edition of the Innovation Award (AHSF-IA) in response to COVID-19.
"The foundation pays a great deal of attention to innovation because it is regarded as a cornerstone for the development of all societies, in addition to its role to ensure environmental sustainability and keep pace with the continuous evolution," said AHSF's CEO Valentina Kassisieh in her opening remarks.
Kassisieh also pointed out that AHSF-IA promotes an environment where innovators and entrepreneurs can find the support necessary for developing practical and noteworthy innovations.
Kassisieh added that when AHSF-IA was first launched in 2018, they announced eight winners in five different fields. The second edition was slightly different given the ongoing COVID-19 pandemic.
The award focused more on the projects with measurable social impacts, especially those that impact sectors heavily affected by the pandemic, she said.
The second edition of the award covered six fields, including healthcare and biomedical technology, labour market and economic productivity solutions, educational solutions, culture and art, agriculture, as well as green technology and environmental sustainability.
Resident representative of the Netherlands Institute for Multiparty Democracy (NIMD) Rami Adwan, who was a member of the evaluation committee, noted that the "innovative projects are of utmost importance to create non-traditional employment opportunities".
The objective of the second edition of AHSF-IA is to support ideation, concept validation and enable the growth of Jordanian innovations with significant social impacts, the AHSF website said.
During the award ceremony, held at AHSF's headquarters, agreements were signed to support the development of the nine winning projects.
The winning projects include: Adam Wa Mishmish, an educational cartoon created for children to learn about and love the Arabic language; KG Arabic, a programme that builds on the child's oral and listening skills and facilitates the development of core literacy competencies and; Hello World Kids, which aims to inspire and teach children how to programme computer and mobile applications at a young age.
Other award winners included Carers, an online family care platform; Konn, a company specialised in advanced building technologies; Palm Protect, which develops devices for the early detection of palm tree pests; Arabic Music Library, a digital platform for teaching Arabic music; Smarty Plug, a startup that implements smart infrastructure solutions and; Pure Planet company that manufactures renewable energy devices.
Related Articles
Mar 23,2021
AMMAN — The Abdul Hameed Shoman Foundation (AHSF) on Wednesday announced the winners of its 2020 Innovation Award."This award gives way to u
Dec 13,2022
AMMAN — The Abdul Hameed Shoman Foundation (AHSF) on Sunday honoured the winners of the AHSF 2022 Arab Researchers Awards and the foundation
Feb 13,2021
AMMAN — The Abdul Hameed Shoman Foundation (AHSF) on Thursday announced the winners of the 17th session of the Creativity Award for Children