You are here
Fighting, air raids kill dozens in Yemen's Taez — Red Cross
By AFP - Aug 22,2015 - Last updated at Aug 22,2015
SANAA — Dozens of people, mostly civilians, have been killed in fighting and air strikes by a Saudi-led coalition in Yemen's rebel-held third city Taez, seen as the gateway to recapturing the capital.
Backed by the coalition, loyalists of exiled President Abed Rabbo Mansour Hadi have recently made sweeping advances against the Iran-backed Shiite rebels known as Houthis.
They retook the southern port and second city Aden last month, and have seized four additional southern provinces in their advance towards Taez, some 330 kilometres south of Sanaa.
But as combat raged in Taez, the loyalists were hit by a different foe in Aden. Al Qaeda fighters suspected of having entered the city several weeks ago were blamed for blowing up a building used by the secret police.
They were also said to have taken up positions in several strategic parts of the Tawahi district, where the bombing took place.
Rima Kamal, spokeswoman in Yemen for the International Committee of the Red Cross, said violence in Taez Friday had killed 80 people.
"My colleague was told that by noon yesterday, there were 50 killed; in the evening it went up to 80. These are figures we are receiving from various sides," she told AFP.
Doctors Without Borders said Friday that 65 civilians had been killed and several wounded in bombing runs in Taez's Salah neighbourhood.
The rebel-controlled Saba news agency said the raids had killed 63 civilians and wounded 50.
'Al Qaeda' blasts intelligence HQ
Taez has been the scene of fighting for months, but intensified in mid-August as the loyalists pushed north after consolidating gains in the south.
Kamal said Saturday that "civilians are suffering on multiple fronts. There was an overwhelming number of civilians killed yesterday."
She said shelling and clashes were ongoing, with residents saying fighting around a presidential palace in Taez had killed three civilians.
In Aden, a bomb destroyed the secret police headquarters early Saturday, residents said, in an attack one official blamed on Al Qaeda.
The four-storey building in Tawahi collapsed under the force of the blast, which was heard across the city.
The official said the attack, which caused no casualties, was carried out by Al Qaeda in the Arabian Peninsula.
He claimed AQAP militants had entered Aden just two weeks after it was retaken from the rebels on July 17.
"These elements have since [the start of] August destroyed or removed secret police files in Aden," the official said.
Security sources said they had also taken up positions at four buildings in Tawahi but had not set up checkpoints or begun patrolling.
These included a building belonging to the navy, another to the intelligence service, a presidential residence and the Gold Mohur Hotel.
Loyalist forces control the city's air and sea ports, as well as security headquarters, but their remit further afield is limited because so many police have fled Aden.
General Ali Nasser Al Akhsha, an aide to the interior minister, said the "extremists are beginning to appear in the open, but we are going to clear them out as quickly as possible".
AQAP, which the United States says is the global extremist network's most dangerous branch, has taken advantage of the chaos in Yemen to make territorial gains, overrunning the port of Mukalla, capital of the eastern Hadramawt province, in April.
Elsewhere, a Saudi Apache helicopter crashed, killing both pilots, in the Jazan region on the border with Yemen, the coalition said Saturday.
On Friday night, the Houthis said they had shot down an Apache in the same area.
up
25 users have voted, including you.
Related Articles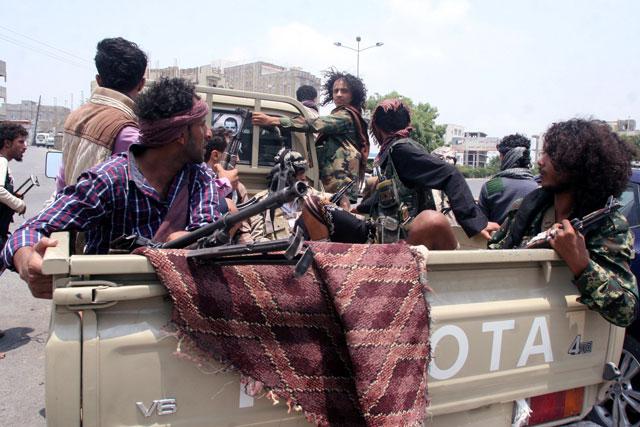 Aug 18,2016
ADEN — Yemen troops on Thursday launched a bid to break a rebel siege of third city Taez, with fierce fighting leaving five soldiers and 13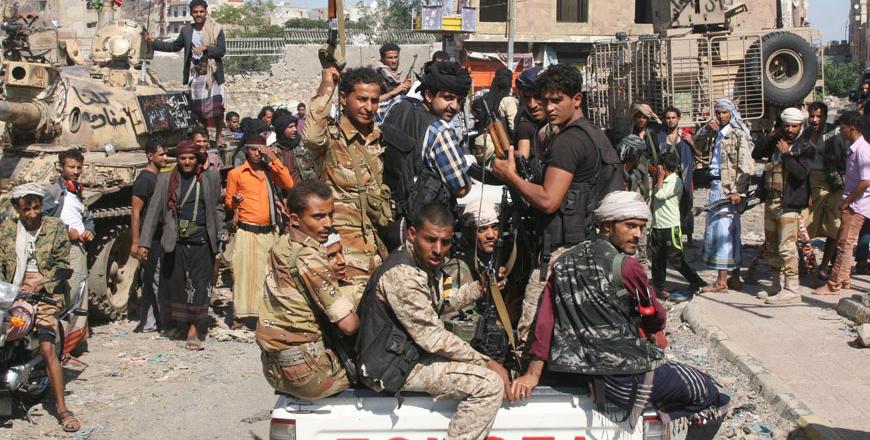 Nov 16,2015
ADEN — Yemeni loyalists and Saudi-led coalition forces launched an offensive Monday to retake the key battleground province of Taez from Ira
Aug 24,2015
SANAA — Iran-backed rebels in Yemen fired rockets into a residential district of Taez, killing 14 civilians, mostly women and children, offi
Newsletter
Get top stories and blog posts emailed to you each day.