You are here
HRW denounces eviction of Syrians in Lebanon
By AFP - Apr 21,2018 - Last updated at Apr 21,2018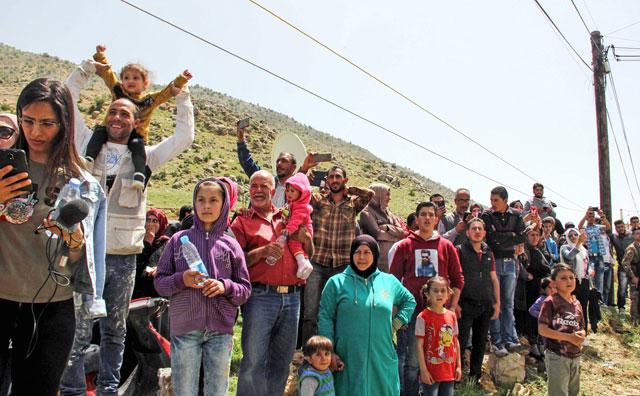 Syrian refugees wait to be evacuated from the southern Lebanese village of Shebaa on Wednesday, to return home to their village of Beit Jinn in the southwestern Damascus countryside (AFP photo)
BEIRUT, Lebanon — Human Rights Watch on Friday criticised Lebanese municipalities for what it called the unjustifiable expulsion of hundreds of Syrians from their homes since 2016, as sentiment against refugees simmers.
"At least 13 municipalities in Lebanon have forcibly evicted at least 3,664 Syrian refugees from their homes and expelled them from the municipalities, apparently because of their nationality or religion," from the start of 2016 through to the end of March this year, the New York-based rights group said.
Almost one million Syrians are registered as refugees in Lebanon, though many expect the real number is much higher.
The Mediterranean country's population stood at just four million before neighbouring Syria's civil war broke out in 2011, sending tens of thousands of Syrians fleeing across the border in search of safety.
Several politicians have blamed a flurry of social and economic woes in Lebanon on Syrian refugees, and calls for them to return have increased in the run-up to the country's first parliamentary elections in nearly a decade on May 6.
"Municipalities have no legitimate justification for forcibly evicting Syrian refugees if it amounts to nationality-based or religious discrimination," said Bill Frelick, refugee rights director at Human Rights Watch.
"Lebanese leaders should curb rhetoric that encourages or condones forced evictions, expulsions, and other discriminatory and harassing treatment of refugees in Lebanon," Frelick said.
Discrimination on religious basis
The evictions have caused refugees to lose income and property, and their children to miss school or drop out altogether, according to HRW, which spoke to 57 Syrians affected by the measures.
Some municipalities have claimed the evictions were based on housing regulation infractions such as tenants not registering their leases with them, HRW said.
But despite "widespread breaches by Lebanese citizens as well, the measures these municipalities have taken have been directed exclusively at Syrian nationals and not Lebanese citizens", it said.
HRW also pointed to discrimination on a religious basis, with most of the municipalities involved in forcibly evicting and expelling Syrian refugees predominantly populated by Christians.
All 57 interviewees who spoke to HRW identified as Muslim.
But, said HRW, "Lebanon's refugee-hosting fatigue has been exacerbated by a lack of international support" as well.
On Wednesday, around 500 Syrian refugees left southern Lebanon under an agreement between authorities in Beirut and Damascus to return them to their home country.
The UN refugee agency (UNHCR) said it was aware of the returns but was not involved in the agreement, "considering the prevailing humanitarian and security situation in Syria".
Lebanon's foreign ministry accused UNHCR of "scaring the displaced from any return at this stage because of what it sees as an unstable security situation".
It criticised the UN agency's "renewed determination to refuse any positive signs for a return... despite the security situation in many Syrian towns currently being stable".
The ministry said this had led it to "re-evaluate" and "question" the UN agency's work.
Syria's war has killed more than 350,000 people and displaced millions since starting in 2011 with the brutal repression of anti-government protests.
Related Articles
Apr 11,2017
BEIRUT —Around 3,000 Syrian refugees have left their tents in Lebanon's Bekaa Valley after oral eviction orders issued last month by the arm
Jan 14,2016
BEIRUT — After taking in a million Syrian refugees, Lebanon has quietly changed course in recent months, forcing refugees to return to Syria
Oct 02,2017
AMMAN — Jordan on Monday rejected as baseless claims by the Human Rights Watch (HRW) that the country has been "summarily deporting Syrian r
Newsletter
Get top stories and blog posts emailed to you each day.