You are here
Once accommodating neighbours now turn back Syrian refugees
By AP - Jan 14,2016 - Last updated at Jan 14,2016
BEIRUT — After taking in a million Syrian refugees, Lebanon has quietly changed course in recent months, forcing refugees to return to Syria — where they are at risk of persecution or death — or stay illegally, leaving them vulnerable to exploitation and abuse.
The situation is drawing attention at a time when Turkey and Jordan have also tightened their admission policies. A Human Rights Watch (HRW) report published Tuesday warned that Lebanon's new regulations have "set the stage for a potentially explosive situation".
Even as conditions in Syria deteriorate in a fifth year of war, Lebanon last week forcibly repatriated 407 Syrians who were stranded at Beirut's airport after Turkey tightened its visa restrictions with little notice. It was by far the largest such forced repatriation to date.
Amnesty International called the action "an outrageous breach of Lebanon's international obligations," which require that it not return vulnerable people to a conflict zone.
"Syrians have no value here. They've closed the door on us," said a 34-year-old refugee from Raqqa, the Daesh group's de facto capital in northeastern Syria, who is now living and working as a doorman in Beirut. He refused to be named for fear of expulsion.
Lebanon in 2015 reversed a longstanding open-door policy for Syrians that allowed them to enter the country and reside there relatively unencumbered. At a minimum, they must now pay $200 per adult for a permit that lasts between six and 12 months, obtained through an onerous bureaucratic process that accompanies each application.
Nadim Houry, deputy Middle East director for Human Rights Watch, said most of refugees have lost their legal status over the past year because of the new regulations.
"That's not just an abstract notion. If you don't have legal status, you basically cannot cross any checkpoints. So men cannot leave the house," said Houry.
Security checkpoints dot the country's Bekaa Valley and the north, where most Syrians are living.
"That means you have to send the kids to work, because they aren't usually stopped. It also means if a woman gets sexually harassed, she cannot complain to the police, because she will be arrested," Houry said.
The situation is similar in Jordan, which insists it has kept its borders open to Syrian refugees since the start of the conflict in 2011, but has increasingly tightened its admissions policy.
A remote stretch of desert between Syria and Jordan has been the only land access route for Syrian refugees since mid-2013. In recent months, growing numbers of refugees have amassed in an area near a berm, awaiting entry. Government Spokesman Mohammad Momani said earlier this week that about 16,000 refugees are gathered there. He said 50 to 100 are allowed in each day, with priority given to women, children, the elderly and the ill, adding that "security is the first priority."
The UN refugee agency, UNHCR, warned in December that conditions at the berm are deteriorating and that a majority of those waiting for admission, often for months, are women and children.
The UNHCR says Jordan hosts about 630,000 refugees. In recent months, thousands have left by plane to Turkey and from there to Europe, while others have gone back to Syria. The exodus was sparked, in part, by further cuts in assistance to refugees by cash-strapped aid agencies.
Turkey, which has over 2 million refugees, began last week implementing visa restrictions for Syrians entering the country as part of its efforts to stem the flow of migrants into Europe. That decision, which applies to Syrians arriving in Turkey by air or by sea from third countries, reversed a long-standing agreement that allowed visa-free entry to Syrians. It does not apply to Syrians crossing the border to flee the conflict.
Syrians in Lebanon must now rely on their precarious status as UN-registered refugees, or find a Lebanese citizen to sponsor them. HRW said obstacles on the UN route were increasingly pushing Syrians into the murky sponsorship trade, which Houry said was a "recipe for abuse".
Of the 40 refugees interviewed for the HRW report, only four have been able to renew their residency since January 2015.
Over a million Syrians are registered as refugees with the UNHCR in Lebanon — equivalent to one-quarter of the resident population — though the number has declined over the past year as families have returned to Syria or attempted a perilous escape to Turkey or Europe.
Over 90 per cent of the refugees are trapped in debt, and 70 per cent live below the poverty line, according to a recent UN study.
Anti-refugee sentiment has crept into the fragile Lebanese political order as the war in Syria drags on. In October 2014, months before the new residency regulations came into effect, the government voted to stop receiving refugees, and in January, it prohibited the UNHCR from registering any more.
The UN estimates around half of Syria's population has been displaced, perhaps the starkest indicator of the ruthlessness of the war.
Another Syrian refugee in Beirut, who identified himself by his nickname Abu Ali to remain anonymous to Lebanese authorities, said he came to Lebanon in 2012 and this year lost his residency because of the new regulations.
"I can't put my daughter in school because we are now illegally residing in the country," he said, speaking at the Beirut sandwich shop where he works.
Short of options in Lebanon, some families have pooled resources to send a husband or son to Turkey, where they can then set off for Europe, seeking asylum.
An official at Lebanon's general security bureau, in charge of immigration and border control, denied that the new restrictions are aimed at forcing Syrians to return.
"There was a lot of pressure at our border, and we had to organise our criteria for entry," said the official, who spoke on condition of anonymity in line with regulations.
"It is not to force people to leave."
Related Articles
Jan 13,2016
LONDON — Lebanon is effectively barring many Syrian refugees from renewing their residency permits, putting them at risk of exploitation and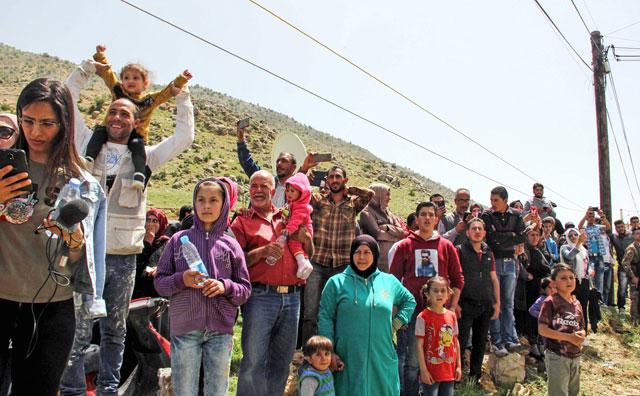 Apr 21,2018
BEIRUT, Lebanon — Human Rights Watch on Friday criticised Lebanese municipalities for what it called the unjustifiable expulsion of hundreds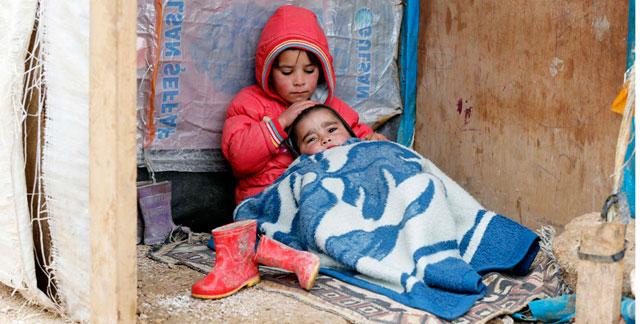 Jan 05,2015
Overwhelmed by a massive influx of desperate refugees, Lebanon began imposing unprecedented visa restrictions on Syrians on Monday, including those fleeing their country's civil war.
Newsletter
Get top stories and blog posts emailed to you each day.