You are here
Jolie visits Greece to highlight Mideast refugee plight
By Reuters - Mar 16,2016 - Last updated at Mar 16,2016
PIRAEUS, Greece — A day after visiting refugees in Lebanon's Bekaa Valley, UN special envoy Angelina Jolie travelled to Greece on Wednesday to highlight the plight of war-fleeing families stuck in the country.
Jolie visited the temporary offices of UN refugee agency UNHCR at the main port of Piraeus near Athens, which has become a makeshift camp for some 4,000 refugees and migrants sleeping in tents on the docks.
Scores of onlookers stood outside the agency's offices to see the Hollywood actress, clapping and cheering when she appeared.
Jolie greeted children and asked the throng of reporters, cameramen and photographers to be more "thoughtful" as she tried to speak with them.
"I'm here to learn and speak with you and the agencies and the government to learn what is happening, ok?," Jolie told one boy. "Try to stay strong."
According to a UNHCR press release, Jolie is visiting Greece "to reinforce efforts by UNHCR and the Greek government to step up the emergency response to the deteriorating humanitarian situation".
Tens of thousands of refugees and migrants are stuck in makeshift camps or reception centres in Greece, which has been struggling with the mass influx of migrants from the Middle East.
On Wednesday, German Chancellor Angela Merkel said the closing of the main migrant route through the Balkans had created a challenging situation for Greece that should concern all of Europe.
During her trip to Lebanon, the actress urged world powers to do more to end the Syrian conflict and help the millions who have fled the fighting.
Related Articles
Jun 20,2015
MARDIN, Turkey — After visiting a camp for Syrian refugees in southeastern Turkey on Saturday, actress Angelina Jolie said the world is livi
Oct 21,2018
PIRAEUS, Greece — Chinese shipping giant Cosco on Friday said it has ambitious plans for the Greek port of Piraeus, including boosting alrea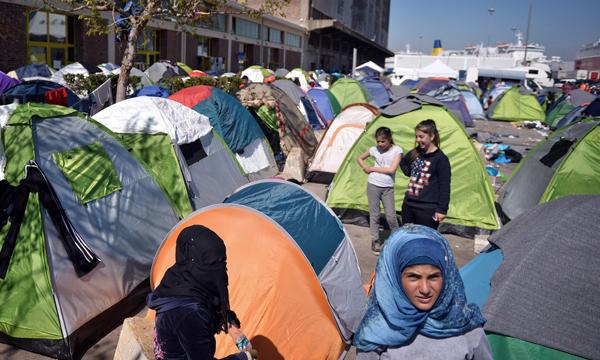 Mar 31,2016
ATHENS — Greek authorities on Thursday began bussing hundreds of migrants and refugees to accommodation in other parts of Greece from a port