You are here
Greece begins moving hundreds of refugees stranded at port to other towns
By Reuters - Mar 31,2016 - Last updated at Mar 31,2016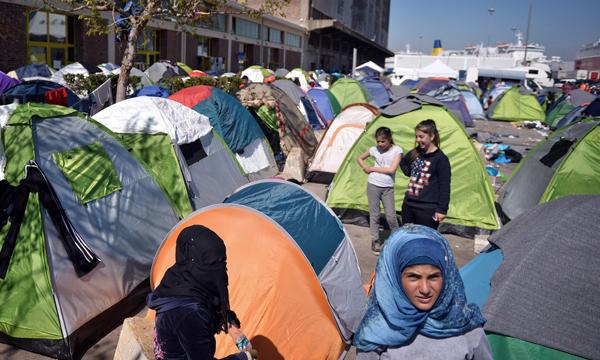 Girls stand among tents set up at the port of Piraeus, near Athens on Thursday (AFP photo)
ATHENS — Greek authorities on Thursday began bussing hundreds of migrants and refugees to accommodation in other parts of Greece from a port near Athens, where they have spent weeks sleeping in the open in filthy conditions.
Nearly 6,000 people, most from Syria, Iraq and Afghanistan, have been stuck at the port of Piraeus and tensions have increasingly flared over food and phone chargers. Piraeus is about 12km from central Athens.
The 6,000 people in Piraeus are among at least 51,000 refugees and migrants trapped in Greece after Balkan countries shut their borders last month, preventing them from moving on to wealthier northern Europe where they hope to start a new life.
By mid-morning, at least four buses had departed Piraeus for the port town of Kyllini in western Greece, some 280km from Athens, where they will be housed in a former tourist complex. Families gathered at the dock as more buses were expected to be deployed.
Other buses left for the cities of Ioannina and Larissa in northwestern and central Greece.
Ahmad Alakk, 23, an engineering student from Homs in Syria who has been stuck in Piraeus for 10 days, said police appeared only to allow Syrians to board the buses.
"They told us that here [in Piraeus] there are no services, no shower, nothing. [But we are] afraid to move to a place we don't know. We heard it's like a prison there, it's far away from everything," he said.
"But we understand that here it's a port. This place is for tourists, not us," he added.
Many tourists arriving in Athens head for the Greek islands from Piraeus.
'A decent place'
Under a deal the European Union reached with Turkey last month, migrants who arrive in Greece from Turkey after March 20 are held in camps and are subject to being sent back to Turkey once their asylum claims have been processed.
The people now being moved from Piraeus arrived in Greece before the March 20 cut-off date.
Many migrants have been reluctant to leave Piraeus for fear that they will end up much further from the border between Greece and the former Yugoslav Republic of Macedonia in case it reopens.
"I believe the first group to go to Kyllini will relay the message to the rest that it's a decent place, and we won't have a problem moving [more] people there," George Kyritsis, a government spokesman, told Greek TV.
Scuffles have broken out at the port, where people live in tents or on blankets in the open, with poor sanitation and little food.
Windows were smashed and eight people were injured in clashes between groups of Syrians and Afghans on Wednesday night, the government said.
Under the EU's deal with Ankara, for every Syrian sent back to Turkey from Greece, one Syrian will be resettled directly to Europe from Turkey.
The returns are set to begin on April 4 but neither side is fully ready, with officials scrambling to be able to make at least a symbolic start as new arrivals rise with the advent of warmer weather in the Aegean.
The Greek parliament is expected to vote on Friday on a bill to facilitate the implementation of the EU-Turkey deal.
Related Articles
Mar 16,2016
PIRAEUS, Greece — A day after visiting refugees in Lebanon's Bekaa Valley, UN special envoy Angelina Jolie travelled to Greece on Wednesday
Mar 21,2016
LESBOS, Greece — Greece appealed to EU partners on Monday for logistical help to implement a deal with Turkey meant to stem an influx of mig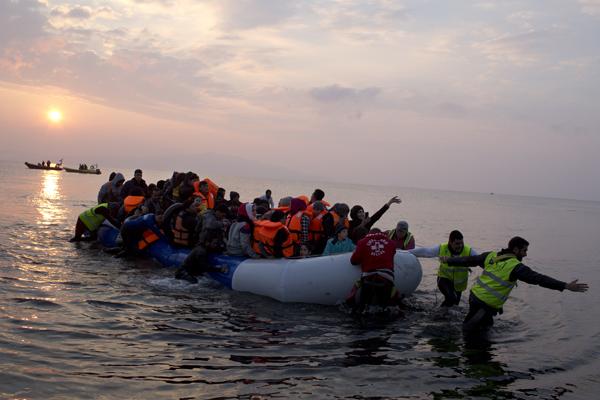 Mar 20,2016
LESBOS, Greece — Flimsy boats packed with migrants continued to land in Greece from Turkey on Sunday despite the start of a landmark deal be
Newsletter
Get top stories and blog posts emailed to you each day.