You are here
More than 80 killed in heavy fighting for key Yemen city
By AFP - Aug 17,2015 - Last updated at Aug 17,2015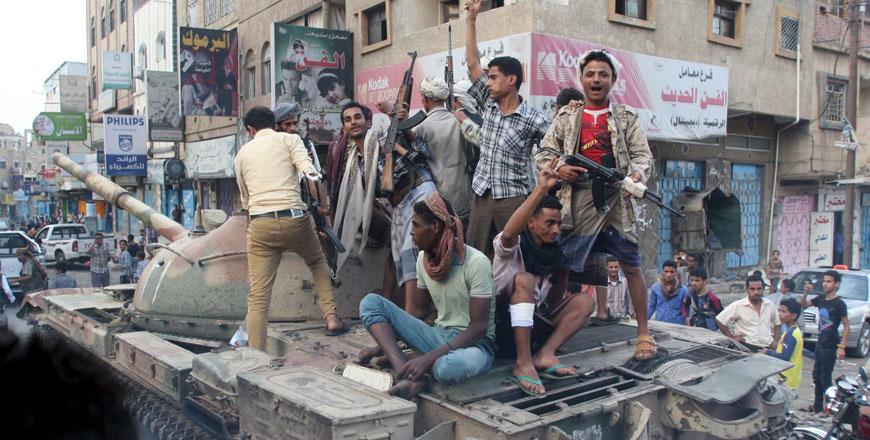 Militants loyal to Yemen's exiled government ride atop a tank they seized from Houthi militiamen in the country's central city of Taiz on Monday (Reuters photo)
ADEN — Heavy fighting between government loyalists and rebels for control of Yemen's third city Taez has killed more than 80 people in the past 24 hours, military sources said on Monday.
Pro-government and rebel forces have for months fought over Taez, seen as crucial gateway to the rebel-held capital Sanaa.
But clashes in the city have intensified in recent days after pro-government forces made sweeping territorial gains against the Iran-backed rebels in southern Yemen.
Sources in the city told AFP that the bodies of 50 rebels and allied fighters were recovered from Taez Monday and that 31 pro-government fighters had been killed.
Backed by air strikes from a Saudi-led coalition, the loyalists have been pushing hard to take Taez, seizing several strategic locations on Sunday.
Coalition strikes continued to hit rebel positions in the city on Monday, witnesses said, as well as in other Yemeni provinces.
The battle for Taez is expected to be difficult for the loyalists, analysts say, with recent victories by pro-government forces in Yemen's south likely the result of rebels pulling their forces back to the city.
Yemen has been wracked by conflict since March, when the Saudi-led coalition launched air strikes against the rebels as they advanced on the main southern city of Aden, after seizing the capital in September.
Forces loyal to President Abed Rabbo Mansour Hadi, in exile in Saudi Arabia, have in recent weeks retaken Aden and several southern provinces.
On Sunday the loyalists seized sites including the local intelligence headquarters, a fortress from which the rebels had been shelling Taez and the highest peak overlooking the city, according to Rashad Al Sharaabi, spokesman of the pro-government militia there.
Military sources in Taez reported fierce fighting using heavy weaponry around the rebel-held presidential palace and the city's airport.
The sources said that loyalists were advancing in the north and east but rebels still controlled entrances to Taez, including its eastern gate to Sanaa.
Heavy fighting also took place in a town on the northern gate of Taez, witnesses said.
The town is a stronghold for troops loyal to former president Ali Abdullah Saleh — a key backer of the Shiite Houthi rebels.
Other clashes also raged in the oil-rich eastern province of Marib as well as Baida in central Yemen, residents reported.
Saudi border guards killed
Military sources say the coalition has provided Hadi's supporters with modern heavy equipment, including tanks and armoured personnel carriers, and Yemeni soldiers trained in Saudi Arabia.
Sources also reported earlier this month that hundreds of Gulf Arab troops from the coalition had entered Aden to assist the loyalists.
The rebels, originally from Yemen's remote north on the Saudi frontier, have retaliated against the kingdom with cross-border attacks.
Two Saudi border guards were killed in an attack from Yemen by the rebels on Sunday, Saudi Arabia's official SPA news agency and a rebel-run news site said.
This brought the number of people killed in shelling and skirmishes on the kingdom's side along the frontier with Yemen to more than 50 since the coalition campaign began on March 26.
Most of the casualties have been soldiers.
In Yemen, the conflict has cost nearly 4,300 lives since March, half of them civilians, according to UN figures, while 80 per cent of the country's 21 million people have been left in need of aid and protection.
On Monday, Yemeni authorities had to evacuate more than 140 wounded fighters from the government-run "May 22" hospital in Aden after an electricity generator exploded, sparking a fire that spread to a nearby Red Cross hospital, the city's health chief Al Khader Laswar said.
Authorities have been struggling to restore order to Aden, which was left devastated by heavy fighting.
Aden's central bank governor Khalid Zakaria said Monday that it was operating again for the first time in months and that long-frozen payments of state employees' salaries would resume.
He told reporters that during the fighting in the city the rebels had blown up one of the bank's coffers and "confiscated" funds equal to some $600,000 (540,000 euros).
up
27 users have voted, including you.
Related Articles
Aug 24,2015
SANAA — Iran-backed rebels in Yemen fired rockets into a residential district of Taez, killing 14 civilians, mostly women and children, offi
Apr 15,2015
Saudi-led coalition air strikes hit rebel targets in and around Yemen's main southern city of Aden on Wednesday as clashes with forces allied with fugitive President Abed Rabbo Mansour Hadi intensified.
Oct 25,2015
ADEN — Heavy clashes and air strikes in Yemen's third city Taez left at least 36 fighters dead on Sunday, army sources said, as aid workers
Newsletter
Get top stories and blog posts emailed to you each day.