You are here
Shiite militia seizez airport in key Yemen city
By AFP - Mar 22,2015 - Last updated at Mar 22,2015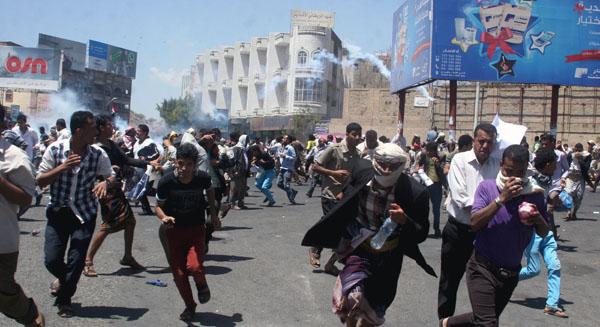 ADEN — Shiite militia in Yemen seized the airport in a key central city Sunday as deteriorating security prompted Washington to evacuate personnel and the UN Security Council to call an emergency session.
The Security Council was to meet later Sunday after President Abed Rabbo Mansour Hadi called for "urgent intervention" amid mounting unrest, including suicide bombings claimed by the Deash terror group that killed 142 people in the capital Sanaa on Friday.
Impoverished but strategic Yemen has descended into chaos in recent months, with the Shiite militia, known as Houthis, seizing control of Sanaa and forcing Hadi to flee to the main southern city of Aden.
The Arabian Peninsula country is increasingly divided between a north controlled by the Houthis, who are allegedly backed by Iran, and a south dominated by Hadi's allies.
On Sunday the Houthis and their allies seized the airport in Taez, which is just 180 kilometres north of Aden on the road to Sanaa and seen as a strategic entry point to Hadi's refuge.
Security sources told AFP some 300 men, including Houthi fighters dressed in military uniforms and allied forces, had deployed at the airport and reinforcements were arriving from Sanaa by air and land.
The forces allied with the Houthis included members of the former central security force, a unit seen as loyal to ex-president Ali Abdullah Saleh.
Saleh was forced from power in early 2012 after a year-long popular uprising and has been accused of working with the Houthis to restore his influence.
Protester killed
Security sources said Houthi militiamen were also patrolling parts of Taez and had set up checkpoints in Raheda, some 80 kilometres south of the city on the road to Aden.
A military source said troops loyal to Hadi and southern paramilitary forces had meanwhile deployed in Lahj province north of Aden, in anticipation of a possible Houthi advance.
Houthi militiamen killed one protester in Taez when they opened fire to disperse thousands of people demanding that the rebels withdraw, activists said.
Elsewhere, six tribesmen were killed in Qania, in Marib province, in a clash with Houthis advancing towards the eastern province, a tribal source said. The source claimed that 30 militiamen were killed.
AFP could not verify the death tolls with an independent source.
Hadi, backed by Western and Gulf states as Yemen's legitimate ruler, has struggled to reassert his authority since escaping house arrest in Sanaa last month and fleeing to Aden.
In a letter to the Security Council, he said the Houthis and their allies "not only threaten peace in Yemen but regional and international peace and security".
He called for "urgent intervention by all available means to stop this aggression that is aimed at undermining the legitimate authority, the fragmentation of Yemen and its peace and stability".
Hadi has been trying to cement his power base in Aden which he declared the temporary capital after he retracted a resignation tendered under Houthi pressure.
Iranian influence
On Thursday, his forces overran the special forces base in Aden after its commander rejected Hadi's decision to remove him.
On Saturday he pledged to fight Iranian influence in Yemen, accusing the Houthis of importing Tehran's ideology.
Hadi said he would ensure that "the Yemeni republic flag will fly on the Marran mountain in [the Houthis' northern stronghold] Saada, instead of the Iranian flag."
Yemen is increasingly divided along sectarian lines, with the Shiite militia facing resistance from Sunni tribesmen and Al Qaeda in the Arabian Peninsula (AQAP), the powerful branch of the global jihadist network.
The Houthis were targeted on Friday by Daesh, which claimed responsibility for a series of devastating suicide bombings at mosques in Sanaa.
Yemen has long been a key US ally in the fight against Islamic extremism, allowing Washington to carry out drone strikes on AQAP on its territory.
But in statement on Saturday, Washington said it was evacuating its remaining personnel.
"Due to the deteriorating security situation in Yemen, the US government has temporarily relocated its remaining personnel out of Yemen," State Department spokesman Jeff Rathke said.
Washington would "continue to actively monitor terrorist threats emanating from Yemen and have capabilities postured in the area to address them", Rathke said.
up
23 users have voted, including you.
Related Articles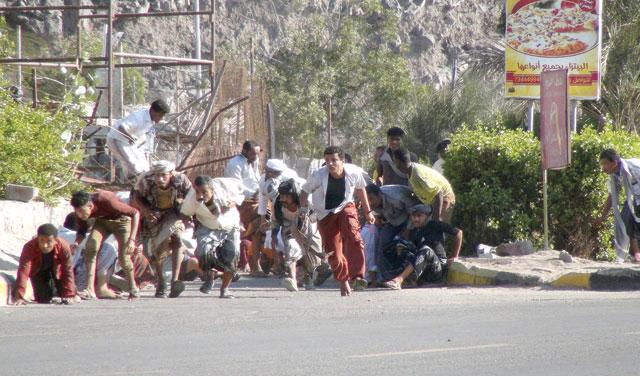 Mar 25,2015
Houthi militia forces in Yemen backed by allied army units seized an air base on Wednesday and appeared close to capturing the southern port of Aden from defenders loyal to President Abed Rabbo Mansour Hadi, residents said.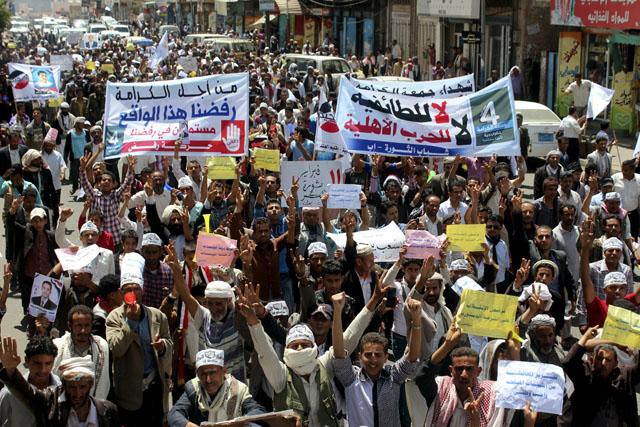 Mar 21,2015
Yemen's embattled President Abed Rabbo Mansour Hadi pledged Saturday to fight Iran's influence in his violence-wracked country, accusing the Shiite Houthi militia of importing Tehran's ideology.
Apr 04,2015
Shiite rebels freed more than 300 prisoners in the southern city of Dhale, Yemeni security officials said, as the rebels fought pitched battles with supporters of the country's beleaguered President Abed Rabbo Mansour Hadi in the southern port city of Aden.
Newsletter
Get top stories and blog posts emailed to you each day.