You are here
Yemen at brink of civil war
By AFP - Mar 21,2015 - Last updated at Mar 21,2015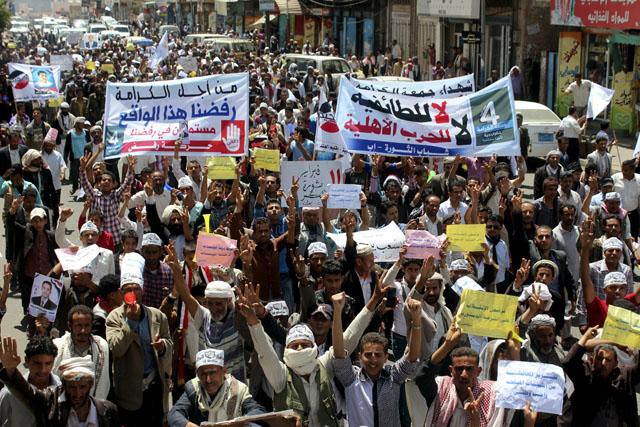 ADEN — Yemen's embattled President Abed Rabbo Mansour Hadi pledged Saturday to fight Iran's influence in his violence-wracked country, accusing the Shiite Houthi militia of importing Tehran's ideology.
Hadi lashed out at the Iran-backed militia a day after multiple suicide bombings at Houthi mosques claimed by the Daesh terror group killed 142 and wounded 351 others.
The country is on the brink of a civil war with a deepening political impasse and an increasingly explicit territorial division along sectarian lines, amid rising violence pitting Shiite militia against Sunni tribes and Al Qaeda militants.
By claiming its first attack in Yemen, Daesh is seeking to exploit the chaos gripping the country where its rival Al Qaeda traditionally has been the dominant militant organisation.
The Houthis, who seized Sanaa in September, vowed to take further "revolutionary steps" following Friday's blasts.
In his first televised speech since he fled to Aden from house arrest in militia-held Sanaa, Hadi said he would ensure that "the Yemeni republic flag will fly on the Marran mountain in [the northern Houthi stronghold] Saada, instead of the Iranian flag."
"The Iranian Twelver [Shiism] pattern that has been agreed upon between the Houthis and those who support them will not be accepted by Yemenis, whether Zaidi [Shiites] or Shafite [Sunnis]," he said.
The Houthis, who belong to the Zaidi sect, an offshoot of Shiite Islam, are believed to have converted to Twelver Shiism which is followed by Iran and insist that Tehran does not meddle in Yemeni affairs.
In a letter to relatives of the victims of the mosque bombings, which also wounded 351 people, Hadi condemned the attacks as "terrorist, criminal and cowardly".
"Such heinous attacks could only be done by the enemies of life," who want to drag Yemen into "chaos, violence and internal fighting", he said.
"Shiite extremism, represented by the armed Houthi militia, and Sunni extremism, represented by Al Qaeda, are two sides of the same coin, who do not wish good and stability for Yemen and its people."
'Tip of iceberg'
Hadi has declared Aden the temporary capital of Yemen.
Friday's bombings came a day after clashes between forces loyal to Hadi and those allied with the Houthis in the southern city.
There were signs that security forces allied with the Houthis and former president Ali Abdullah Saleh were planning to seize Taez — a strategic city between the capital and Aden.
Since taking over Sanaa the Houthis have tightened their grip on government institutions, aided by forces loyal to Saleh.
In their push to widen their control to the south, they have faced fierce resistance by Sunni tribes allied with Al Qaeda militants who are active in the impoverished country.
Al Qaeda swiftly distanced itself from the bombings, insisting it does not target mosques.
In an online statement claiming responsibility, the Sanaa branch of Daesh said the attacks were "just the tip of the iceberg".
'War on the revolution'
Mohammed Abdulsalam, the spokesman of the Houthi's Ansarullah Party, said the attacks were part of a "clear war against the Yemeni people and its popular revolution" — in reference to Sanaa's takeover.
He accused "Gulf-funded media" of providing political cover for Al Qaeda militants in the provinces of Baida and Marib.
"It is now imperative that we complete the revolutionary steps to protect the people and their revolution," he said in a statement.
The Houthi threat came as reinforcements from the Special Forces, accused of links to the Houthis and Saleh, were sent to Taez, 260km south of Sanaa.
Military sources said about 1,200 soldiers, backed by 22 armoured vehicles, had arrived in the base of the Special Forces in Taez.
Hundreds demonstrated Saturday outside the base, saying the Houthi fighters were among the troops and demanding their return to Sanaa.
Taez is only 180km north of Aden, and is seen as a strategic entry point to Hadi's refuge.
"The bombings in Sanaa will now be taken as an excuse to open new fronts by attacking Taez and Marib [in the east]," said Yemeni youth activist Bassem Hakimi.
The mosque blasts sparked an international outcry.
Saudi Arabia, a strong backer of Hadi, denounced the "terrorist attacks" and offered to transport victims to its hospitals for treatment.
Iran, which is accused of backing the Houthis, "strongly condemned" the bombings.
French Foreign Minister Laurent Fabius described the blasts as an "absolute catastrophe", adding that Yemen is "one of those countries where the crisis worsens by day".
Related Articles
Mar 03,2015
Yemeni President Abed Rabbo Mansour Hadi called Tuesday for troubled UN-brokered reconciliation talks to be moved to neighbouring Saudi Arabia if agreement cannot be reached on a venue inside Yemen.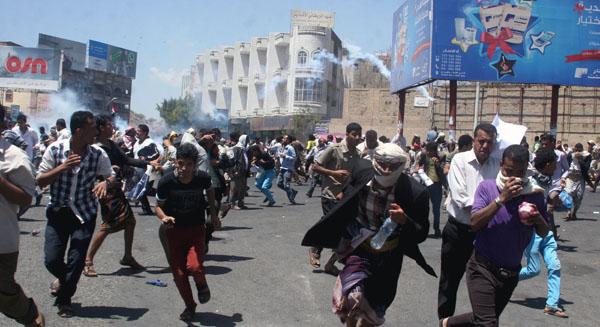 Mar 22,2015
Shiite militia in Yemen seized the airport in a key central city Sunday as deteriorating security prompted Washington to evacuate personnel and the UN Security Council to call an emergency session.
Feb 09,2015
The United Nations said all parties in Yemen have agreed to resume talks on Monday, three days after a Shiite militia took power in a move widely condemned as a "coup".
Newsletter
Get top stories and blog posts emailed to you each day.