You are here
'Syrian gov't plans to retake north Homs from rebels next'
By Reuters - Apr 24,2018 - Last updated at Apr 24,2018
This photo taken during a government guided tour shows smoke rising from buildings in Yarmouk, a Palestinian refugee camp on the edge of Damascus, during regime shelling targeting Daesh group positions in the southern district of the capital, on Tuesday (AFP photo)
DAMASCUS, Syria — The Syrian government plans to recover an opposition-held pocket north of Homs city soon after it completes surrender deals with armed groups around the capital Damascus, a Syrian government minister said on Tuesday.
Having taken back the largest rebel-held area near Damascus, Eastern Ghouta, in early April, the Syrian army and allied forces are close to recovering the remaining few pockets around the capital.
Pro-government forces are bombarding an extremist enclave in south Damascus where Daesh holds a pocket next to one held by rebel factions.
In recent days rebels in two other enclaves northeast of Damascus, Dumair and East Qalamoun, surrendered and agreed to be transferred by bus to opposition territory in northern Syria.
The Syrian army and its allies have for years employed siege and bombardment tactics to force rebels to surrender their enclaves and agree to be transferred to opposition territory in northern Syria.
Ali Haidar, the Syrian minister responsible for national reconciliation, told Reuters in an interview the government would focus on recovering an opposition-held pocket north of the city of Homs after securing the areas around Damascus.
"The issue will not be a long time coming after the final resolution in Qalamoun," Haidar said.
Haidar said the government had for a while been dropping leaflets and communicating with rebels in the opposition-held towns of Rastan, Talbiseh and Houla in northern Homs province.
"Today there is serious work in that area," he said.
"Armed groups wait to feel the seriousness and determination of the state's military action before they approach serious discussion of a reconciliation agreement."
Haidar said such reconciliation deals are also on offer to rebels in southern Syria, where a deescalation zone was agreed by the United States and Russia last year.
"The options are open: full reconciliation or military action where necessary."
But he indicated that retaking areas around Damascus and Homs — the last rebel areas entirely besieged by the government — were the immediate priorities.
On Friday, state media said insurgents had surrendered in the south Damascus enclave, which includes the Yarmouk Palestinian refugee camp, Hajar Al Aswad district and neighbouring areas. But pro-Syrian government forces were still bombarding the area by Tuesday.
Haidar said the militants had subsequently refused the deal and the military option was now being used.
On Tuesday, Syrian state media showed footage of smoke rising from the Hajar Al Aswad area south of Damascus and said the bombardment was targeting militant positions.
Related Articles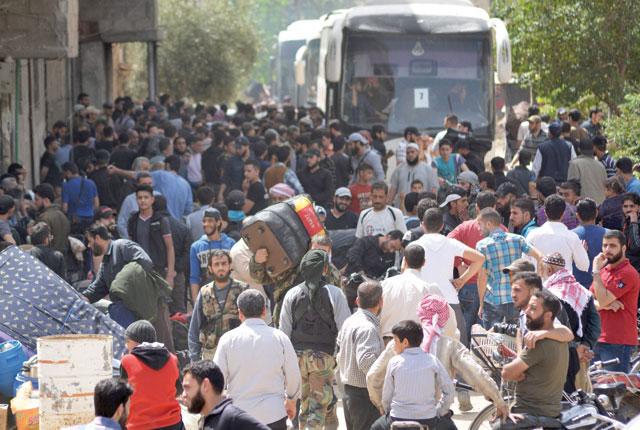 May 03,2018
BEIRUT, Lebanon — Syrian rebels began pulling out of an enclave they have surrendered in south Damascus on Thursday, but a few fighters in a
May 29,2017
DAMASCUS — More than 1,000 people quit a rebel-held district of Damascus on Monday, its governor said, in the final phase of a deal bringing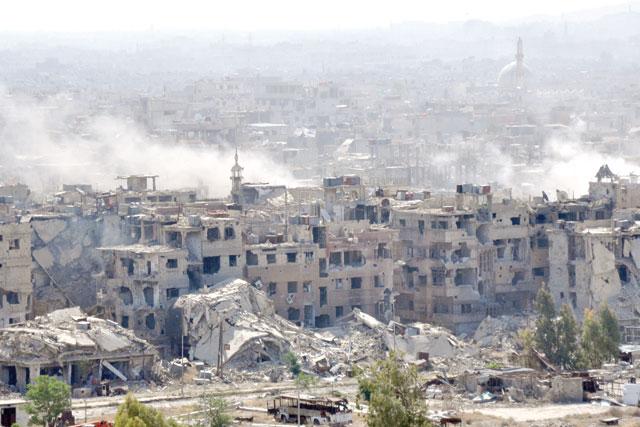 Apr 21,2018
BEIRUT/AMMAN — Syrian rebels began withdrawing from an enclave northeast of Damascus on Saturday and will go to northern Syria, state TV and