You are here
Tunisia makes first beach attack arrests as UK vows 'terrorists will not win'
By AFP - Jun 29,2015 - Last updated at Jun 29,2015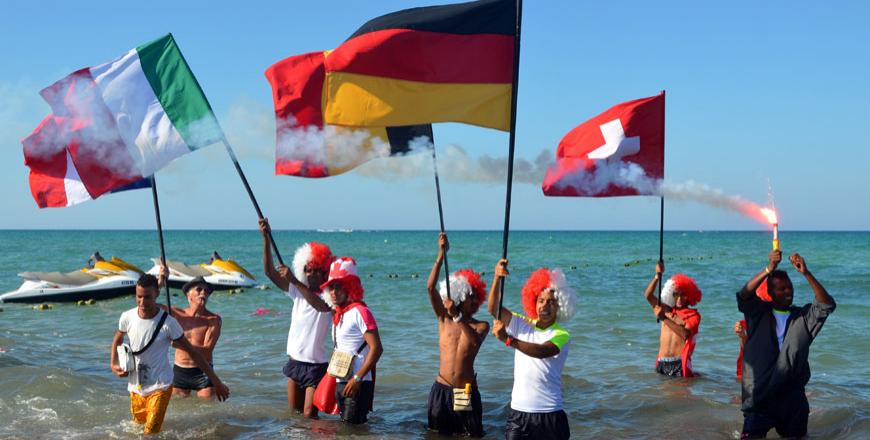 Tourists take part in a gathering in solidarity with Tunisia's tourism industry, on Monday, on the island of Djerba, following a deadly gun attack at a holiday resort near Sousse (AFP photo)
PORT EL KANTAOUI, Tunisia — Tunisia said Monday it had made its first arrests after a beach massacre that killed 38 people, as European officials paid tribute to victims of the country's worst jihadist attack.
British Home Secretary Theresa May, visiting the scene of Friday's gun attack at a holiday resort near Sousse, vowed that "the terrorists will not win" after London warned that Britain's death toll could rise to "around 30".
She and her Tunisian, German and French counterparts laid a wreath at the beach to honour the victims.
Pledging to "defeat those who undermine our freedom and democracy", May said there was no evidence to suggest the Britons were targeted because of their nationality.
The massacre, claimed by the Daesh terror group, was the deadliest for Britain since the 2005 London bombings.
Amid fears it could deal a devastating blow to Tunisia's vital tourism industry, Gharsalli said the authorities had arrested "a significant number of people from the network that was behind this terrorist criminal", referring to the gunman.
He warned that "anyone who provided any logistical or financial assistance" to the attacker, identified as 23-year-old student Seifeddine Rezgui, would be arrested.
"I promise the victims... that these criminal killers will be brought before Tunisian justice so they are justly punished," he added.
A spokesperson for British Prime Minister David Cameron said Britain had identified 18 of its nationals killed, but warned that the number may rise to "around 30".
Tunisia says 25 victims have been identified, among them three from Ireland, two Germans, one Belgian, one Portuguese and one Russian.
Another 39 people were wounded, including 25 Britons. Late Monday, a Royal Air Force Boeing C17 will fly the British wounded home.
The attack inflicted a terrible blow on Tunisia's tourism industry, already struggling after a March jihadist attack on the National Bardo Museum in Tunis that killed 22 people.
Some 4,000 tourists have been flown home to Britain since Friday, travel companies Thomson and First Choice said.
France's travel agencies union said 80 percent of flight and package holidays booked for Tunisia in July have been cancelled, with customers rushing to change destination.
Some tourists chose to stay in Port el Kantaoui, among them John and Lesley Edwards.
"It's a lovely place and people are great. We didn't want to leave, we feel pretty safe with the police and the army. There is more police now," John Edwards said.
"We feel sorry for the staff. We stayed mainly for them. Even if our family calls us every day to tell us to come back."
At the beach, Ted and Dawn from Suffolk laid down fresh flowers in memory of the dead.
"We did pack [to leave early] but we changed our minds," Dawn told AFP.
"I have been afraid to get out of the complex but one has to try... These things, you see them on TV, you hear about it, but you never think you'll live it."
Shocking new footage
Shocking new amateur footage from the attack has emerged on social media, showing the gunman walking calmly along the shore and bloodied bodies on the sand.
Intermittent gunfire can be heard in the 11-minute sequence recorded by a Tunisian man using his mobile phone who can be heard asking: "Why do you kill people? Why?"
Rezgui pulled a Kalashnikov assault rifle from inside a beach umbrella and opened fire on holidaymakers at the resort before being shot dead.
On Monday, handwritten messages could be seen next to the flowers on the beach, reading "We are sorry" and "We are Muslims, not terrorists".
Cameron vowed to mount a full investigation and called for "a response at home and abroad" to violent Islamic fundamentalism.
The attack prompted authorities to boost security at attractions and along its 1,000 kilometres of coastline.
Officials have said they will deploy 1,000 armed officers from July 1 to reinforce the tourism police who will also carry guns for the first time, and there are plans to close 80 mosques accused of inciting extremism.
Witnesses say Friday's attack lasted 30 to 40 minutes, raising questions as to why security forces did not intervene sooner.
However, the interior ministry said police arrived "seven to eight minutes" after the shooting began.
Tunisia has struggled to deal with a rise in extremism since the 2011 revolution that ousted longtime strongman Zine Al Abidine Ben Ali.
The latest attacks have inflicted severe damage on the vital tourism industry, which accounts for 7 per cent of Gross Domestic Product and almost 400,000 jobs.
Related Articles
Jul 05,2015
TUNIS — The Tunisian jihadist behind last month's massacre of foreigners at a seaside resort had previously worked in tourism, officials sai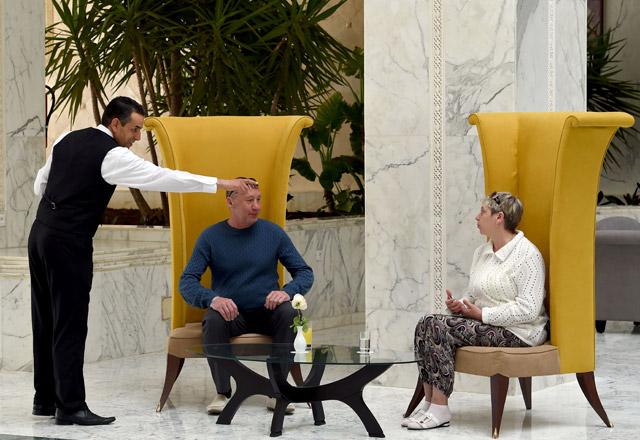 Apr 22,2017
PORT EL KANTAOUI, Tunisia — Some guests are in the jacuzzi as others top up their tans by the pool.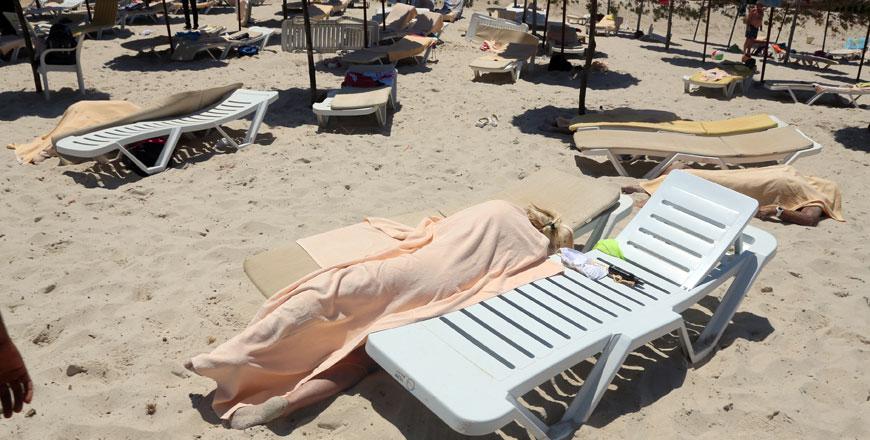 Jun 27,2015
Port el Kantaoui, Tunisia — Planeloads of shocked foreign tourists flew home from Tunisia Saturday after a beachside massacre claimed by the
Newsletter
Get top stories and blog posts emailed to you each day.