You are here
Shaken tourists flee Tunisia after seaside massacre
By AFP - Jun 27,2015 - Last updated at Jun 27,2015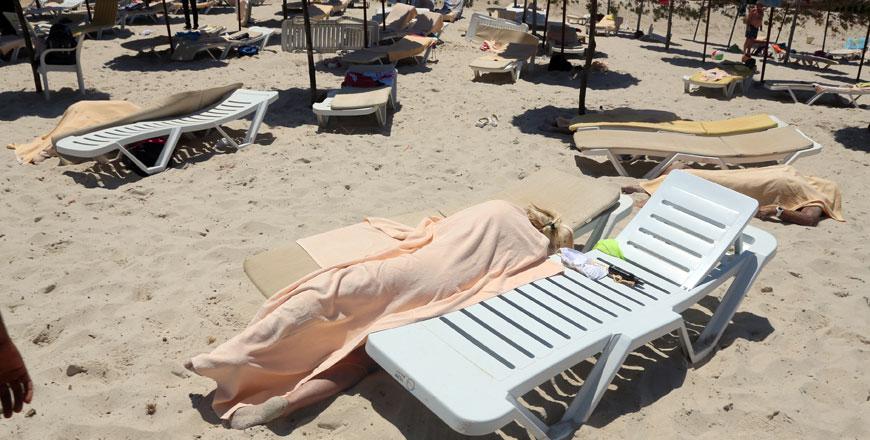 Bodies are covered on a Tunisian beach in Sousse on Friday (AP photo/Jawhara FM)
Port el Kantaoui, Tunisia — Planeloads of shocked foreign tourists flew home from Tunisia Saturday after a beachside massacre claimed by the Daesh terror group killed 38 people and prompted a major security clampdown.
The North African nation, which relies heavily on tourism revenues, announced plans to deploy troops at vulnerable sites and shut dozens of mosques accused of inciting extremism.
Britain said that at least 15 of its citizens were killed in Friday's gun assault in the popular resort of Port El Kantaoui and that the number "may well rise".
Tunisia's health ministry said it had identified the bodies of 17 people from Britain, Germany, Ireland, Belgium and Portugal, as it tried to establish the identities of victims mown down in their beachwear.
The assailant pulled a gun hidden inside a parasol and opened fire on tourists on the sand and by a pool, in the deadliest attack in Tunisia's recent history.
Prime Minister David Cameron warned that his country needed to prepare "for the fact that many of those killed in the attack were British".
He added: "These were innocent holidaymakers, relaxing and enjoying time with their friends and families."
The shooting followed a March attack claimed Daesal Bardo Museum that killed 21 foreign tourists and a policeman.
"It's very painful," said Alya, who lives in nearby Sousse. "The wounds were still healing from the Bardo attack, and now we've been dealt an even bigger blow."
Another 39 people including 25 Britons, seven Tunisians and three Belgians were wounded in the attack, the health ministry said.
Prime Minister Habib Essid said from next month armed guards would be deployed all along the coast and inside hotels.
Fears for future
But Tunisians who rely on tourism fear it will come too late.
"If I were in their shoes, I wouldn't set foot in Tunisia right now," said Imed Triki, a shopkeeper in Sousse.
"After this catastrophe, it's normal that they leave the country so quickly. Do they come here on holiday or to die?"
On Saturday, an armed plainclothes policeman guarded the beach where the carnage unfolded.
Tourists' personal belongings, abandoned in the panic, were still strewn across the sand.
The attack came on the same day that 26 people were killed at a Shiite mosque in Kuwait and a suspected Islamist attacked a factory in France.
Daesh claimed both the Kuwait bombing and the Tunisia attack, days ahead of the first anniversary of the group declaring its territory in Iraq and Syria a "caliphate".
Tunisian Secretary of State for Security Rafik Chelly told Mosaique FM the gunman was a student previously unknown to the authorities.
"He entered by the beach, dressed like someone who was going to swim, and he had a beach umbrella with his gun in it," Chelly said.
Lucky escape
Witnesses described scenes of panic after the shooting at the hotel on the outskirts of Sousse, about 140 kilometres south of Tunis.
"All I saw was a gun and an umbrella being dropped," British tourist Ellie Makin told ITV television.
"Then he started firing to the right-hand side of us. If he had fired to the left I don't know what would have happened, but we were very lucky."
One young Tunisian told police that the gunman fired only at tourists.
"The terrorist told us: 'Stay away, I didn't come for you'," he said.
"He did not fire at us — he fired at the tourists."
Pastry cook Slim Brahim told AFP that after mowing down tourists on the beach the gunman then turned on guests by the hotel pool.
"I saw someone fire on elderly tourists. They were killed," said Brahim, who works at the Riu Imperial Marhaba Hotel that was hit. "Then he threw a grenade by the pool."
As many questioned the ease with which the gunman entered the resort, hotel owner Zohra Driss told a news conference its guards were unarmed and unable to confront "someone with a Kalashnikov".
Tightened security
Essid said a raft of new anti-terrorism measures would take effect from July 1, including the deployment of reserve troops to reinforce security at "sensitive sites... and places that could be targets of terrorist attacks".
The government would also close 80 mosques suspected of fanning extremism, he added, echoing his predecessor's calls to shut down "illegal" mosques.
But tour operators scrambled to fly thousands of fearful holidaymakers home.
Overnight, 13 airliners took off from Enfidha airport north of Sousse.
Travel companies Thomson and First Choice said 10 Thomson Airways flights were repatriating about 2,500 Thomson and First Choice customers on Saturday
They said some of their clients had been caught up in the massacre.
Belgian airline Jetair also announced it was repatriating 2,000 people.
Tourism accounts for seven percent of Tunisia's GDP and almost 400,000 direct and indirect jobs.
Related Articles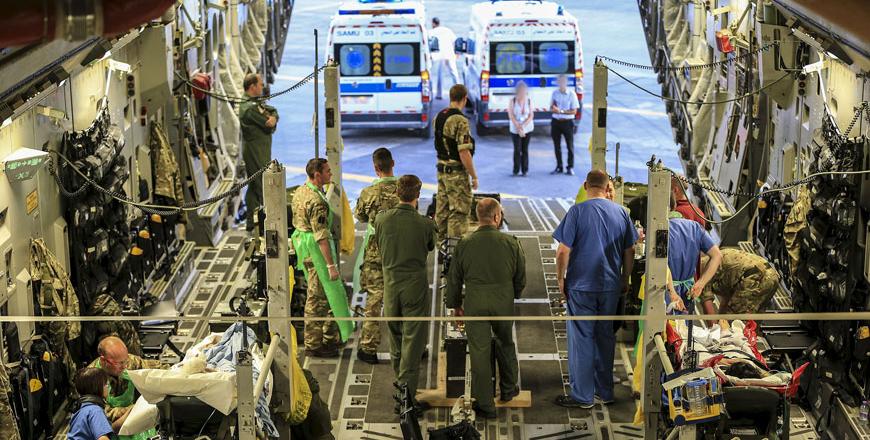 Jun 30,2015
TUNIS — The gunman who killed 38 tourists in Tunisia received weapons training from jihadists in Libya, a top official said Tuesday, as the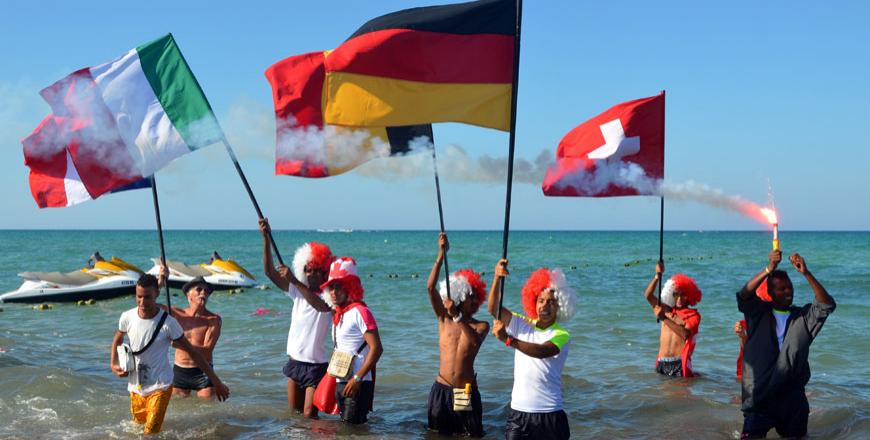 Jun 29,2015
PORT EL KANTAOUI, Tunisia — Tunisia said Monday it had made its first arrests after a beach massacre that killed 38 people, as European offi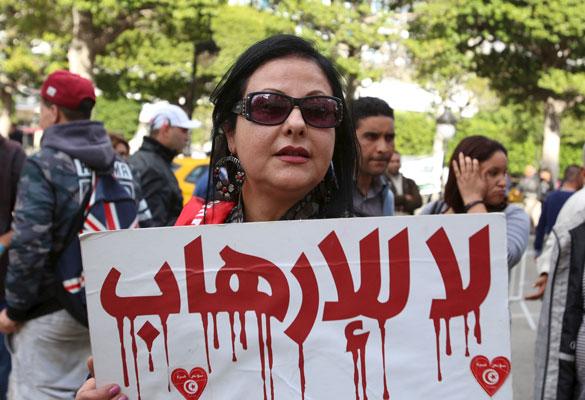 Nov 17,2015
TUNIS — Tunisia has arrested a cell of 17 militants and prevented a major assault on hotels and security forces in the resort town of Sousse
Newsletter
Get top stories and blog posts emailed to you each day.