You are here
Yemeni forces besiege rebel pocket near key strait
By AFP - Oct 06,2015 - Last updated at Oct 06,2015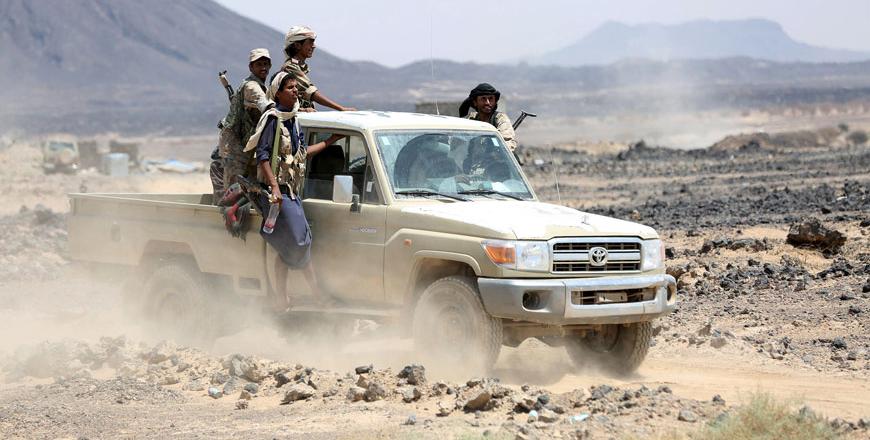 Tribal fighters loyal to Yemen's government ride a truck at the front line of fighting against Houthi militants in the central province of Marib on Monday (Reuters photo)
Aden — Yemeni forces on Monday besieged Shiite rebels who have retreated to a mountainous area near the strategic Bab Al Mandab Strait that loyalists recaptured last week, military sources said.
On Sunday, 20 Houthi rebels were killed and 40 captured when forces loyal to President Abed Rabbo Mansour Hadi attacked insurgents in Jebel Nasr near Bab Al Mandab, the same sources said.
Loyalists backed by the Saudi-led coalition retook control of Bab Al Mandab on Thursday.
The narrow waterway, which separates Yemen from Djibouti some 32 kilometres away, funnels shipping to and from the Suez Canal at the north end of the Red Sea.
Coalition forces have sent reinforcements, including 10 tanks, to support government troops in mopping up operations, witnesses said.
Prime Minister Khaled Bahah visited the area on Saturday, and warned the Houthis there was no room for more "adventures".
Hadi and his government returned to Aden last month following six months in exile, after loyalist forces regained control of the port city, its province and four other southern provinces from the rebels.
The rebels still control the capital Sanaa and northern provinces near the border with Saudi Arabia.
Meanwhile, pro-government forces fighting rebels in Marib, east of Sanaa, have advanced towards Sarwah, a rebel stronghold on the way to the capital, military and tribal sources told AFP.
Related Articles
Nov 08,2015
ADEN — Iran-backed rebels retook positions in southern Yemen in a bid to advance on second city Aden, military sources said Sunday as a land
Oct 01,2016
SANAA — Yemeni rebels claimed on Saturday that they hit a vessel operated by the Emirati military, which is part of a Saudi-led coalition fi
Sep 05,2016
ADEN — At least 26 fighters were killed in clashes on Monday between pro-government troops and rebels over control of an oil-rich region eas
Newsletter
Get top stories and blog posts emailed to you each day.