You are here
Roberto's Amman celebrates a year of culinary excellence, trademark hospitality
Jul 27,2023 - Last updated at Jul 27,2023
Roberto's Amman, The Ritz-Carlton, Amman's popular signature Italian venue, recently celebrated its one-year anniversary in the Kingdom. To commemorate this special occasion, two exclusive events were hosted over two nights at the venue. One took place at the vibrant lounge, while the other was held in the dining area. Both events attracted Amman's elite socialites, culinary connoisseurs, tastemakers and members of the media.
During the anniversary celebration, guests found themselves immersed in the breathtaking cityscape that surrounded them from their idyllic location atop the hotel's 20th floor. Roberto's Amman offered these guests a unique experience as part of these celebrations, taking them on a delectable culinary journey that highlighted the restaurant's inventive, expertly crafted Italian dishes, all served against a backdrop of captivating live music performances.
Commenting on the occasion, Tareq Derbas, General Manager of the Ritz-Carlton, Amman, said: "We are thrilled and privileged to celebrate Roberto Amman's one-year anniversary. With the launch of this multi-concept, award-winning venue at the Ritz-Carlton, Amman, the Italian fine dining scene in Jordan has been elevated. We would like to sincerely thank Roberto's exceptional team, whose unwavering dedication has been instrumental in the success we have achieved. We are also immensely grateful to our esteemed guests for their continued support which has been a driving force throughout this remarkable journey."
Since its grand opening a year ago, Roberto's Amman has attracted countless local and international guests with its signature Italian cuisine, panoramic views, enchanting ambiance and unparalleled service. Above all, the restaurant's carefully crafted menu, curated to offer touches of local character, has set it apart amongst the local culinary scene. Its unwavering commitment to excellence earned the restaurant the title of "Best Hotel Restaurant in Jordan" at the 2022 World Culinary Awards. Roberto's Amman continues to raise the bar across all aspects of its operations; most recently, the restaurant unveiled a new menu that adds deliciously innovative touches of local culinary character to elevated Italian fare.
Related Articles
Jul 31,2023
Since opening its doors one year ago, The Ritz-Carlton, Amman has become one of the premier hospitality and leisure destinations in Jordan's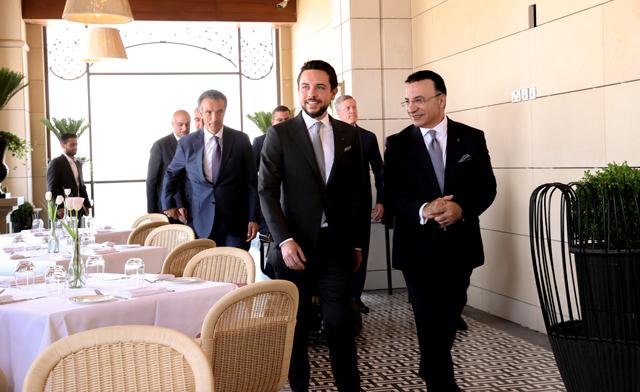 Jun 01,2022
AMMAN — Deputising for His Majesty King Abdullah, HRH Crown Prince Hussein on Tuesday inaugurated The Ritz-Carlton hotel in Amman, a project
Oct 08,2022
Excitement is building as World Travel Awards (WTA) prepares to host its Middle East Gala Ceremony 2022 at The Ritz-Carlton, Amman.