You are here
African economy expected to strengthen in 2015
By AFP - May 25,2015 - Last updated at May 25,2015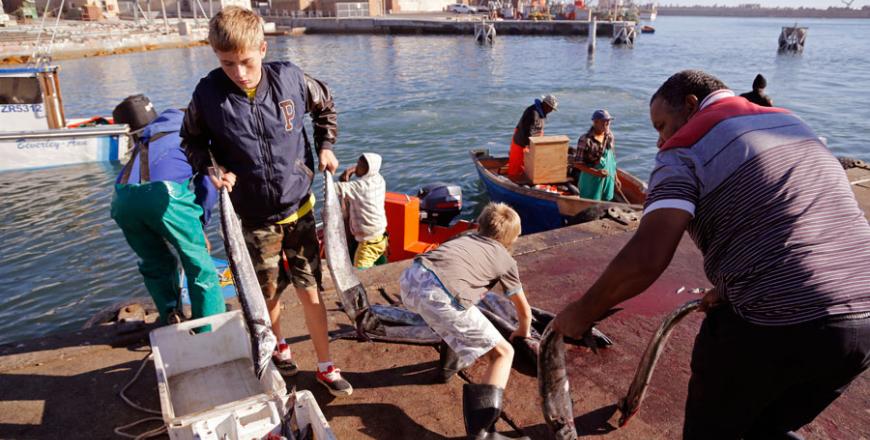 In this photo taken on Saturday, Snoek fish is loaded from a boat into plastic containers after it was sold to a merchants in Lambert's Bay, South Africa. The boats line up along the jetty, bobbing in the cold south Atlantic waters, bringing in the day's catch in the early afternoon. The long silver snoek fish is one of South Africa's traditional foods, and a main source of income for the town of Lambert's Bay (AP photo)
JOHANNESBURG — Africa's overall economy should advance in 2015, expanding by 4.5 per cent, showing resilience despite weak commodity prices and the devastating Ebola epidemic, according to an annual report published Monday.
And future growth could be spurred by the continent's population doubling to two billion over the next 35 years, repeating in Africa the economic boom seen in Asia's biggest countries.
"Africa's gross domestic product growth is expected to strengthen to 4.5 per cent in 2015 and 5 per cent in 2016 after subdued expansion in 2013 (of 3.5 per cent) and 2014 (3.9 per cent)," said the report, co-authored by the Organisation for Economic Cooperation and Development (OECD), the African Development Bank and the UN Development Programme (UNDP).
The continent has so far been "relatively resilient to the sharp fall in international commodity prices," added the report, such as crude prices which dropped more than 50 per cent between June and January.
And if the commodity prices remain low, the report warned that the economies of resource-rich countries, such as leading oil exporters Nigeria and Angola, may slow down as their governments will inevitably have to trim spending.
The latest forecast is a downward revision from projections made in 2014 which suggested Africa's economy was going to expand by 5.7 per cent this year.
At the same time, economists noted that Africa's increasing population could boost growth in much the same way that population booms fuelled development in China and India.
"This phenomenon may be helpful as was the case with India and China because the demographic dividends usually help growth," OECD Development Centre Director Mario Pezzini said.
But, if Africa fails to absorb the enormous youth bulge in the labour market, "then you may have very strong tensions", he added.
Jobs, Ebola
An estimated 23 million youths are expected to enter the African labour market this year alone, according to the report.
Of those, 4 million will be in North Africa, the region that dragged down the continent's growth rates last year, as a result of fall-out from the 2011 Arab Spring popular uprisings.
That region grew by just 1.7 per cent last year.
Southern Africa slowed to below 3 per cent in 2014 due to labour unrest in South Africa, the continent's most advanced economy which grew by just 1.5 per cent.
"In part, the lower rates of growth in Africa were related to the social crises in South Africa and we are expecting that [they] are reducing now and as such South Africa will have a rate of growth that's better than in the past," said Pezzini.
Despite being ravaged by deadly Ebola virus, the West African region faired relatively well, posting an average 6 per cent growth last year.
Oil-rich Nigeria, the continent's largest economy, which was not at the epicentre of the Ebola crisis, saw 6.3 per cent growth in 2014 fuelled mainly by non-oil sectors.
But the countries worst hit by Ebola, Liberia, Ghana and Sierra Leone, will be seriously affected and economic activity will remain subdued "notably in Sierra Leone where the economy is expected to contract", from a previous 10 per cent growth rate, the report said.
East Africa was the best performing region, accelerating more than 7 per cent last year, with Ethiopia being counted among the best. But that growth may slow down to 5.6 per cent this year partly due to unrest in oil-producing South Sudan.
The latest continental predictions in the OECD-led report are in line with the International Monetary Fund's projections of 4.5 per cent in 2015, but are slightly more optimistic than the World Bank's forecast of 4 per cent.
Separately, Services allowing consumers to perform banking and payment operations on their mobile phones are surging in sub-Saharan Africa, blazing a trail for the rest of the slower-moving world to follow.
Given that relatively few Africans have traditional bank accounts while most now own a mobile phone, it is of little wonder the region has taken the global lead in using the devices to pay bills, make purchases, manage their savings or get fast access to cash.
A report last year by Swedish telecom company Ericsson indicated that mobile subscriptions in sub-Saharan Africa were set to surpass 635 million by the end of 2014, a figure "predicted to rise to around 930 million by the end of 2019".
Data from the World Bank for 2014 also showed that while less than 29 per cent of people aged 15 and over in the region had a traditional bank account, around 10 per cent possessed an alternative accessible by mobile phone. That figure rose to over 50 per cent in countries like Gabon, Kenya and Sudan.
Overall, the World Bank found 16 per cent of sub-Saharan mobile users have used their phones for banking purposes, a figure larger than any other global region, and ripe for far wider use still.
In 2014 alone, about $67 billion in funds were transferred by African expatriates back to people on the continent. With fees charged by mobile banking companies for transactions generally lower than traditional intermediaries like Western Union, the growth potential for financial phone applications appears enormous.
For now, however, telecom operators in Africa largely limit mobile services to buying phone credits, paying water and electricity bills, or making money transfers and cash withdrawals, relatively basic but considerably handy services to local clients.
'Real social service'
"Paying an electricity bill in Africa takes a half a day because there are very few offices where that is possible. So there's a real social service in being able to settle bills from a distance," said Alban Luherne, director of Orange Money, the mobile banking unit of French operator Orange.
The Boston Consulting Group (BCG) estimates that further development of mobile payment applications could generate as much as $1.5 billion in sales by 2019, when it says the number of Africans possessing a mobile phone should increase by another 25 per cent.
"This segment is very new, with the numerous companies active in it mainly being start-ups positioning themselves," said BCG consultant Othman Omary, adding that "there still isn't an actor of reference".
The exception to that rule, Omary noted, is Kenya's M-Pesa service by British telecom giant Vodafone's subsidiary Safaricom, which has become a leading force in the sector.
But even there, he said, M-Pesa's success has been built mostly on a favourable regulatory and technological environment absent in other markets.
"There have been many difficulties, even failures in the sector, M-Pesa notwithstanding," said Georges Ferre, a consultant with the Roland Berger consultancy.
"For things to work, you need a country with supportive regulation and reversals in cultural attitudes that often view money as meaning cash," he indicated.
Omary said that as mobile banking models are developed in Africa, they'll need to take into account the very low income flows of their main client base.
That means prices charged for services must be limited to affordable levels to encourage widespread use.
"If processing costs are similar to those of a traditional bank, making a profit is going to be difficult," Omary added.
Because of that, said Orange Money's Luherne, return on investment must remain a relatively long-term concern, as consumers gradually embrace management and spending of their money in digital format.
"We initially launched this service to enhance customer loyalty, and that has proven extremely effective in doing so," he added.
But "over the years, we realised it was a source of revenue in its own right, and a new growth activity for the group", he continued, pointing out that Orange Money now generates 5 per cent of company income.
Orange Money is going even further, preparing credit offers via mobile phones in partnership with the pan-African Ecobank. It is also considering providing savings and insurance plans by mobile.
Omary indicated that large-scale migration to new mobile banking capacities may occur faster than some expect, with many people in Africa already used to alternative borrowing options like loans from relatives to obtain needed cash.
"Mobile phones could be an interesting alternative to that in terms of cost and security," he said.
Related Articles
Jan 23,2014
Sub-Saharan Africa is becoming increasingly attractive for foreign investors, even if a lack of infrastructure and other factors are holding back growth in the region, a Commerzbank study found Thursday.
Aug 21,2014
So while a western corner of Africa writhes in the deadly grip of the Ebola virus, there are signs this emergency may serve as a wake-up call to strengthen spending and investment on public healthcare in the world's least developed continent.
May 29,2014
Africa is "taking off" with strong, steady growth but poverty is unacceptably high so that governments need to build infrastructure and institutions and educate people to share the benefits more widely, the head of the International Monetary Fund (IMF) said on Thursday.
Newsletter
Get top stories and blog posts emailed to you each day.