You are here
Britain on verge of interest rate hike
By AFP - Aug 01,2018 - Last updated at Aug 01,2018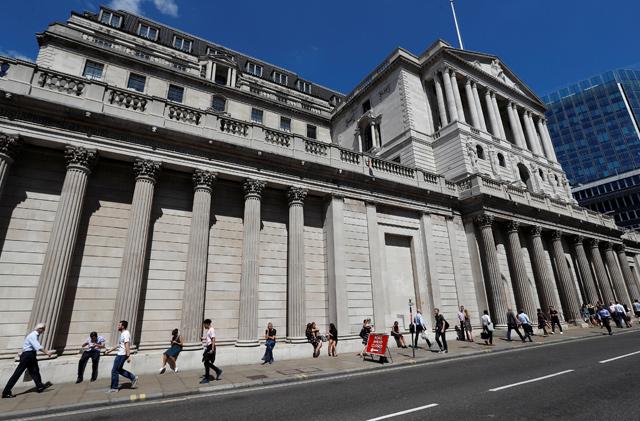 People walk past the Bank of England in London, Britain, on Wednesday (Reuters photo)
LONDON — The Bank of England (BoE) appears set on Thursday to hike interest rates to combat high inflation, as it eyes fallout from both Brexit and the global trade war, economists say.
Policymakers are widely expected to ramp up the British central bank's main interest rate by a quarter-point to 0.75 per cent — which would be the highest level in more than nine years.
The BoE's nine-strong monetary policy committee (MPC) will reveal the outcome of its August gathering at 11:00 GMT.
No change is anticipated in quantitative easing stimulus policy, which has been in place alongside ultra-low rates since the aftermath of the global financial crisis.
"The market is confident we are in for an August rate rise," said Laith Khalaf, senior analyst at stockbroker Hargreaves Lansdown.
Brexit-facing Britain was the only G-7 economy to experience a slowdown in 2017, the office for national statistics highlighted this week.
However, it also noted that growth has been more resilient than was initially expected after the Brexit referendum in 2016.
Ammunition against downturn?
"The bank would dearly love to normalise monetary policy, if only to give itself a bit of ammunition to ward off an economic slowdown," Khalaf added.
"Moreover, last time the MPC met, three members voted for a rate rise, which now means only two doves need to become hawks for policy to tighten."
Rising interest rates are a boon for savers but ramp up the cost of credit for consumers and companies.
In June, the MPC panel had voted 6-3 to keep the rate on hold at 0.50 per cent, as chief economist Andy Haldane joined those calling for a rise. The previous decision in May had been 7-2 in favour of no change.
Meanwhile, BoE Governor Mark Carney has warned that the global trade war, spearheaded by US President Donald Trump, is damaging the outlook.
Despite the gloom, most economists believe above-target inflation will persuade policymakers to hike, although weak manufacturing survey data has injected some caution.
The central bank will also unveil its latest quarterly economic forecasts on Thursday.
Britain's 12-month inflation rate has now held above the BoE's official 2 per cent target range since February 2017 — or for the last 17 months in a row.
"The new inflation forecast should reflect a high risk of a target-overshoot by 2020," said analyst Danielle Haralambous at the Economist Intelligence Unit.
"This, combined with a broader desire to normalise the policy stance to give some room for manoeuvre ahead of the next cyclical downturn, should convince a majority of MPC members to vote for a hike."
The BoE had implemented an emergency quarter-point rate cut to a record low 0.25 per cent in August 2016 on fears over the economic impact of the Brexit vote.
However, it then lifted borrowing costs back up to 0.50 per cent last November to help bring down inflation.
That was the first UK interest rate hike in more than a decade, since 2007.
'Symbolic moment'
"If the bank does increase rates, it will be a pretty symbolic moment — the first time since the financial crisis that rates have moved above 0.50 per cent," said Khalaf.
"It does not fundamentally alter the bigger picture though, which is that rates are set to remain low for some time, and if they rise will only do so slowly, such is the fragility of the UK economy."
The UK economy grew by 1.7 per cent in 2017, slowing somewhat after expansion of 1.8 per cent in 2016, official figures showed.
Separate survey data, meanwhile, showed that output from Britain's manufacturing sector grew at its weakest rate in nearly a year and a half in July.
Britain is due to withdraw from the European Union next March, but the process has been plagued by stalled trade talks with Brussels.
Newsletter
Get top stories and blog posts emailed to you each day.