You are here
Data show unabated activity in Jordan's real estate sector
By Petra - Nov 03,2014 - Last updated at Nov 03,2014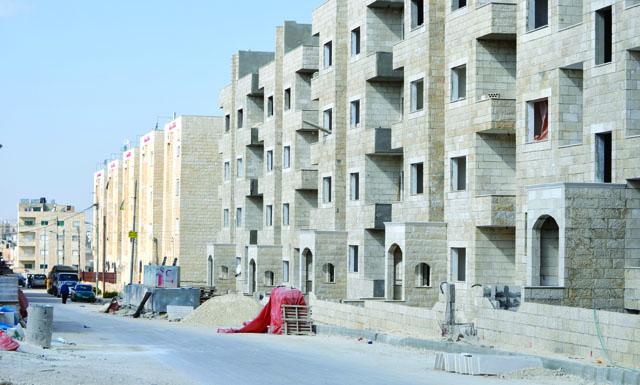 AMMAN — Real estate trading volume in the first ten months of 2014 went up by 21 per cent, the Department of Lands and Survey (DLS) said in its monthly report.
The DLS indicated that trading amounted to JD6.4 billion, compared to JD5.3 billion registered during January-October 2013. Revenues from real estate deals totalled JD352 million, 18 per cent higher than the amount collected during the same period of last year.
Apartment exemptions granted during the first ten months of this year came at JD68.5 million, bringing the total of revenues and exemptions to JD420.4 million, a 21 per cent increase.
The department's central and Amman branches accounted for 74 per cent of gross revenues with a total of JD260 million, while revenues in other governorates stood at JD91 million.
Non-Jordanian investors registered 4,263 buying transactions, 2,899 for apartments and 1,364 for lands, with an estimated value of JD398 million, marking an increase of 18 per cent compared with same period of last year.
Apartment transactions value reached JD256.4 million constituting 64 per cent of the total transactions, whereas land transactions registered JD141.6 million, representing 36 per cent.
In terms of nationality distribution, among non-Jordanians, Iraqis topped the list with a total of 1,829 real estates, followed by Saudis with 647, Kuwaitis with 399 and Syrians came fourth with buying 377 real estates.
Regarding real estate values, Iraqis also topped the list with JD227 million constituting 57 per cent of purchase values among non-Jordanians, during the same period of 2014.
Saudis came second with JD37.2 million comprising 9 per cent, followed by Syrians with JD24.2 million constituting 6 per cent, and UAE citizens came fourth with a total purchase value of JD16 million comprising 4 per cent.
The total transactions of selling real estates in the Kingdom during the first ten months of 2014 stood at 87,709 transactions with an increase of 6 per cent compared with the same period of 2013.
Amman registered 36,466 transactions marking a 42 per cent of the total transactions, with the other 51,243 transactions being distributed over the rest of governorates, constituting 58 per cent.
Amman's transactions included 20,645 for apartments and 15,821 for lands, whereas other governorates' transactions included 9,207 for apartments and 42,036 for lands.
Related Articles
Jan 05,2015
Real estate trading last year registered a record JD7.76 billion, 22 per cent higher than the amount  in 2013 when it stood at JD6.34 billion, the Department of Land and Survey (DLS) said on  Monday.
Mar 06,2016
AMMAN — Real estate trading in the Kingdom increased by 6 per cent during the first two months of 2016 to JD1.1 billion, compared to JD985 m
Jan 07,2018
AMMAN — Trade volume in the Kingdom's real estate market in 2017 reached JD6.062 billion, dropping by 14 per cent when compared to 2016's to
Newsletter
Get top stories and blog posts emailed to you each day.