You are here
EU slams France, Italy, Portugal for spending 'imbalances'
By Agencies - Mar 09,2016 - Last updated at Mar 09,2016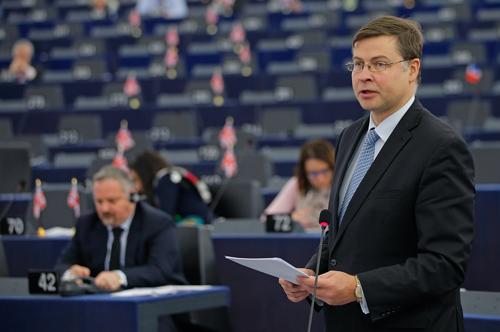 European Commission Vice President Valdis Dombrovskis addresses the European Parliament on Wednesday (Reuters photo)
STRASBOURG, France — The European Commission on Tuesday said France, Italy and Portugal were in violation of European Union (EU) rules on public spending and would be more closely monitored by Brussels.
In a regular report on the national budgets in EU member states, the commission pointed to France's "large public debt coupled with deteriorated productivity growth".
It also singled out Italy's "high government debt" along with a worrying level of long-term unemployment that "weighs on growth prospects".
In total, the public spending in five countries, including Bulgaria and Croatia, were found to be experiencing "excessive imbalances" in the EU.
Without noted improvements, these countries risk the unprecedented step of punitive action known as the "corrective arm" by the EU that could include penalties.
"Countries in excessive imbalances can be put in corrective arm at any moment," Commission Vice President Valdis Dombrovskis warned at a news briefing.
Seven other countries, including Germany for its "excess savings and subdued investment", were also found to be in violation of EU rules, but to a lesser degree.
EU rules set the limit on public deficits at 3 per cent of an economy's total annual output. The threshold for total public debt is 60 per cent of output.
European Commission economic forecasts recently showed that France, Italy, Spain and Portugal are in breach of or will break EU deficit reduction rules unless they change policies.
The commission latest forecasts showed that France, which has a deadline to cut its headline budget gap to 2.8 per cent in 2017 will instead have a deficit of 3.2 per cent next year, unless it takes action.
In structural terms, France was asked by EU finance ministers to reduce the deficit by 0.5 per cent of the gross domestic product (GDP) in 2015, 0.8 per cent in 2016 and 0.9 per cent in 2017. But the commission forecasts showed the cut last year was only 0.2 per cent.
The reduction in the structural deficit this year in France will be only 0.4 per cent, half of what is required, and the shortfall will actually rise 0.2 per cent next year, according to the commission's forecasts.
The third-biggest economy Italy, while safely below 3 per cent with its headline deficit, will see an increase in its structural gap to 1.7 per cent of the GDP this year from 1 per cent in 2015, rather than a 0.5 per cent fall as required by EU rules.
The Italian structural deficit is then to ease only to 1.4 per cent in 2017, again below the minimum required annual reduction of 0.5 per cent.
Spain, the eurozone's fourth largest economy and still without a government after inconclusive elections in December, was asked to cut its headline deficit to 4.2 per cent in 2015. But the commission's forecasts showed it missed that target, with a 4.8 per cent gap.
Madrid was to take the deficit down to 2.8 per cent this year, but unless policies change it will end up with a 3.6 per cent shortfall, the commission projected.
In structural terms, Spain's deficit has risen since 2014 rather than falling, the commission said.
Portugal is also in trouble, because it was supposed to cuts its headline deficit to 2.5 per cent last year, but instead ended up with a 4.2 per cent gap.
Without policy changes, it will not bring its deficit below 3 per cent this year either and its structural deficit is also rising sharply, rather than falling as it should.
The commission last month estimated eurozone economic growth will slightly accelerate this year and next, but the pace will be slower in 2016 than previously forecast because of increased global risks.
The GDP of the 19-country single currency bloc is expected to expand by 1.7 per cent this year from 1.6 per cent in 2015. The recovery will gain speed in 2017 with economic expansion of 1.9 per cent, the EU executive said in its winter economic forecasts.
The growth estimate for this year is a slight downward revision of the 1.8 per cent seen in the last set of forecasts in November. The 2017 figure was unchanged.
External factors are seen as the main risks to the eurozone economy that will continue to grow mostly because of domestic consumption.
"Europe's moderate growth is facing increasing headwinds, from slower growth in emerging markets such as China, to weak global trade and geopolitical tensions in Europe's neighbourhood," Dombrovskis said in a statement.
Low oil prices, cheap credit and the weak euro will continue to boost eurozone growth, but will be offset by a "disorderly adjustment" in China and the possibility of higher interest rates in the United States.
All national economies of the eurozone are expected to grow this year, with the exception of Greece where GDP will drop by 0.7 per cent, albeit a lesser decline that the 1.3 per cent decrease forecast by the commission in November.
The Greek economy will return to growth in 2017 with an expected 2.7 per cent expansion.
"These are the good signs that some stabilisation is already happening," EU's Economics Commissioner Pierre Moscovici told a news conference, warning however against complacency in the reform agenda.
Germany's economy, the eurozone's largest, will grow 1.8 per cent this year and next, compared with November forecasts of 1.9 per cent. It also will continue recording large current account surpluses, exceeding the 6 per cent limit recommended by the EU institutions.
Growth forecasts in 2016 for France and Italy, the second and third largest economies of the eurozone, were also revised slightly downward to respectively 1.3 and 1.4 per cent.
Ireland is set to post the highest growth among all 28 EU countries, with an estimated expansion of the economy of 4.5 per cent in 2016. The forecast marks a slowdown from the 6.9 per cent growth estimated in 2015, but was welcomed by the commission as it averts fear of possible bubbles, Moscovici said.
Related Articles
Apr 15,2015
The head of the Organisation for Economic Cooperation and Development (OECD) on Wednesday credited a wave of loose monetary policy for preventing a global economic collapse, but warned it was now up to governments to lift growth and safeguard their economies.
Mar 05,2015
The European Central Bank (ECB) will launch into quantitative easing (QE) next week having increased its economic growth forecasts for this year and next.
Sep 19,2015
ROME — Italian Prime Minister Matteo Renzi on Friday presented his Cabinet with a draft budget which could inject 27 billion euros into the
Newsletter
Get top stories and blog posts emailed to you each day.