You are here
Europe car sales speed up after six years of decline
By AFP - Jan 21,2015 - Last updated at Jan 21,2015
PARIS — New car sales in Europe rose by nearly 6 per cent in 2014, ending a long slump in activity that began in 2007, but analysts warn the sector has not yet turned the corner in the region.
The European Automobile Manufacturer's Association (ECEA) said last week that 2014 new car sales grew by 5.7 per cent, but noted current volumes of activity remain significantly lower than they were before the global financial crisis that drove the sector into six years of decline.
Europe's continuing economic sluggishness means carmakers are unlikely to be able to repeat 2014's performance, with analysts expecting sales growth to be limited to 1 to 3 per cent this year.
A recovery to pre-crisis levels is most likely still years away.
Carlos Da Silva, an auto industry expert at IHS consultants, said that "2014 should be taken with relief and satisfaction".
"However, by any means, this growth should not be misinterpreted: The foundations for a flourishing car market are yet to be built," he added. "Right now, the patient is still limping, not starting to run on both legs!"
The European car sector's convalescent state is clear in comparing the 12.5 million units sold last year to the 16 million which rolled off dealer's lots in 2007 before Wall Street unleashed a global financial crisis.
IHS said it does not expect the market to approach those levels until the end of the decade.
Moreover, activity across Europe varied greatly by market, lacking the generalised effervescence needed to drive enduring growth across the industry.
Among the largest markets, Spain led the sales growth at 18.1 per cent, in part due to a new government incentive programme.
Britain followed with 9.3 per cent growth, Italy at 4.2 per cent, Germany 2.9 per cent.
France managed only 0.3 per cent growth.
"The situation in Europe is still quite contrasted, but it's much better than we expected at the beginning of the year, when we forecast 2 to 3 per cent," said Jean-Francois Belorgey, an analyst with consultants EY.
"[There is] a rather clear relationship between [national] economic health and market activity," he added.
Britain has been a bright spot in the region, with its economy expected to have grown 3 per cent in 2014.
But with the Europe-wide economic outlook remaining mostly subdued through 2015, hopes that 2014 might mark a definitive rebound for carmakers are equally guarded.
"The European economy is still ailing, with weak growth and high unemployment," said Belorgey. "It's more a case of 2014 having been a nice surprise."
Volkswagen European leader
The Volkswagen (VW) group remained Europe's largest car producer in 2014, with sales rising by 7.2 per cent to 3.2 million units.
It was followed by Peugeot maker PSA, which managed a 3.7 per cent increase to 1.4 million vehicles.
But No. 3 Renault posted a much larger 13.3 per cent increase to 1.2 million units.
Ford moved into fourth place, with sales rising by 5.8 per cent to 927,861 vehicles.
General Motors (GM) fell into fifth place as sales dropped by 4.3 per cent to 905,444 vehicles, due largely to the withdrawal of its Chevrolet line from Europe.
Renault said this week that low-cost models are now three of its top-five selling vehicles worldwide.
Sales of its low-cost Dacia brand rose by 23.9 per cent last year in the countries the ECEA tracks. Renault sells the vehicles under its own symbol in numerous countries around the world.
Belorgey noted that while much of Renault's growth was driven by the surge of its Dacia brand, the wider segment is not uniformly booming, as witnessed by modest activity for rivals like Kia, which posted just a 4.4 per cent advance.
By contrast, virtually all players in the premium luxury segment saw robust sales increases, including 30.1 per cent for Lexus, 12.3 per cent for Volvo, 4.8 per cent for Audi, and a whopping 70.6 per cent for Jeep.
"The automobile industry is one where the offer is a means of stimulating demand," Belorgey said.
"Cars are products that make people want them, which is reassuring for manufacturers. Rolling out new attractive models is a way... to come out ahead," he added.
Toyota sells 10.23mn vehicles in 2014, still world's top automaker
Separately, Toyota kept its title as the world's biggest automaker on Wednesday as it announced record sales of 10.23 million vehicles last year, outpacing GM and VW, but a shaky outlook for 2015 could see it lose the crown to its German rival.
The worldwide annual sales figure beat Volkswagen, which logged sales of 10.14 million vehicles, and US-based GM, which said it sold 9.92 million cars last year.
But Toyota also said sales would decline this year to an expected 10.15 million vehicles, as demand falls off in its home market.
That will likely mean VW will be in pole position this year as the German automaker rides momentum in emerging economies that could see it take the lead in global auto sales for the first time.
"Their focus is not No. 1," Peggy Furusaka, an auto-credit analyst at Moody's Investors Service, told Bloomberg News, referring to the Japanese firm.
"Toyota is more concerned about keeping profitability than chasing numbers. So for coming years, I wouldn't be surprised to see Toyota selling fewer cars than VW," she said.
Toyota broke GM's decades long reign as the world's top automaker in 2008 but lost the crown three years later as Japan's earthquake-tsunami disaster hammered production and disrupted the supply chains of the country's automakers.
However, in 2012 it once again overtook its Detroit rival, which sells the Chevrolet and luxury Cadillac brands.
Toyota boosted its fiscal year through March profit forecast to 2 trillion yen ($16.97 billion), and said revenue would come in at 26.5 trillion yen, as it saw strong results in North America while a sharply weaker yen inflated its bottom line.
But it earlier warned over a downturn in some other key Asian markets including Indonesia and Thailand, which has been hammered by political unrest.
There are also growing fears about the entire industry's prospects in China owing to concerns about the health of the world's number-two economy.
Fuel-cell cars
Toyota's upbeat announcement on Wednesday comes despite the firm struggling to recover its reputation for safety after the recall of millions of cars around the world for various problems, including an exploding air bag crisis at supplier Takata.
The maker of the Camry sedan and Prius hybrid has frozen the building of new plants for the three years until early 2016, and a Toyota executive at the Detroit auto show told AFP last week that the giant automaker is emphasising quality of sales rather than volume.
Among the moves, Toyota is pushing further into the fast-growing market for environmentally friendly cars, especially in China where officials are struggling to contain an air pollution crisis.
Toyota said this month it had been swamped by domestic orders for its first mass market hydrogen fuel-cell car, with demand in the first month nearly four times higher than expected for the whole year.
The company received more than 1,500 orders for its "Mirai" sedan since its launch in mid-December. It had planned to sell 400 in Japan over 12 months.
It has also announced plans to develop components for hybrid vehicles with two Chinese automakers in an unprecedented technology-sharing deal aimed at increasing green car sales in the world's biggest vehicle market.
The deal marked a shift away from Japanese carmakers' traditional reluctance over such deals for fear of losing their competitive edge.
Previously, Toyota would make key components such as batteries and motors in high-cost Japan and then ship them to joint ventures overseas. But that drove up the price of models such as its Prius, which has seen sluggish sales in China.
Toyota shares slipped 0.93 per cent to close at 7,588.0 yen in Tokyo, as the broader market fell into negative territory.
Related Articles
Apr 23,2015
Toyota Motor Corp. is still at the top in global vehicle sales after the first quarter, selling 2.52 million vehicles around the world, outpacing rivals Volkswagen and General Motors even as weakness in Japan dragged on its growth.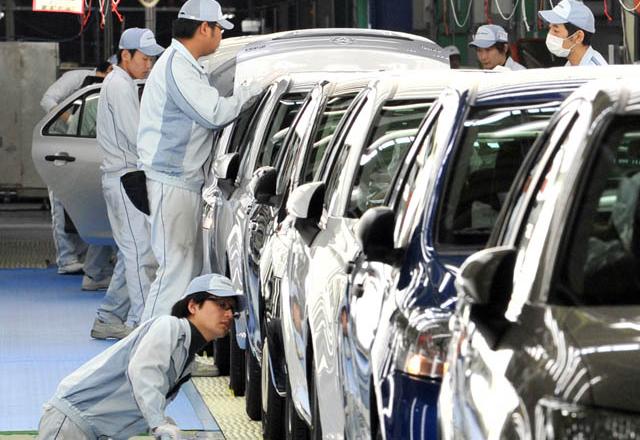 Jan 23,2014
Toyota sold a record 9.98 million vehicles last year, it pointed out Thursday, outpacing rivals General Motors (GM) and Volkswagen to maintain its title of world's biggest automaker.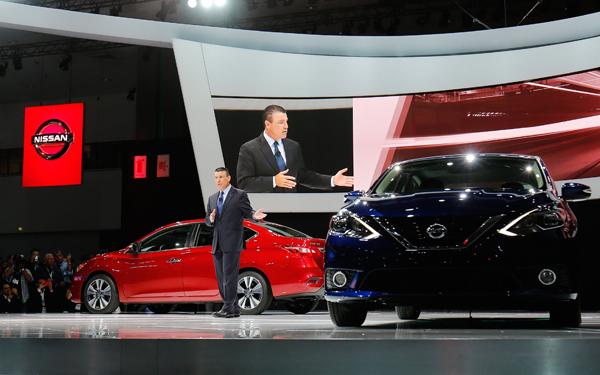 Jan 06,2016
CHICAGO — US auto sales were set to smash records in 2015 as easy credit, hot new vehicles and strong consumer confidence lured buyers to sh
Newsletter
Get top stories and blog posts emailed to you each day.