You are here
European stocks, bond yields fall show investor caution
By Reuters - Apr 04,2017 - Last updated at Apr 04,2017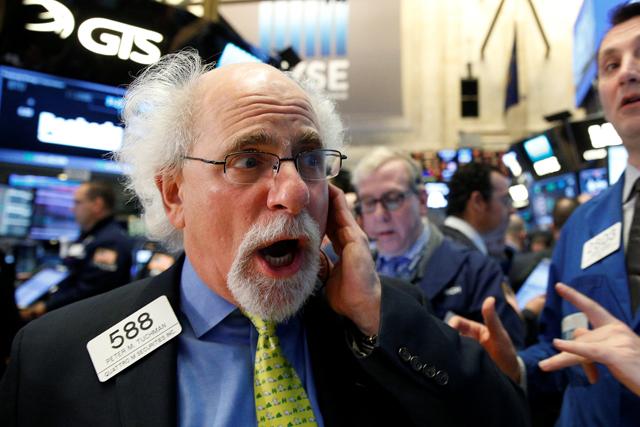 Trader Peter Tuchman works on the floor of the New York Stock Exchange in the Manhattan borough of New York, New York, US, on Tuesday (Reuters photo)
LONDON — European shares edged lower on Tuesday, after falls on Asian bourses, and low-risk government debt yields fell as political risks from a meeting between the US and Chinese leaders to the French presidential election kept investors on edge.
Wall Street also looked set to open in the red, according to index futures.
The dollar edged up against a basket of major currencies but lost half a per cent against the safe-haven Japanese yen. Gold, another asset sought in uncertain times, hit a one-week high.
"There was a tragedy in Russia and there may be some hedging-type buying ahead of the French presidential debate and also French elections in three weeks," said Yujiro Goto, currency analyst with Nomura in London, on the yen's surge.
In emerging markets, the South African rand fell more than 1 per cent against the dollar and bank shares fell after S&P Global cut the country's credit rating to junk on Monday.
The pan-European STOXX 600 share index gave up early gains and was last down 0.1 per cent, after falling from a 16-month high on Monday.
Britain's FTSE 100 index, however, rose 0.4 per cent.
Shares have hit record highs across the globe in recent months, partly in anticipation of US President Donald Trump cutting taxes, easing regulation and raising infrastructure spending in the world's largest economy.
However, Trump's struggles to push other legislation through Congress has led some to question whether he will be able to fully make good on his campaign pledges.
"People are not so worried about inflation, they don't think the Fed is behind the curve. People are not so optimistic about Trump being able to deliver quickly on his election promises about taxes and infrastructure," said Guy Wolf, analyst at commodities broker Marex Spectron.
Geopolitical issues, including Trump's meeting this week with Chinese President Xi Jinping and the Monday's bomb attack on a metro train in Russia's second-largest city of St Petersburg, which killed 14 people and wounded 50, also weighed on markets.
In Asia, Automaker stocks, which helped pull Wall Street down on Monday after sub-par US car sales data, were the main drag on Tokyo shares on Tuesday; the Nikkei fell 0.9 per cent to a 10-week low.
MSCI's broadest index of Asia-Pacific shares outside Japan fell 0.4 per cent, having hit a 21-month high last week.
Yields on low risk US and German government bonds fell. falls. Benchmark 10-year US Treasury yields were down 3 basis points at 2.32 per cent after falling as low as 2.31 per cent, its lowest in more than a month, in Asian trade.
German 10-year yields touched their lowest level since March 1 and last stood at 0.24 per cent, down 4bps.
Italy's bonds outperformed the rest of the euro zone on the prospect of help for two struggling Italian lenders.
Benchmark 10-year yields fell 7.5bps to 2.25 per cent after a European Commission spokesperson said late on Monday said there could be a solution on a bailout.
"Italy's banking sector has been a never-ending story, so any news pointing towards state support reduces the risk of a more severe development that could be the beginning of a banking crisis," said DZ Bank strategist Daniel Lenz.
French yields also fell, before a TV debate between presidential election candidates later on Tuesday.
Dollar up
The dollar inched up 0.1 per cent against its currency basket but fell to as low 110.24 yen.
The euro fell 0.2 per cent to $1.0650 and sterling fell 0.4 per cent to $1.2432.
The Australian dollar was 0.7 per cent weaker at $0.7546 after the central bank held rates steady at a record low 1.5 per cent as expected, and said growth in household borrowing, largely for housing, was outpacing rises in household income.
South Africa's rand fell as much as 1.9 per cent before recovering to trade down 0.6 per cent at 13.76 per dollar while bank shares tumbled after the credit rating cut in response to President Jacob Zuma's dismissal of his finance minister, Pravin Gordhan, last week.
Gold hit a one-week high around $1,260 an ounce.
Oil prices steadied: Brent crude rose 37 cents a barrel to $53.49.
Related Articles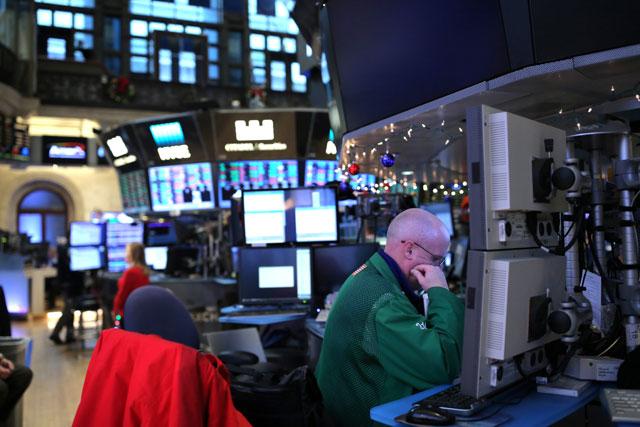 Jan 02,2017
LONDON — Eurozone stocks opened 2017 by climbing to their highest in more than a year on Monday after data showed manufacturers in the curre
Apr 13,2017
NEW YORK — The US dollar rose on Thursday, rebounding after a slide that investors considered overdone following remarks by President Donald
May 05,2016
LONDON — European stocks and oil prices snapped a four-day losing streak and a rally in bond markets fizzled out on Thursday, as investors b
Newsletter
Get top stories and blog posts emailed to you each day.