You are here
Germany to invest 62b euros by 2030 to modernise rail network
Government hope commuters will opt for greener public transport options
By AFP - Jan 14,2020 - Last updated at Jan 14,2020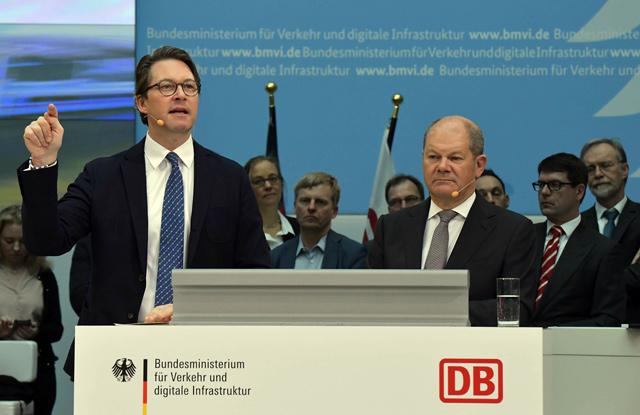 German Transport Minister Andreas Scheuer (left) and German Finance Minister and Vice Chancellor Olaf Scholz address the media at the signing of an agreement on railway modernisations with German railway operator Deutsche Bahn in Berlin, Germany, on Tuesday (AFP photo)
BERLIN — The German government on Tuesday agreed to pump 62 billion euros into modernising its rail network system, as part of a wider plan to incite commuters to opt for greener public transport options.
"We've just signed the most important programme of modernisation ever in Germany," said Transport Minister Andreas Scheuer, adding that "this is the decade for railway".
Besides the massive sum stumped up by the state, equivalent to $69 billion, German rail operator Deutsche Bahn will also plow an additional 24 billion euros into the renewal programme.
The investments will go towards "replacing obsolete installations", improving access to disabled passengers as well as renovating rail bridges, said Scheuer.
Deutsche Bahn chief Richard Lutz also vowed to improve punctuality of trains — a key turn-off for commuters, even though he also called for patience in view of the disruptions that rail upgrading will undoubtedly bring.
Getting more people to switch to trains instead of the more polluting cars or planes is a central plank of a government climate package aimed at helping Germany lower its emissions by 55 per cent by 2030 compared to 1990 levels.
As part of the package, train fares are going down while air travel prices are set to rise with higher taxes to be imposed.
Export power Germany has for years been under pressure to use its huge budget surpluses to loosen the purse strings and invest in crumbling infrastructure.
Batting away the criticism, Germany has in recent months pointed to the ambitious environmental plan to underline the massive outgoings it has pledged for the coming decade.
After two blistering summers and thousands of youths joining school strikes week after week, climate change has shot to the top of the political agenda.
In its battle to cut emissions, car-mad Germany has lagged badly behind in the transport sector, where state-coddled auto giants VW, Daimler and BMW have long focused on gas-guzzling SUVs over hybrid or zero-emission cars.
up
6 users have voted, including you.
Newsletter
Get top stories and blog posts emailed to you each day.