You are here
Halawani describes renewable energy as rapidly growing sector
By Petra - Jun 21,2014 - Last updated at Jun 21,2014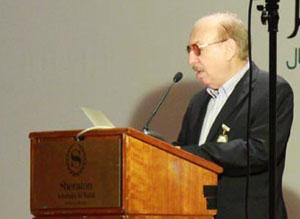 AMMAN — The renewable energy sector is growing rapidly, Industry, Trade and Supply Minister Hatem Halawani told a conference on Saturday.
Inaugurating "The Silk Road… Money and Business Forum", Halawani said the government, in cooperation with the private sector, had taken constructive steps towards investment in long-term projects in solar and wind energies, and in generating electricity by using oil shale as fuel.
He indicated that the national strategy for energy aims at increasing Jordan's renewable energy sources to 10 per cent by 2020.
Noting that Jordan has a regulated and modern environment for attracting investment and production, encouraging entrepreneurship, and providing the private sector with an opportunity to contribute to the economic growth, the minister mentioned textiles, electrical tools and pharmaceuticals as promising sectors for growth and development.
The minister also pointed to information technology as a sector that enjoys good investment prospects and profitability indicating that it accounts for 14 per cent of the gross domestic product.
"The Jordanian industrial sector accounts for 90 per cent of the Kingdom's overall exports which reach more than 100 countries," he said."National exports increase to JD5.6 billion last year."
Halawani added that the new investment law aims at improving the legal structure of the investment environment through unifying the organisations engaged in investment issues under one umbrella, facilitating procedures to set up projects via a single window for investments, developing the mechanism for granting tax and customs exemptions, and adopting criteria to extend additional incentives for investing in the governorates.
The minister indicated that direct foreign investment (FDI) went up by JD1.1 billion to JD18.7 billion at the end of last year compared to a JD867 million increase in 2012, noting that the rise is in line with the government plan to raise FDIs by 10 per cent annually until 2016.
He highlighted higher foreign currency reserve which reached $12 billion last year and noted that the estimated budget deficit for 2014 has dropped by more than 2 per cent reaching JD2.2 billion, with inflation rate maintained at 5.6 per cent.
Halawani mentioned higher energy and production costs as the main challenges facing the national economy besides the economic repercussions from the Syrian crisis and the slowdown in several countries that are key markets for Jordanian products.
Amman Chamber of Commerce President Issa Murad called for opening Arab markets to each other, enhancing trust factors among local and foreign investors, investment flow and benefiting from the big size of Arab markets in a way that contributes to achieving the envisioned comprehensive Arab development process.
The conference is co-organised by Jordanian-Palestinian Business Forum and Amman Chamber of Commerce.
Related Articles
Jun 15,2014
Jordan Investment Commission (JIC) recently concluded a promotion campaign to Saudi Arabia in a bid to attract more investors from the Gulf kingdom.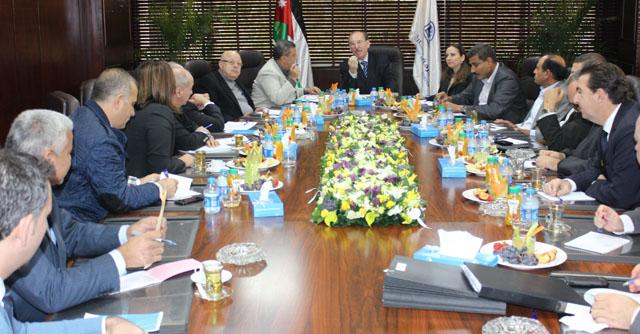 Nov 23,2014
The national economy is on the right track, with plans and programmes under implementation by the government achieving positive results at several levels, Industry, Trade and Supply Minister Hatem Halawani said Sunday.
Mar 23,2014
Kuwait is keen on increasing its investments in Jordan, where it currently has more than $10 billion invested in various sectors, Minister of Industry, Trade and Supplies and acting Foreign Minister Hatem Halawani said Sunday.
Newsletter
Get top stories and blog posts emailed to you each day.