You are here
Halawani launches debate on industrial, commercial vision
By JT - Jul 18,2014 - Last updated at Jul 18,2014
AMMAN — The Ministry of Industry, Trade and Supply on Thursday held a meeting to discuss the future vision of the industry, trade and investment sectors.
The meeting was a step for preparing the 10-year economic blueprint the government is working on under Royal directives of His Majesty King Abdullah, according to a statement the ministry sent to The Jordan Times.
Industry, Trade and Supply Minister Hatem Halawani said the blueprint the government is working on aims at achieving positive growth rates during the next 10 years, narrowing the budget deficit and maintaining the general debt rates under 60 per cent of the gross domestic product, providing job opportunities and increasing investment rates.
All that can be achieved according to rates which all stakeholders agree on the possibility of attaining within the targeted 10 years, he remarked.
Halawani asked institutions representing the private sector, such as industry and trade chambers, the Jordan Businessmen Association and the Association of Banks, to provide the ministry within a week with suggestions that may suit the blueprint; mechanisms that may contribute to its success; and their remarks on the suggestions included in the ministry's future vision.
The minister also said that the ministry will work on inaugurating new markets for Jordanian exports, especially in Africa, to increase the Kingdom's trade volume.
The ministry will reconsider agreements that did not benefit the Jordanian economy and did not contribute to lowering the trade balance deficit, Halawani added.
He continued that Jordan's classification in international economic indicators will be studied to examine the reasons for the decline in some indicators and to work on solutions to improve the Kingdom's economic ranking on these reports.
The minister noted that meetings will be held with each economic and service sector in order to agree on the future vision needed for the next 10 years and to set the targeted rate of contribution of the sector to the aspired growth rate.
Related Articles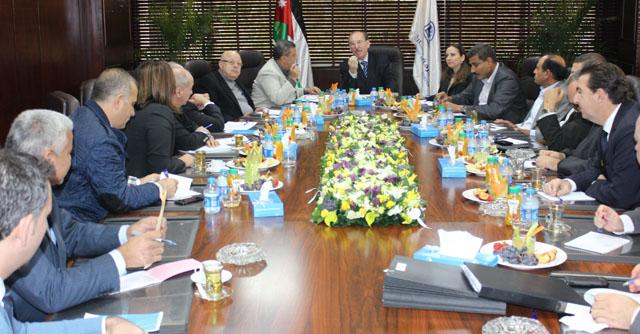 Nov 23,2014
The national economy is on the right track, with plans and programmes under implementation by the government achieving positive results at several levels, Industry, Trade and Supply Minister Hatem Halawani said Sunday.
Mar 31,2014
Industry, Trade and Supply Minister Hatem Halawani discussed with two Sudanese ministers on Monday the mechanisms needed to enhance investment and commercial relations between Jordan and Sudan.
Aug 21,2014
Prime Minister Abdullah Ensour on Thursday said that Jordan's "2025 Vision" for the economy currently being prepared will be assessed every three years to take into account the region's unpredictability and global uncertainties.
Newsletter
Get top stories and blog posts emailed to you each day.