You are here
IMF ready to extend support to Jordan
By Omar Obeidat - May 12,2014 - Last updated at May 12,2014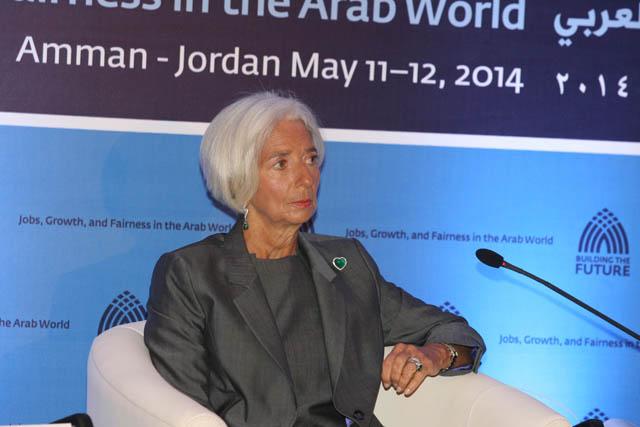 AMMAN – International Monetary Fund (IMF) Managing Director Christine Lagarde on Monday said the fund is open to extend its three-year stand-by arrangement (SBA) for Jordan if needed.
"The programme extends until August 2015 and I'm very much hopeful that we can pursue this relationship. If more is needed later on down the road, in terms of more technical assistance and more financial support, we are completely open to it and prepared to help always," Lagarde said in an interview with journalists on the sidelines of a regional economic conference in Amman that concluded Monday.
The SBA, which was approved by the IMF's executive board on August 3, 2012, enables Jordan an exceptional access of around $2 billion, representing 800 per cent of Jordan's quota in the IMF.
Total disbursements Jordan has received so far under the programme are about $1.3 billion.
Answering a question on flexibility in dealing with Jordan, she said the IMF recognised the burden of refugees on the public finances of Jordan by relaxing fiscal consolidation and reducing the amount by which public spending should be cut.
That was clearly on account of special circumstances that the country went through, she noted.
"When we discussed with Jordanian authorities how public money should be spent, we proposed more expenditure on health and education, and less on energy subsidies," Lagarde explained.
"When we discussed how the energy subsidy should be replaced by cash transfers, we agreed that 70 per cent of the population benefiting from these subsidies should receive cash transfers," Lagarde elaborated.
"So, we really focus on how best to use public money that is available to ensure that, at the end of the day, it is in the country's interest to restore the financial position, to reduce the debt in the long term and to reduce the deficit," she continued.
She said the IMF works in partnership with authorities; it is their decision, their programme, their country and their population.
"What they do is theirs not ours," said Lagarde.
Related Articles
Mar 29,2015
Jordan and the International Monetary Fund (IMF) will negotiate a new cooperation programme as the 36-month Stand-By Arrangement (SBA) ends in August.
Nov 27,2014
The government is likely to request the International Monetary Fund (IMF) to extend the three-year stand-by arrangement (SBA), which expires in August next year. 
Nov 19,2015
AMMAN — The International Monetary Fund (IMF) may again downgrade its growth forecast for Jordan's economy due to slow economic performance
Newsletter
Get top stories and blog posts emailed to you each day.