You are here
Improving business climate may land Jordan in IMF lap again
By Samir Ghawi - Aug 10,2015 - Last updated at Aug 10,2015
Finance Minister Umayyah Toukan speaks to journalists on Monday (Photo by Osama Aqarbeh)
AMMAN — Business climate improvement is so crucial now, that Jordan may soon seek the assistance of the International Monetary Fund (IMF).
Finance Minister Umayyah Toukan told a media gathering on Monday that regional chaos provides Jordan with an exceptional chance to be a magnet for Mideast investments.
But he said that improving the business climate is of utmost importance to attract investors because they look for markets where discipline prevails and bureaucracy at its lowest level.
"With the IMF experience in improving the business climate in other countries, the government is weighing whether to arrange for a $1.5 billion, 3-year programme with the global lender to undertake such a task," he indicated.
The minister stressed that the capability of the state treasury to propel economic development was limited and that it was up to the private sector to generate growth and create job opportunities.
The government cannot exceed the allocated capital expenditure of around JD1 billion, Toukan said, noting that without grants and financial support from Gulf Arab countries the Kingdom would not have been able to implement a number of projects.
He remarked that grants in general have shrunk.
The onus is on the savings, capital and resources of the local, Arab and international private sectors to shoulder the drive of economic advancement, the minister emphasised.
Toukan told journalists that the government recently injected around JD200 million in the economy, JD50 million of which were tax refunds and the remaining amount were cash compensations for property expropriations.
The minister also mentioned exemptions to housing developers and lower tourism fees as other measures taken by the government to activate the economy.
He credited the $2 billion 2012-2015 IMF financial reform programme for stabilising public finances and the Kingdom's macro economy mentioning in this regard several indicators, such as an increase in foreign exchange reserves from$6.6 billion in 2012 to $15.4 billion in 2015.
The foreign exchange reserves would now cover imports of goods and services for seven months instead of 3.5 months.
The minister indicated that local revenues covered 76 per cent of recurrent spending in 2012 but the rate this year stands at 94 per cent.
Another indicator mentioned by the minister was the annual increase in the rate of indebtedness which in 2015 rose by about 2 per cent of gross domestic product (GDP) compared to 23 per cent in 2012.
The budget deficit, grants included, declined to JD0.5 million or -1.7 per cent of GDP, this year from JD1.8 million, or -8.3 per cent of GDP in 2012.
Excluding grants, the deficit came at 1.6 billion, or 5.8 per cent of GDP, in 2015, down from JD2.1 billion, or 9.8 per cent of GDP, in 2012.
The data provided by Toukan showed that the annual loss at the National Electric Power Company (NEPCO) is expected to go down from JD1.2 billion in 2012 to JD0.6 million this year due to lower international oil prices and the use of alternative energy sources.
NEPCO's accumulated losses, however, have reached JD4.5 million and the company is expected to repay its obligations over 10 years after breaking even in 2017.
The minister envisaged the inflation rate dropping from 4.8 per cent in 2012 to 1.9 per cent this year.
He anticipated a 2.9 per cent growth in GDP this year compared to 2.7 per cent in 2012 noting that GDP at fixed prices is expected at JD27.1 million from JD22 million.
The current account deficit, including grants, was projected at $2.8 million, or 7.4 per cent of GDP, this year, down from $4.7 million, or 15.2 per cent of GDP, in 2012.
With the completion of the 2012-2015 IMF financial reform programme, the government is embarking on a 2015-2018 executive programme for financial reform.
This local programme, in harmony with the first phase of the government's Vision 2025 plan prepared under directives from His Majesty King Adullah, comprises the following seven tasks:
Enhancing general revenues
Rationing and controlling expenditure
Lowering budget deficit
Managing public debt
Directing capital expenditure to enhance economic growth
Financial oversight
Enhancing transparency and financial disclosure
Journalists heard from several directors the latest measures adopted at various entities operating under the Ministry of Finance
The head of the tax department blamed various parties, such as lawyers and auditors, for having a vested interest in blocking any attempt by the tax authority to arrive at a compromise with individual taxpayers and companies.
He expected the new income tax law to add JD80 million to the JD750 million of total income tax revenue last year.
He indicated that about 18,000 taxpayers provide around 89 per cent of the total income tax revenue. Of those, 1,000 taxpayers are considered key revenue sources.
Related Articles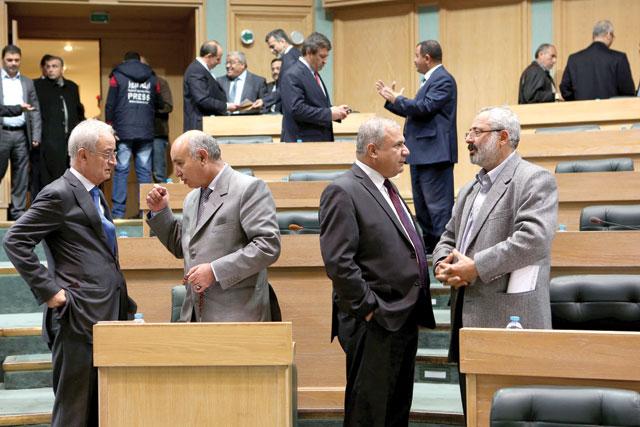 Nov 23,2014
The government on Sunday presented to the Lower House the 2015 state budget draft law, estimating the budget deficit at JD688 million after foreign grants.
Dec 30,2014
The budget deficit at the end of November 2014 amounted to around JD696 million compared with JD898 million at the end of the same period last year, Finance Minister Umayya Toukan said on Tuesday.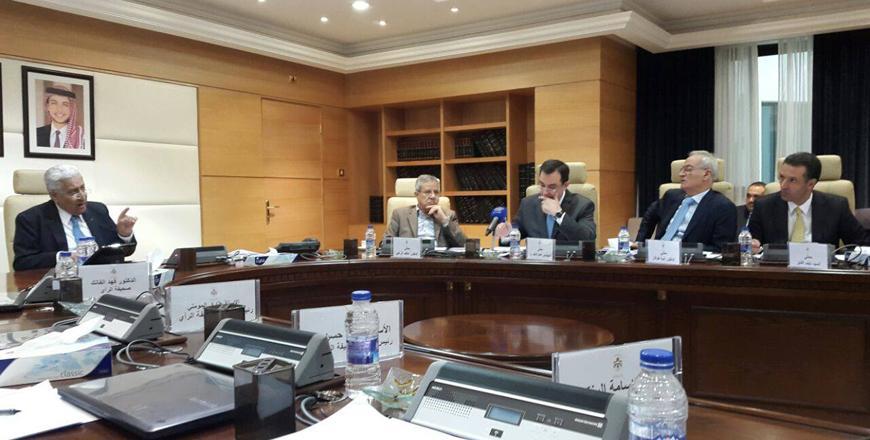 Jun 15,2015
AMMAN – Prime Minister Abdullah Ensour on Monday said that Jordan's economy is on the right track due to financial and monetary stability de
Newsletter
Get top stories and blog posts emailed to you each day.