You are here
JEDCO, EU launch 2nd tranche of grant to finance JSMPII's last phase
By JT - Feb 17,2015 - Last updated at Feb 17,2015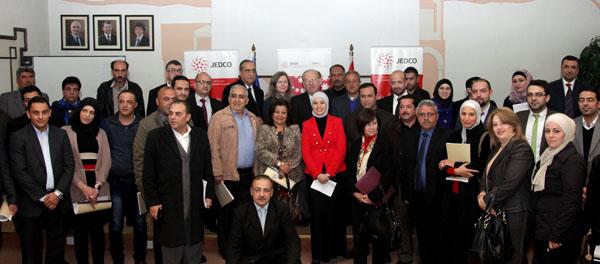 AMMAN – Jordan Enterprise Development Corporation (JEDCO) and the European Union (EU) delegation in Jordan on Tuesday signed an agreement for the second tranche of a grant to finance the last phase of the EU-funded Jordan Services Modernisation Programme (JSMPII).
According to a statement issued by JEDCO, the grant was around 3.2 million euros with an expected investment volume of about 5.7 million euros.
JEDCO said 51 new and already established companies in the services sector in various governorates are projected to create 535 employment opportunities.
The signing ceremony was attended by Industry, Trade and Supply Minister Hatem Halawani and Tarja El Idrissi, head of trade, economic affairs and private sector development section at the EU Delegation in Amman.
Halawani said the government will work on supporting small and medium-sized enterprises (SMEs) through boosting their technical, administrative and production capabilities to achieve their development goals.
Idrissi said it is an EU policy to support the development of the private sector, and in particular SMEs, as they are key players for inclusive growth and for the well-being of local and regional communities.
"We keep private sector high on the agenda in our relations with Jordan. Support for SMEs, vocational education and training and development of poorer regions are at the core of our support," she added.
Hana Uraidi, JEDCO acting chief executive officer, said the corporation through JSMP II has extended financial support worth 20 million euros to 369 companies in all governorates with an investment volume of 31.8 million euros.
The projects, supported by JEDCO, are expected to create 2,144 job opportunities when completed, Uraidi noted, adding that a total of 135 projects were owned by women.
JSMP II is an EU-funded programme focusing on the development and modernisation of the services sector.
Related Articles
Dec 07,2017
AMMAN — The Jordan Enterprise Development Corporation (JEDCO) and the EU marked on Wednesday the conclusion of two EU programmes that worked
Feb 05,2014
Jordan Enterprise Development Corporation (JEDCO) on Wednesday extended grants worth 933,000 euros to 16 Jordanian companies in the services sector.
Mar 13,2016
AMMAN — The Jordan Enterprise Development Corporation (JEDCO) announced on Sunday the first invitation for entrepreneurs and small- and medi
Newsletter
Get top stories and blog posts emailed to you each day.