You are here
London sets new record with $237 million apartment sale
By Agencies - May 03,2014 - Last updated at May 03,2014
LONDON — London's red-hot property market has struck a new record with the sale of a £140 million ($237 million) unfurnished apartment, but even the developer of the opulent building warned that some asking prices in Britain were unsustainable.
Buoyed by the wealth of Russian oligarchs, Chinese tycoons and Arab sheikhs, London has become one of the most expensive markets on earth, raising concerns ahead of parliamentary elections in 2015 that locals are being squeezed out of the market.
"We're in boom-time prices, more expensive than we've ever been in the history of mankind," Nick Candy, one of the developers of London's One Hyde Park luxury apartments, at the pinnacle of the capital's super-prime residential sector, told Reuters.
"There is a concern over the market overheating... . Everyone thinks the main central London is doing so well, [so] the ripple effect is going throughout the UK, and some of the prices being achieved are probably unrealistic and not sustainable," he said.
But money is still pouring in.
A source familiar with the matter said an eastern European buyer bought a penthouse at the One Hyde Park apartment block for a record £140 million.
Candy confirmed that a 16,000 square foot penthouse had been sold but declined to comment on the price or name the buyer. Developer CPC Group, which is run by his brother Christian, said the flat could be worth £160-175 million when furnished.
Britain's previous record for an apartment was set three years ago by Ukrainian billionaire Rinat Akhemtov, who paid £136 million for a penthouse and apartment at One Hyde Park to knock together into one property.
There have been more than $2 billion in sales at the block, whose developer is a joint venture between CPC Group and Waterknights, the private company of Qatar's Sheikh Hamad Bin Jassim Bin Jabor Al Thani.
Candy & Candy, run by Nick Candy, were the interior designers and development managers for the project.
Political threats
The wall of money chasing a finite amount of property has sent luxury London prices soaring almost 80 per cent since 2009, and while plutocrats' ostentatious purchases grab the limelight, prices have rocketed even in poorer areas.
Prime central London house prices have risen 79.4 per cent since March 2009, against a 40.6 per cent increase in Greater London house prices over the same period, according to data from Savills.
Candy, who with brother Christian started out in 1995 with a £6,000 loan from their grandmother, indicated that the main risks to the market were changes in government policy, a rise in interest rates or oversupply at the top end.
"If the political climate changes in either [London or New York], so in London next year the government wants to charge mansion tax and other taxes, the market might change. They might have a correction, a significant correction," he said.
"I don't see a massive correction unless a number of things happen, firstly a change of government, second of all, interest rates start going up high and inflation starts going," he added.
The British government has in recent months imposed new taxes on overseas purchasers, while the opposition Labour Party, which is leading in opinion polls for the national election, has proposed a tax on houses worth over £2 million.
Rising prices have prompted a rush of luxury developments.
More than 20,000 residential units — worth over £1,250 per square foot — are scheduled to be built in London over the next 10 years, building consultancy EC Harris said in December, adding that this was more than double the 2011 pipeline.
Such is London's wealth that Property consultant Savills calculates 10 London boroughs now have an aggregate property value equivalent to the total value of Scotland, Wales and Northern Ireland combined.
Separately, the owner of much of London's upmarket Mayfair and Belgravia districts has sold millions of pounds of prime properties, seeing recent rampant price rises as unsustainable and preferring to invest in rental homes in cheaper districts.
Grosvenor Group, controlled by the Duke of Westminster — one of Britain's richest men, said it had cut its exposure to superprime London homes last year, making sales that helped its Britain and Ireland unit treble profit.
Demand from foreign investors in search of a safe haven has pushed London's luxury home prices up by 68 per cent since 2009, compared with a rise of 49 per cent in greater London as a whole, according to property consultancy Knight Frank, leading many analysts to express concern that a bubble might be forming.
"I'm more concerned about it [high-end residential pricing] than I was last year," said Chief Executive Mark Preston, who last year called the rate of growth in London luxury house prices unsustainable.
"It's very much a deliberate initiative on our part to capitalise on prices that we think are high," Preston added.
Grosvenor said it sold off £240 million ($400 million) worth of central London homes, including row of mid-19th century terraces in Belgravia for 115 million.
The company intends to reinvest in rental homes outside its traditional Mayfair and Belgravia turf, targeting more affordable neighbourhoods, Preston said. It is looking at securing up to three schemes, having already spent £70 million on a site in the Bermondsey district last year, where it intends to let homes.
"Housing for rent is something that we're beginning to turn our minds to more than we've done in the past," he added. "We're recognising that London desperately needs more in that mid-market area where people are literally priced out."
The firm is controlled by the Grosvenor family, headed by Gerald Grosvenor, who was No. 8 in Britain's Sunday Times Rich List last year with his £7.8 billion fortune.
Grosvenor's London estate, which it has owned for more than 300 years, comprises 300 acres of Mayfair and Belgravia with more than 1,500 homes, shops and offices as well as investments in China, Europe and North America, and a fund management arm.
The company said group profit before tax rose 38 per cent to £506.9 million in 2013. The value of its property assets was 5.8 billion, unchanged from 2012.
According to a recent key survey, British house prices rose strongly last year.
Prices rallied 7.5 per cent in December 2013 compared with the level in December 2012, according to a survey by lender Halifax, which is part of the state-rescued Lloyds Banking Group.
However on a monthly basis, house prices fell by 0.6 per cent in December from November. That was the first drop for 11 months and took the average property price to £173,467 ($284,727, 209,579 euros).
The nation's property market was also bolstered last year by government stimulus programmes and record-low interest rates, analysts said.
"The revival in house prices over 2013 is due to a sharp rise in housing demand coupled with a very subdued supply of homes coming onto the market," said Capital Economics analyst Matthew Pointon. "That has led to very tight market conditions, and put the ball firmly in the seller's court — homes are selling faster and at a price much closer to the asking price."
He added: "Demand has been bolstered by record low rates, government schemes and fears that house prices are about to take-off."
Halifax forecast that prices will rise by between 4 and 8 per cent during 2014.
"Mounting signs that the economic recovery is becoming firmly established, together with a predicted decline in unemployment, should further boost consumer confidence over the coming months," said Halifax housing economist Martin Ellis.
Related Articles
Apr 02,2015
The wow factor for Miami's skyscraper condos no longer comes from a dazzling Atlantic Ocean view.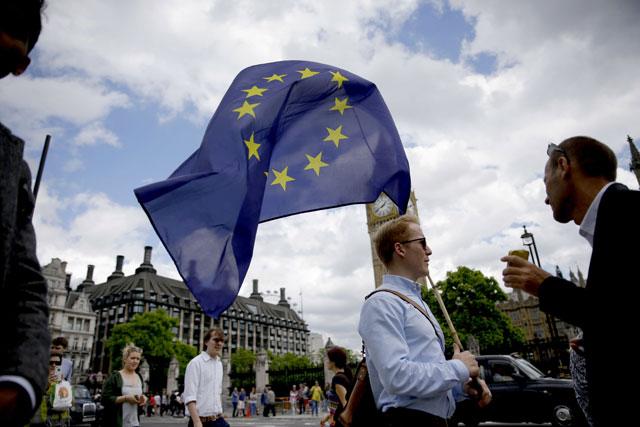 Jun 25,2016
LONDON — The British were warned for weeks that a vote to leave the European Union would result in economic pain.
Mar 27,2016
SHANGHAI — Shanghai unveiled rules last week to cool its housing market, as China seeks to rein-in property speculation in select top-tier c
Newsletter
Get top stories and blog posts emailed to you each day.