You are here
Microsoft to hire OpenAI's Sam Altman after sacking
By AFP - Nov 20,2023 - Last updated at Nov 20,2023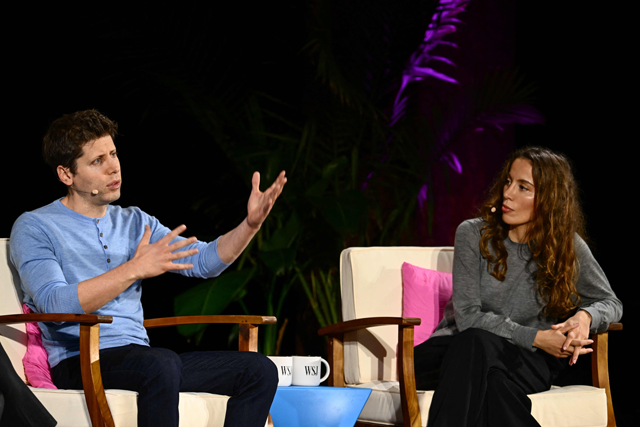 Sam Altman, Chief Executive Officer of OpenAI, and Mira Murati, Chief Technology Officer of OpenAI, speak during The Wall Street Journal's WSJ Tech Live Conference in Laguna Beach, California on October 17, 2023 (AFP photo)
SAN FRANCISCO — Microsoft announced on Monday the hiring of OpenAI co-founder Sam Altman following his shock sacking from the company whose ChatGPT chatbot has led the rapid rise of artificial intelligence technology.
OpenAI has appointed Emmett Shear, a former chief executive of Amazon's streaming platform Twitch, as its new CEO despite reported pressure from Microsoft and other major investors to reinstate Altman.
OpenAI's board sacked Altman on Friday, with US media citing concerns that he was underestimating the dangers of its tech and leading the company away from its stated mission — claims his successor has denied.
Microsoft CEO Satya Nadella wrote on X that Altman "will be joining Microsoft to lead a new advanced AI research team", along with OpenAI co-founder Greg Brockman and other colleagues.
"The mission continues," Altman posted on X, formerly Twitter.
Altman shot to fame with the launch of Open AI's artificial intelligence chatbot last year, which ignited a race to advance AI research and development, as well as billions being invested in the sector.
His sacking triggered several other high-profile departures from the company, as well as a reported push by investors to bring him back.
Brockman said on X that the initial leadership team at Microsoft included three former OpenAI colleagues who resigned after Altman was fired.
"We are going to build something new & it will be incredible. The mission continues," Brockman said, tagging former director of research Jakub Pachocki, AI risk evaluation head Aleksander Madry, and longtime researcher Szymon Sidor.
But OpenAI stood by its decision in a memo sent to employees on Sunday night, saying "Sam's behavior and lack of transparency... undermined the board's ability to effectively supervise the company," The New York Times reported.
'Badly' handled sacking
Shear confirmed his appointment as OpenAI's interim CEO in a post on X on Monday, while also denying reports that Altman had been fired over safety concerns regarding the use of AI technology.
"Today I got a call inviting me to consider a once-in-a-lifetime opportunity: to become the interim CEO of @OpenAI. After consulting with my family and reflecting on it for just a few hours, I accepted," he wrote.
"Before I took the job, I checked on the reasoning behind the change. The board did not remove Sam over any specific disagreement on safety, their reasoning was completely different from that."
"It's clear that the process and communications around Sam's removal has been handled very badly, which has seriously damaged our trust," Shear added.
Global tech titan Microsoft has invested more than $10 billion in OpenAI and has rolled out the AI pioneer's tech in its own products.
Microsoft's Nadella added in his post that "we look forward to getting to know Emmett Shear and OAI's new leadership team and working with them".
"We remain committed to our partnership with OpenAI and have confidence in our product roadmap," he said.
OpenAI is in fierce competition with others including Microsoft, Google and Meta, as well as start-ups like Anthropic and Stability AI, to develop its own AI models.
Generative AI platforms such as ChatGPT are trained on vast amounts of data to enable them to answer questions, even complex ones, in human-like language.
They are also used to generate and manipulate imagery.
But the tech has triggered warnings about the dangers of its misuse — from blackmailing people with "deepfake" images to the manipulation of images and harmful disinformation.
Related Articles
Nov 22,2023
SAN FRANCISCO — ChatGPT creator OpenAI announced on Tuesday that Sam Altman would return as its CEO, days after his shock dismissal plunged
Mar 14,2023
SAN FRANCISCO — Google on Tuesday began letting some developers and businesses access the kind of artificial intelligence that has captured
Mar 22,2023
SAN FRANCISCO — Google on Tuesday invited people in the United States and Britain to test its AI chatbot, known as Bard, as it continues on