You are here
Oil price extends losses
By Reuters - Dec 16,2014 - Last updated at Dec 16,2014
NEW YORK — Crude prices came under renewed pressure on Monday, and Brent hit five-year lows of nearly $60 a barrel after producers grouped under the Organisation of Petroleum Exporting Countries (OPEC) said it would stick to its decision not to cut output despite fears of a world awash in oil.
Brent and US oil initially extended last week's rout, which wiped more than 10 per cent off global crude prices. They were up in New York's Monday morning trade after news that Libya's two biggest oil ports had shut due to fighting between armed factions allied to the country's two rival governments.
Loading delays for January cargoes of North Sea Forties crude due to lower-than-expected output was also positive for oil. The North Sea Forties set prices for Brent.
But oil later gave up its gains, with Brent turning negative and US crude down almost $2 a barrel by noon in New York. While some traders cited market wariness ahead of a two-day policy meeting of the US Federal Reserve, others attributed the decline to OPEC's affirmation of no output cuts.
Abdullah Al Badri, OPEC's secretary general said the group could ride out the nearly 50 per cent slump in oil prices since June without amending production. Influenced by top exporter Saudi Arabia, OPEC decided last month that cutting output meant losing its market share.
"OPEC is simply telling us it will not take any action to support oil prices in the foreseeable future, and that can hardly be good," said Andrew Lipow, president at Lipow Oil Associates, an oil services advisory in Houston.
Brent was down 80 cents at $61.05 a barrel at 1700 GMT. It had risen as much as $1.40 earlier to $63.25 after a session low at $60.28, a bottom since July 2009.
US crude fell $1.75 to $56.05 after plumbing a new May 2009 low of $55.87.
The spread between the two oils, a key arbitrage trade, widened to nearly a month-high premium of nearly $5 a barrel for Brent, which lost less than US crude.
Traders attributed the difference to better fundamentals for Brent that included the Libyan security situation and the delay in the North Forties cargo loadings. US crude, on the other hand, could face another sharply weekly build in inventories in Cushing, the main delivery point for the oil, they said.
Related Articles
Dec 13,2014
Crude oil markets fell 3 per cent or more to plumb new five-year lows on Friday after the world's energy watchdog forecast even lower prices on weaker demand and larger supplies next year.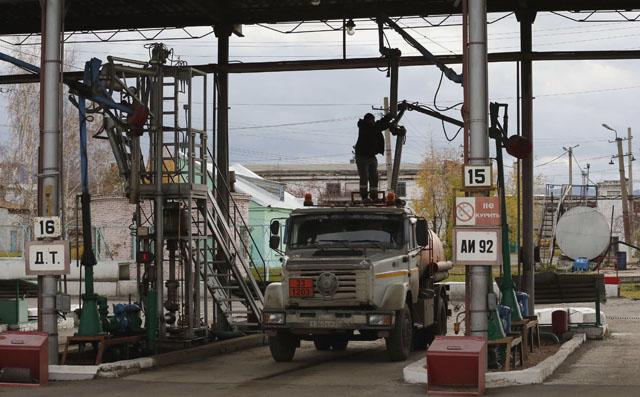 Oct 13,2014
Brent oil prices fell more than $2 a barrel to less than $88 on Monday, its lowest since 2010, after key Middle East producers signalled they would keep output high even if that meant lower prices.
Feb 14,2015
Oil closed up for a second straight week on Friday after another drop in the US rig count, and Brent crude hit a 2015 high above $60 a barrel, but market skeptics cautioned the rally could fade because supplies keep coming.
Newsletter
Get top stories and blog posts emailed to you each day.