You are here
Praise, positive data pile up for French economy
Reforms to include improved training for adult workers
By AFP - Feb 15,2018 - Last updated at Feb 15,2018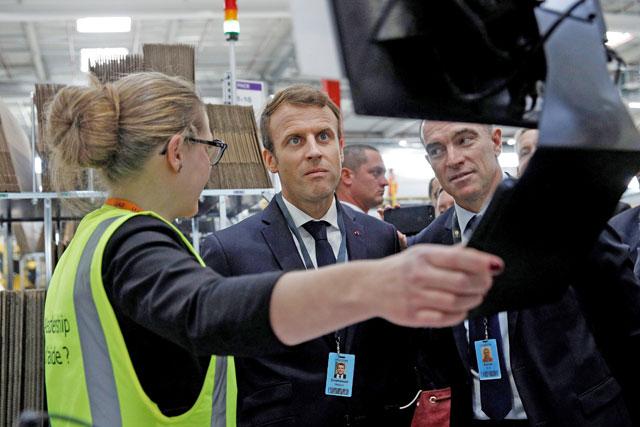 French President Emmanuel Macron (centre) speaks with an employee (left) and Amazon French Operations Director Ronan Bole (right) during a visit at the Amazon factory in Boves, near Amiens, France, on October 3, 2017 (Reuters file photo)
PARIS — The good news keeps coming for the French economy — data published on Thursday showed unemployment at its lowest level since 2009, while the head of the International Monetary Fund (IMF) praised recent reforms by President Emmanuel Macron.
After years of being considered the "sick man of Europe", the French economy is showing its strongest growth in years, with optimism underpinned by the pro-business agenda being implemented by the government.
Statistics agency INSEE said on Thursday that unemployment had fallen to 8.9 per cent nation-wide in the final quarter of 2017, down 0.7 percentage points to its lowest level since 2009.
The uptick in the jobs market has led some companies to warn about skills shortages, a dramatic turnaround for an economy that has consistently lagged its better performing neighbours.
"We've had new job creation at a very high level in 2017 which was sufficient to reduce unemployment," commented economist Bruno Ducoudre at the OFCE economic institute.
On a day of bumper announcements, online giant Amazon also said that it planned to create 2,000 new jobs in France in 2018, most of them in its warehouses.
Economists stress that the improving economy is partly down to stronger growth across Europe, which is dragging France higher, but the head of the IMF on Thursday emphasised the role of recent reforms.
"We need to recognise clearly the quality and the ambition of the reforms that have been started," Christine Lagarde said on Thursday during a visit to the economy ministry in Paris.
Macron, a 40-year-old centrist elected in May, has promised a "transformation" of the economy and social system to make France an easier place to start companies and more attractive for investors.
His first annual budget cut taxes on companies and profits on financial investments, while his government is preparing a second wave of reforms focused on improving training for adult workers and the unemployed.
Economic growth is forecast to be around 2 per cent in 2018, though some analysts expect forecasts to start rising. Expansion of 1.9 per cent in 2017 was the highest level in six years, according to INSEE.
Related Articles
Sep 30,2014
France's public debt has topped the symbolic level of 2 trillion euros for the first time, putting Paris on a fresh collision course with the European Union (EU) as the government prepares to unveil its annual budget.
Jul 14,2014
The International Monetary Fund (IMF) cut its 2014 growth forecast for the eurozone on Monday, warning that the recovery in the single currency bloc was "neither robust nor sufficiently strong".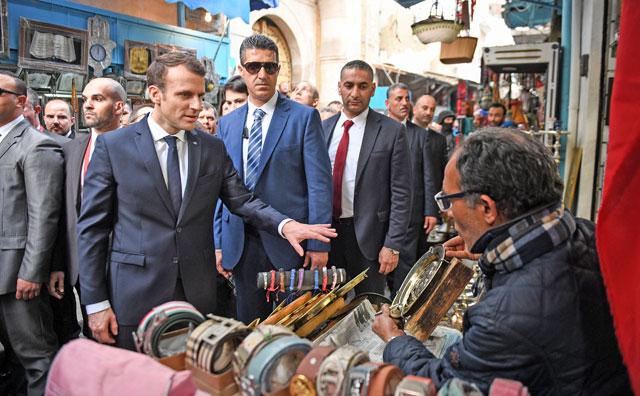 Feb 01,2018
TUNIS — France's President Emmanuel Macron said on Thursday he would push to double French investment in Tunisia over five years to buttress
Newsletter
Get top stories and blog posts emailed to you each day.