You are here
Russians, concerned for their savings, buy dollars and hoard cash on ruble fears
By Reuters - Nov 10,2014 - Last updated at Nov 10,2014
MOSCOW — Many Russians are buying dollars and hoarding cash, increasingly concerned by a slide in the ruble and wary of possible restrictions on bank withdrawals as President Vladimir Putin blames currency woes on speculators and the West.
While there is little panic on the streets of Moscow and other major cities, some Russians are taking no chances with their money, with many hardened by a financial crisis in 1998 which wiped out the savings of millions of people.
The ruble has fallen more than 25 per cent against the dollar in 2014, with especially heavy losses in the past month when the currency repeatedly hit all-time lows despite the central bank spending around $30 billion to defend the currency.
Financial officials and the Kremlin have united in calling for calm, suggesting that speculators were to blame for the falling ruble, rather than tumbling oil prices or Western sanctions that have weakened the economy.
Putin has hinted that the global oil price has been deliberately manipulated to hurt Russia.
Russian search engine Yandex said queries such as "what to do with rubles in 2015?" hit a record high of over 1.2 million on one day last week.
Viktoria Openko, deputy head of currency conversion operations at mid-sized Russian lender B&N Bank, indicated that demand for dollars had risen more than four times in Moscow from October 9 compared with the preceding two months and the bank had to increase the number of times it restocked its branches.
"We first noticed increased demand in Moscow on October 8-9, when the dollar repeatedly started to trade above 40 rubles," she said. "In the regions, the rise in demand started later, from October 13, and on a lesser scale."
Representatives from VTB 24, the retail-banking arm of Russia's second-largest lender VTB, and Rosbank, part of Societe Generale Group, have seen a similar increase in foreign exchange demand.
Another mid-sized Russian lender, Soyuz, revealed selling 2.3 million in dollars to customers in October, compared with $890,000 in September.
Flight to safety
So far there are few signs large banks are running short of dollars, but media have reported foreign currency shortages at smaller lenders in the past week.
Four large banks were able to sell up to $10,000 to a Reuters reporter on Friday, while an office of sanctioned SMP Bank had large amounts of dollars but had run out of euros.
According to an employee who did not wish to be named at a currency exchange booth in Moscow, customer behaviour had changed.
"We have the same customers ringing up in the morning to check the rate. People are worried," the employee said.
Bella Zlatkis, deputy chief executive of top lender Sberbank , said late last month that demand for safety deposit boxes was the most noticeable change in customer behaviour.
"We can't buy safes quickly enough, the largest demand we have is for safes. I understand when people want to put dollars in safes, but at the moment there is another trend, to take out rubles and put them in a safe," Zlatkis indicated.
She suggested demand for safes was linked to fears that authorities could restrict bank withdrawals. "The No. 1 motivation is to save so they can't take it from you."
On Monday, the ruble firmed sharply after Putin said he hoped speculative trading on the ruble would stop soon.
By mid-afternoon it was trading more than 2 per cent higher than the previous close after the central bank said it could intervene at any time to punish speculators after letting the currency float freely.
"That Russian officials from the president down are trying to talk up the ruble speaks volumes about the extent of the deterioration in sentiment towards the currency," said Nicholas Spiro, managing director of Spiro Sovereign Strategy.
"While there has been no widespread dollarisation of retail deposits, this is now a much bigger risk than it was as recently as a couple of weeks ago," Spiro added. "Today's recovery in the ruble looks and feels like a temporary respite."
The central bank predicted Monday that Russia faces the prospect of three years of economic stagnation, underscoring the heavy costs of Putin's Ukraine policies and of Russia's dependence on fragile oil prices.
In an annual monetary policy strategy document, the bank slashed its economic growth forecasts in 2014-16 to almost zero, anticipating that Western sanctions imposed over Russia's actions in Ukraine would last at least until the end of 2017.
It also raised its forecasts for net capital outflows to $128 billion in 2014 and $99 billion in 2015.
Separately, it said it was scrapping the ruble's corridor against a dollar-euro basket, a decision presaged by the bank's announcement last Wednesday that it would limit intervention.
The bank's view on sanctions, the first official assessment of how long they may last, tallied with that expressed by influential former finance minister Alexei Kudrin in September.
It base scenario expected just 0.3 per cent economic growth in 2014, zero growth in 2015, and 0.1 per cent growth in 2016. The economy was only expected to revive modestly in 2017, when the bank expected growth to reach 1.6 per cent.
Its forecast assumed a modest recovery in the oil price to $95 per barrel next year, followed by a further decline.
"Oil at 95 [dollars] may be optimistic, but the assumption of sanctions staying until 2017 seems very realistic and suggests Russia is planning for the long haul," Standard Bank analyst Tim Ash said in a note.
Miserable outlook
Sanctions imposed by the United States and European Union against major Russian banks and companies over Moscow's backing for pro-Russian separatism in Ukraine have led to a virtual freeze on investment inflows that has contributed to the ruble's slide.
Finance Minister Anton Siluanov said the ruble was clearly undervalued and he hoped its volatility would cease by the end of the year.
"The public mood [is] that these economic hardships are the fault of the foreign enemies of Russia," said Christopher Granville, managing director of Trusted Sources, an emerging markets consultancy in London.
Failed growth model
Putin's policies have failed to diversify an economy largely based on natural resources and the political stand-off with the West is starving the country of badly-needed investment capital.
Even before the escalation of the Ukraine crisis this year, the economy was performing poorly, with disappointing growth of 1.3 per cent in 2013, underscoring how a growth model based largely on energy exports is no longer working.
In its base scenario, the bank predicted that the Urals oil price would recover in the short term to average $95 per barrel in 2015, but fall to $90 per barrel by the end of 2017.
The bank also considered alternative scenarios, including the possibility that sanctions would be lifted in the third quarter of 2015, as well as the possibility that oil prices would recover to over $100 per barrel.
It said the scenario envisaging the lifting of sanctions next year was closer to official government forecasts made by the economy ministry, which envisage 1 per cent economic growth next year. But the bank's growth expectations were also modest even if more optimistic assumptions are factored in.
If the sanctions are lifted next year, the bank predicted 0.3 per cent economic growth in 2015 with oil at $95 per barrel, and 0.6 per cent growth if the oil price recovers to $105.
The bank also considered more pessimistic scenarios with lower oil prices. In its worst-case "stress scenario", in which the oil price fell to $60 by the end of 2015, the economy would shrink by 3.5-4 per cent in 2015.
"In working out its scenarios the Bank of Russia considered tendencies in the Russian economy in recent years, which show that existing structural constraints won't be overcome quickly," the bank said in its report.
"As a result, even with a more favourable combination of external factors moderate economic growth rates are forecast," it added.
Related Articles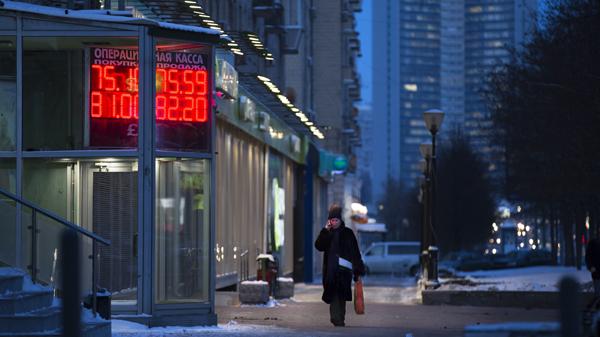 Jan 12,2016
BERLIN — President Vladimir Putin acknowledged Monday in an interview with German daily Bild that Western economic sanctions over the Ukrain
Dec 21,2014
Deep recession, skyrocketing prices and a fragile banking system: Although the ruble seems to have stabilised after its abysmal drop past week, Russia still faces the heavy consequences of the turbulence.
Jan 24,2015
Russia may have to spend more than $40 billion this year to avert a banking crisis, as the growing likelihood of a sharp recession threatens to pile extra costs on a sector suffering from Western sanctions over Ukraine and a plunge in the ruble.
Newsletter
Get top stories and blog posts emailed to you each day.