You are here
Saudi builders delay payments amid state spending clampdown
By Reuters - Feb 09,2016 - Last updated at Feb 09,2016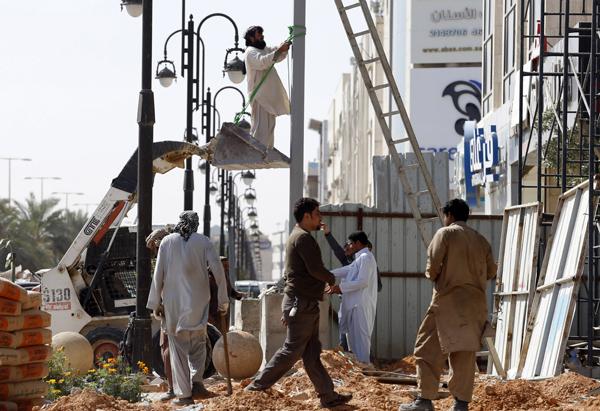 A labourer works to remove a pole outside a residential building in Riyadh, on Tuesday (Reuters photo)
DUBAI — Some Saudi Arabian construction companies are struggling to pay their staff on time in a sign of growing pressure on the economy from low oil prices, which are causing the government to slow spending on building projects.
In an unusual move this week, the ministry of labour issued a public statement saying workers at a "major institution" had complained they had not been paid for months. It said it had established the complaints were true and taken remedial action.
The ministry did not name the institution or give details of its action; it did not respond to telephone calls seeking comment. But senior industry sources told Reuters that the firm was in the construction sector and that at least several other sizeable companies in the industry faced the same problem.
One executive at a large Saudi construction firm, speaking on condition of anonymity, told Reuters it had been having problems paying its employees for a few months.
"It's not just us, it's several construction companies that work on government projects," he said.
As the government of the world's top oil exporter slows spending to reduce a budget deficit of around $100 billion, construction is proving to be the hardest hit sector, because firms depend heavily on government business for their cash flow.
"The pace of execution on some of the existing projects has slowed down, so a project that would take six months to complete may now see an extended execution time line," indicated Murad Ansari, analyst at EFG-Hermes in Saudi Arabia.
"Moreover, government payments have slowed down. As a result, contractors which normally rely on short-term funding for projects are feeling an impact on their working capital, so their ability to repay debt is not as strong as it was before," he said.
Construction accounts for only about 7 per cent of Saudi gross domestic product. But, in coming months, the sector's difficulties could have a wider impact as suppliers are hit and banks lending to the industry take more provisions for potential bad loans.
Payments
Delayed payments to staff, sometimes due to red tape and inefficient bureaucracy rather than financial difficulties, have been a feature of the construction industry in Saudi Arabia and the Gulf for years.
But the problem has worsened greatly in the last few months because of government austerity measures, industry executives said, speaking on condition of anonymity because of commercial sensitivities.
"Many contractors are awaiting payment from the government. It's an industry-wide problem," said an executive at another construction firm operating in the kingdom.
The 2016 state budget envisages total spending of 840 billion riyals ($224 billion); if the government keeps to that figure, it would represent a 14 per cent drop from last year's actual spending.
Since the government has little political room to reduce spending on wages for civil servants, much or most of its cuts are believed to be in building projects.
During Saudi Arabia's last economic slowdown in 2009, also triggered by an oil price slump, the government raised advance payments to builders to support their cash flow and ensure that projects continued without interruption, Ansari said.
That is not happening now. The finance ministry has cut advance payments to firms doing state construction work to 5 per cent of contract value from 20 per cent, the Al Hayat newspaper reported.
"Money is not being paid at the top level," indicated one banker to the industry. "This has been going on since October and it is hard to know how long it will go on for."
The vast bulk of many big builders' business comes from the government.
At least several companies have begun talks to reschedule debts. Jabal Omar Development said last month it was in talks with creditors after failing to make the first repayment of 650 million riyals on a 3 billion riyal government loan.
"The continuity of the company and its ability to honour its obligations depends on its ability to obtain a new agreement on its finances," Jabal Omar added in its statement. It did not answer telephone calls by Reuters to its offices on Tuesday.
Of nine Saudi banks covered by Reuters, seven indicated impairments for bad loans rose year-on-year in the fourth quarter of 2015. Analysts believe some of the new provisions were linked to construction.
Some banks are now shying away from new lending to the construction industry. Moody's Investors Service expects Saudi banks' non-performing loans to rise to 2.5 per cent of gross loans in 12 months from 1.4 per cent in mid-2015.
Related Articles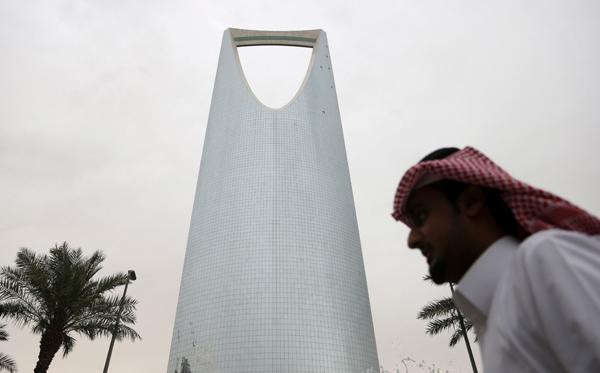 Nov 03,2016
RIYADH — Saudi Arabia has avoided an economic crisis due to low oil prices this year but the outlook for state finances and growth will rema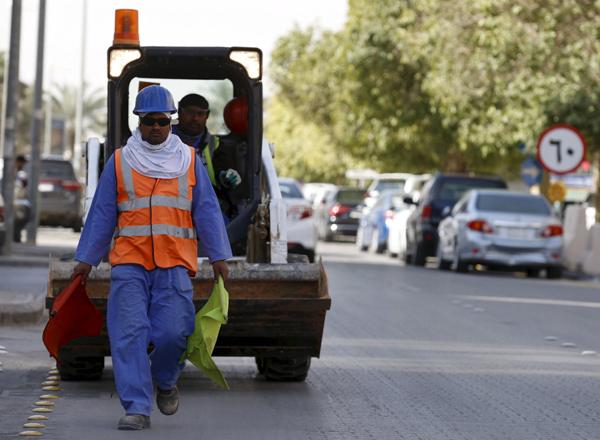 Mar 07,2016
RIYADH/MANILA — Foreign governments are pressing authorities and executives in Saudi Arabia to ensure that local construction firms make del
Sep 08,2016
DUBAI/RIYADH — The Saudi Arabian government has ended talks aimed at saving construction giant Saudi Oger, which is now facing the prospect
Newsletter
Get top stories and blog posts emailed to you each day.