You are here
Southeast Asia bangs the drum for single market
By Agencies - Nov 22,2015 - Last updated at Nov 22,2015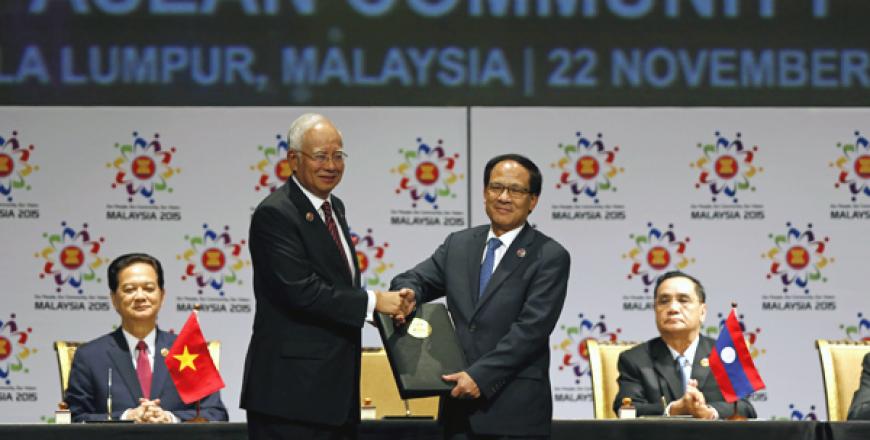 Malaysian Prime Minister Najib Razak (centre left) passes a signed document to ASEAN Secretary General Le Luong Minh (centre right) of Vietnam after the signing ceremony of the 2015 Kuala Lumpur Declaration on the Establishment of the Association of Southeast Asian Nations (ASEAN) Community and the Kuala Lumpur Declaration on ASEAN 2025, in Kuala Lumpur, on Sunday. Seated behind are: Vietnam's Prime Minister Nguyen Tan Dung (left) and Laos' Prime Minister Thongsing Thammavong (AP photo)
KUALA LUMPUR — Southeast Asian leaders on Sunday symbolically declared the establishment by year-end of a European Union (EU)-style regional economic bloc, but diplomats admitted it will be years before the vision of a single market can be realised.
At the group's annual summit, held this year in Kuala Lumpur, the heads of the Association of Southeast Asian Nations (ASEAN) signed a declaration that the bloc hailed as "a milestone in the integration process".
The 10 leaders then put an aural exclamation mark on the agreement by banging once in unison on a traditional drum from each of their nations.
However, diplomats have admitted Sunday's declaration has no practical effect, and was largely meant to avoid having ASEAN, regularly criticised for its lack of concrete achievements, miss its own deadline of 2015.
Several years ago, ASEAN set a 2015 target for launching the ASEAN Economic Community (AEC), a single market with a free flow of goods, capital and skilled labour across borders.
The summit's host, Malaysian Prime Minister Najib Razak, urged his counterparts to step up efforts to realise a vision that many experts view as difficult, if not impossible, to achieve.
"We now have to ensure that we truly create a single market and production base with freer movement of goods and services with common standards, far greater connectivity and removal of barriers," Najib said.
Achievement of that vision will cause foreign investment in the region to "expand exponentially".
The AEC is aimed at marshalling the combined economic force of a resource-rich and growing market of more than 600 million people to enhance its trading clout and help it compete with the likes of China for foreign investment.
Changing the 'mental map'
Great progress has been made on lower-hanging fruit like slashing tariffs and removing other hurdles such as clashing customs systems.
But significant non-tariff and other barriers remain in a region marked by extremes in development levels, democratisation, and institutional capability.
A Southeast Asian diplomat conceded the single market vision is many years away but argued the declaration will help change ASEAN's "mental map" and provide momentum.
"We hope this will help the people and governments to think more and more on the basis of regional interests rather than purely national interests," the diplomat said.
ASEAN includes wealthy Singapore, one of the world's most developed countries, oil-rich Brunei, developing states like Malaysia, Indonesia, Thailand, the Philippines and Vietnam, and poorer nations like Cambodia, Laos and Myanmar.
Its members range from free-wheeling to controlled democracies, communist-ruled states and an absolute Islamic monarchy.
Najib on Saturday acknowledged much work remained, saying "non-tariff barriers, which affect daily life and employment across our nations, are too extensive".
Although ASEAN's plans were inspired by Europe, officials insist they want to pursue integration in a way suitable to the region's circumstances, and have ruled out a common currency.
US President Barack Obama praised the AEC and pledged American support.
Speaking Saturday, he called the declaration a "major step toward integrating economies and greater regional stability".
AEC will bolster income and employment, and provide the region with stronger economic muscle in facing the other giants, indicated Michael G. Plummer, a professor of international economics at the Europe Centre of Johns Hopkins University, based in Bologna, Italy.
"ASEAN integration will help balance the economic power of China and India," Plummer said. "Individually, ASEAN countries are, perhaps, too small to be important players in the economic and security game, but as an integrated group of more than half-a-billion people, they would be in the major league."
"The AEC is arguably the most ambitious economic integration programme in the developing world," Plummer added. "But implementation of the AEC is increasingly uphill. Much remains to be done and the region faces many challenges in finishing. The AEC is a process."
It falls short in more politically sensitive areas such as opening up agriculture, steel, auto production and other protected sectors.
ASEAN citizens will be allowed to work in other countries in the region, but will be limited to jobs in eight sectors, including engineering, accountancy and tourism. This accounts for only 1.5 per cent of the total jobs in the region, and host countries still can put up constitutional and regulatory hurdles restricting the inflow of talent.
Intra-regional trade has remained at around 24 per cent of ASEAN's total global trade for the last decade, far lower than 60 per cent in the EU.
According to Plummer, progress has been slow in services liberalisation. Cross-border flow of investment is also restricted by large exclusion lists and caps on foreign ownership.
Government procurement and curbing monopolies by state-owned enterprises are highly sensitive and untouched, he indicated.
Although the four poorer economies — Cambodia, Laos, Myanmar and Vietnam — have until 2018 to bring down tariffs, economic integration could further reinforce income equalities in the region, he said.
AEC "is not the finished article. Neither is it officially claimed to be. There is much work to be done", said Mohamad Munir Abdul Majid, chairman of a council that advises ASEAN on business matters.
"There is a disparity between what is officially recorded as having been achieved... and what the private sector reports as their experience," he added.
There are also other hurdles, such as corruption, uneven infrastructure and unequal costs of transportation and shipping.
A wide economic gulf divides Southeast Asia's rich and middle income economies — Malaysia, Indonesia, Singapore, Brunei, Thailand and the Philippines — and its four less developed members, communist Vietnam and Laos, Myanmar and Cambodia.
The AEC was envisaged in 2002 — and a blueprint created in 2007 — to face competition from China and India for market share and investments.
While China's economic growth is expected to slow to an average of 6 per cent annually over the next five years, India's expansion is likely to pick up to 7.3 per cent in the same period, according to the Organisation of Economic Cooperation and Development.
The AEC is one of the three pillars of the ASEAN community, which was created by the signing of the declaration Sunday. The other two pillars are political-security and socio-cultural.
Related Articles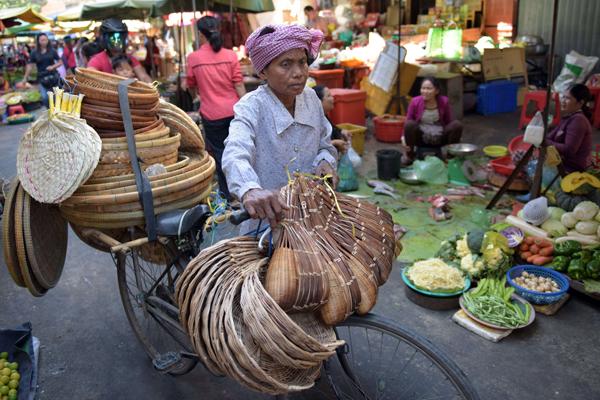 Jan 01,2016
JAKARTA — Southeast Asian nations officially launched a European Union (EU)-inspired economic bloc Thursday aimed at boosting the region's t
Dec 02,2015
LONDON — The outlook for the global economy next year is darkening, with a US recession and China becoming the first major emerging market t
Jul 25,2016
VIENTIANE, Laos — China scored an unequivocal diplomatic victory Monday, preventing Southeast Asia's main grouping from criticising it for t
Newsletter
Get top stories and blog posts emailed to you each day.