You are here
Turbulence tests Ivory Coast's feted economic revival
By Reuters - Feb 25,2017 - Last updated at Feb 25,2017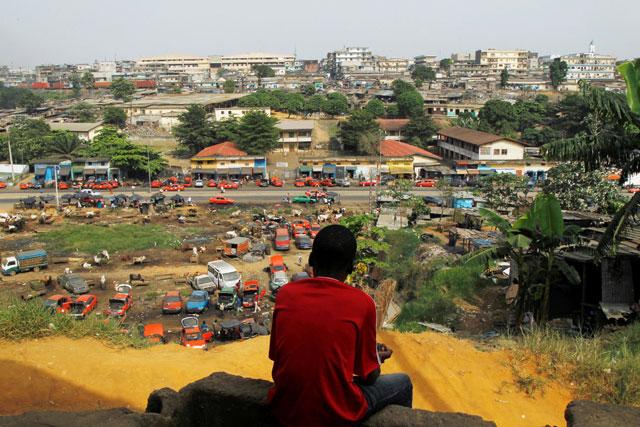 A boy sits on a hill overlooking the village of Attiekoube in Abidjan, Ivory Coast, on Thursday (Reuters photo)
ABIDJAN — Fallout from army mutinies, public sector strikes and a cocoa crisis is threatening to derail Ivory Coast's public finances and turn startling economic growth into a cycle of hardship and social unrest.
Two months into 2017, the government is already facing unforeseen spending that could total roughly half-a-billion dollars, according to a Reuters calculation, just as it is supposed to be exercising budget discipline under an International Monetary Fund (IMF) programme.
How President Alassane Ouattara weathers the instability will reveal whether the much-praised recovery from civil war in Francophone West Africa's biggest economy can last.
"We've all been applauding the country's economic management in recent years, but it's mostly been fair skies," said Alain Feler, the IMF country representative in Ivory Coast. "The current shocks... will require its economic policymakers to demonstrate their ability to navigate through turbulence."
After coming to power following a decade of political crisis capped by the 2011 war, Ouattara steered the economy to average annual growth of nearly 9 per cent from 2012 to 2015. It was Africa's fastest growing economy last year.
During the boom Ivory Coast has attracted foreign funding for everything from breweries and shopping malls to construction and power production, and borrowed from international investors through Eurobonds and sukuk Islamic financing.
The IMF's official projection for growth this year remains at 8 per cent, but the rosy outlook took a major hit last month.
First came the mutinies, when former rebel fighters now serving in the army rose up at bases across the country demanding the payment of bonuses they said they were owed for ousting ex-president Laurent Gbagbo in 2011.
Ivorian authorities have not released details but mutiny leaders say a deal to end the uprising included payments of more than 100 billion CFA francs ($160 million), or about 0.5 per cent of annual gross domestic product (GDP), spread over 8 months.
Ouattara also promised negotiations to persuade teachers and public sector employees to suspend a three-week strike that has turned violent at times. The workers were demanding over $400 million in back wages and a rolling back of pension reforms that would cut benefits and raise their contributions.
"With social unrest, if you want to stay in power you promise everything," said the regional head of an international bank. "The risk is they enter this vicious circle of social crisis to fiscal crisis to economic crisis."
'A huge, huge mess'
Just as the government is facing these unexpected costs, a main pillar of its economy — cocoa exports — is crumbling.
Ivory Coast is the world's top grower of cocoa but many exporters have defaulted on contracts to buy beans via state marketing board auctions. Those who speculated that world prices would continue rising walked away from the contracts to avoid heavy losses when the market fell.
This has paralysed an industry that typically accounts for a quarter of total exports and around 15 per cent of state revenues, creating a glut.
"It's a huge, huge mess. And what will be the cumulative damage? Who knows?" an official with one cocoa exporter said.
Ivory Coast sells forward the bulk of its crop, but last Wednesday, the agriculture minister acknowledged that it has been forced to resell cocoa from the defaulted contracts and also auction excess production — 350,000 tonnes of beans in total.
The government is obliged to subsidise the sales to maintain prices for farmers. Without further details from the cocoa marketing board it is impossible to calculate the precise cost to the government. However, an analyst with an international investment bank put it at between $274 million and $313 million.
That would effectively wipe out up to 43 per cent of the government's anticipated tax revenues from cocoa exports.
Agriculture Minister Mamadou Sangafowa Coulibaly said the costs would be covered by a reserve fund for the sector, but exporters are sceptical that sufficient money is there.
With buyers scarce, a large part of this season's bumper crop has been left to rot. The impact on those who depend on the cocoa sector — over 6 million people, or a quarter of the population — is growing.
"We're in debt. We have nothing. I have a worker I employ and I can no longer pay him this year," cocoa farmer Ali Bamba, 54, said as he walked home from his plantation near the western town of Soubre, a machete in hand.
"How am I supposed to get by now? We see now that the government is abandoning us," he told Reuters.
Ouattara is facing hard choices. Under the IMF deal, the government has agreed to reduce the budget deficit from 3.8 per cent of GDP in 2016 to 3.7 per cent this year, in return for $659 million in loans.
This year's target equates to somewhere in the region of $1.4 billion, so an extra half billion in unbudgeted expenditure could have serious consequences at a time when international investors and bondholders are watching for any signs of slippage.
Any cuts to services to curb the deficit risks antagonising ordinary Ivoirians, many of whom have seen few of the benefits of the economic revival and bristle at the government's regular touting of its near double-digit growth.
On the other hand, the possibility of higher taxes already worries businesses. One director at an Abidjan-based firm told Reuters his company has already faced more than two dozen tax reviews over the past three years, and he fears it will now only get worse.
"Is that going to encourage investors to come?" said the regional bank official. "That creates an economic crisis."
Even the option of increasing borrowing appears difficult, as liquidity among local banks dries up.
Ivory Coast was forced to call off a five-year, 50 billion CFA franc bond issue this month after demand reached less than a quarter of that amount. Its latest 3-month treasury bill was also undersubscribed.
So far the government has said little about the scale of the problems it faces.
The ministries of budget and finance did not respond to Reuters requests for interviews.
Investors complain that any information they manage to get on the state of the government's finances is months old.
"There's more uncertainty in Ivory Coast, just with recent data let alone with current politics, than there is with other countries from Nigeria to Kenya to Ghana," said Charles Robertson, global chief economist for Renaissance Capital.
Ivory Coast's leadership at least has a strong reputation among investors to draw on. Ouattara is an economist and former IMF deputy managing director. Vice-president Daniel Kablan Duncan has served as finance minister and as an official with the West African regional central bank. Budget Minister Abdourahmane Cisse used to work for Goldman Sachs.
If, with their combined expertise, they can correct the course, the country could yet solidify its reputation as Africa's rising star.
"[Ivory Coast] could even come out of this difficult situation stronger," the IMF's Feler said.
Related Articles
Nov 30,2017
ABIDJAN — Leaders at an EU-Africa summit called Thursday for the immediate evacuation of nearly 4,000 distressed African migrants in Libya u
Nov 25,2017
DAKAR — Ivory Coast's President Alassane Ouattara called on the International Criminal Court on Saturday to indict criminals who are selling
Sep 11,2015
JOHANNESBURG — A slump in commodity prices and flight by global investors from risky "frontier" markets has hammered currencies and state bu
Newsletter
Get top stories and blog posts emailed to you each day.