You are here
WTO sees up to $3.6 trillion boost to trade from deal to cut red tape
By Reuters - Oct 26,2015 - Last updated at Oct 26,2015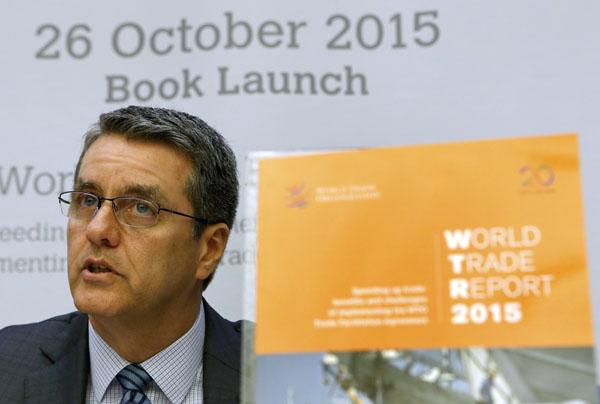 WTO Director General Roberto Azevedo attends a news conference on the launch of the World Trade Report 2015 in Geneva, Switzerland, on Monday (Reuters photo)
GENEVA — The benefits of a treaty that will cut red tape at borders and standardise customs procedures are much larger than previously thought and could add $3.6 trillion to annual global exports, the World Trade Organisation (WTO) said in a report on Monday.
The WTO's trade facilitation agreement (TFA), struck at a ministerial conference in Bali in December 2013, will do more to boost trade than if all the world's import tariffs were removed, cutting costs 9.6 to 23.1 per cent, the WTO calculated.
"You could say that it's global trade's equivalent of the shift from dial-up Internet to broadband," said WTO Director General Roberto Azevedo.
Once the new rules come into effect, which Azevedo hoped would happen by the end of 2016, it will cut waiting times at customs, lessen the potential for corruption and hasten foreign direct investment into weaker economies.
The TFA had previously been expected to add $400 billion to $1 trillion to trade, according to various economic studies.
Many trade experts had shied from using the upper end of those forecasts, but the WTO's own research found they were on the low side.
"Overall, the simulations confirm that the trade gains from speedy and comprehensive implementation of the TFA are likely to be in the trillion-dollar range, contributing up to almost 1 per cent to annual gross domestic product growth in some countries," the report said.
The agreement, which was created in December 2013, will come into force when two-thirds of WTO members have ratified it. Fifty have ratified it so far, out of 161 current WTO members.
The report used two main models for estimating the gains from the agreement: a "computable general equilibrium" (CGE) simulation, which makes assumptions about "what if" certain barriers are removed, and a "gravity model", based on historical evidence of removal of trade barriers.
The CGE model predicts exports will rise by at least $750 billion to well over $1 trillion per year, adding 0.34 to 0.54 percentage points to annual global economic growth, it indicated.
Gravity model estimates put the annual export gains at $1.1 trillion to $3.6 trillion, the report concluded. It did not estimate the impact on gross domestic product under the gravity model.
Related Articles
Nov 08,2014
An impasse over a global pact to streamline customs procedures poses "the most serious crisis the World Trade Organisation has faced" and has paralysed all negotiations in the trade body, its chief Roberto Azevedo said Saturday.
Dec 20,2015
NAIROBI — World Trade Organisation (WTO) member countries agreed to abolish agricultural export subsidies after five days of talks in Nairob
Nov 13,2014
India and the United States settled a dispute on Thursday that had paralysed the World Trade Organisation (WTO) and risked derailing a $1 trillion package of reforms of global customs procedures.
Newsletter
Get top stories and blog posts emailed to you each day.