You are here
'Ant-Man and the Wasp' marches to $76 million debut
By Reuters - Jul 11,2018 - Last updated at Jul 11,2018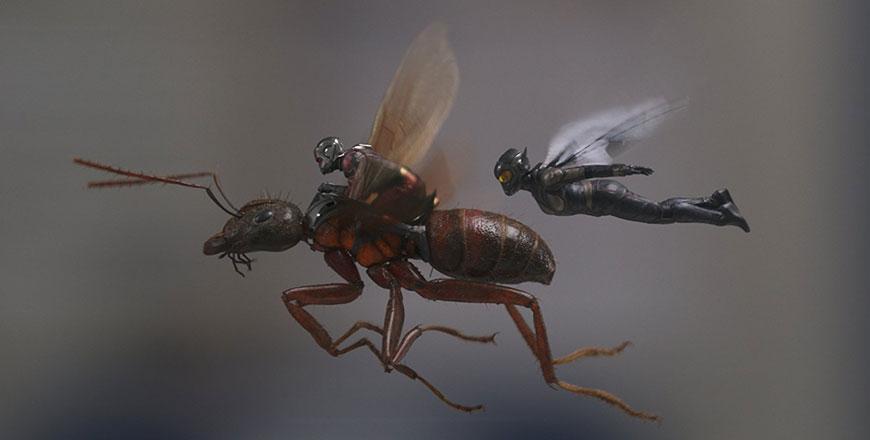 Paul Rudd and Evangeline Lilly (right) in 'Ant-Man and the Wasp' (Photo courtesy of imdb.com)
LOS ANGELES — "Ant-Man and the Wasp" squashed the competition at the domestic box office.
The Marvel sequel — starring Paul Rudd and Evangeline Lilly — opened with $75.8 million from 4,206 North American locations. That start is significantly ahead of the original "Ant-Man," which debuted with $57 million in 2015.
"Ant-Man and the Wasp" easily topped the weekend, as fellow box office newcomer "The First Purge" scared up $17 million from 3,031 theatres. Meanwhile, "Jurassic World: Fallen Kingdom" narrowly stole the No. 2 spot from "Incredibles 2". The blockbusters earned $28.6 million and $28.4 million respectively this weekend.
Overseas, "Ant-Man and the Wasp" collected $85 million, bringing the worldwide opening to $161 million. Across 20 films, the Marvel Cinematic Universe has brought in $17 billion globally. All 20 films have opened No. 1 at the box office.
Praise seems to be strong for "Ant-Man and the Wasp", which holds a promising 86 per cent on Rotten Tomatoes. The acclaimed first film came in slightly lower with an 82 per cent Rotten Tomatoes average.
"We are really thrilled about the results," Cathleen Taff, Disney's head of domestic distribution, said. "We continue to be amazed by what Kevin Feige and the team do with these films."
Taff also pointed to Lily as Marvel's first female title character. "Kevin and his team always try to come up with a great story diversity. I think you see that come to play here," she said.
With a production budget around $162 million, "Ant-Man and the Wasp" looks like another win for Marvel. The studio has had a string of box office hits in 2018 with "Avengers: Infinity War" racking up over $2 billion and counting, and "Black Panther" passing $1.3 billion globally.
Universal and Blumhouse's "The First Purge" debuted on Independence Day, getting a head start on the weekend. Its five-day total sits at $31 million. Gerard McMurray directed the $13 million film, which was written and produced by James DeMonaco.
Jim Orr, Universal's president of domestic distribution, praised DeMonaco and Blumhouse for the strong opening.
"The new chapter really taps into the zeitgeist. It's the fourth in a franchise that they happen to keep very relevant," he said. "We think we're going to be great counter-programming for the rest of the summer."
The fourth movie in the series serves as an origin story, starring Y'lan Noel, Lex Scott Davis, Joivan Wade, Luna Lauren Velez, and Marisa Tomei. The most recent iteration was 2016's "The Purge: Election Year", which ended its theatrical run with $79 million domestically and $118.5 million worldwide. "The "Purge" movies have pocketed over $360 million globally.
Universal and Amblin Entertainment's "Jurassic World: Fallen Kingdom" recently charged past $1 billion at the worldwide box office. In three weeks, the dinosaur tentpole has earned $333.3 million in North America.
Now in its fourth frame, Disney-Pixar's "Incredibles 2" just hit a major milestone of its own. Everyone's favourite crime-fighting family has crossed the $500 million mark domestically and $700 million worldwide. It is the first animated film to ever surpass $500 million at the North American box office, and the 12th film ever to do so. Internationally, "Incredibles 2" has made $269 million.
Also in the top five is Sony's "Sicario: Day of the Soldado". The Benicio Del Toro and Josh Brolin-led sequel picked up another $7.6 million, taking the domestic tally to $35 million.
At the specialty box office, Roadside Attractions and Miramax's "Whitney" bowed with $1.3 million from 452 locations. The documentary focusing on the life and career of Whitney Houston holds an A CinemaScore and a Rotten Tomatoes average of 90 per cent.
Also opening in limited release was Annapurna's "Sorry to Bother You", which landed the best per screen average of the weekend with $44,881. Boots Riley's film brought in $717,302 when it opened in 16 theatres. Lakeith Stanfield, Armie Hammer, Tessa Thompson, Steven Yeun, Danny Glover, Terry Crews, David Cross, Patton Oswalt, and Omari Hardwick round out the cast.
Elsewhere, Focus Features' "Won't You Be My Neighbours" landed in the top 10 at the domestic box office again, drawing another $2.6 million when it expanded to 893 locations. In five weeks, the documentary on Fred Rogers has amassed an impressive $12.4 million.
Another documentary, Neon's "Three Identical Strangers" earned $717,008 million from 5 locations, bringing its domestic tally past $1 million.
The 2018 box office, which just hit $6.5 billion, is up 9 per cent from last year, according to ComScore.
Newsletter
Get top stories and blog posts emailed to you each day.