You are here
Agile, advanced Audi A4 raises bar
By Ghaith Madadha - Sep 28,2015 - Last updated at Sep 28,2015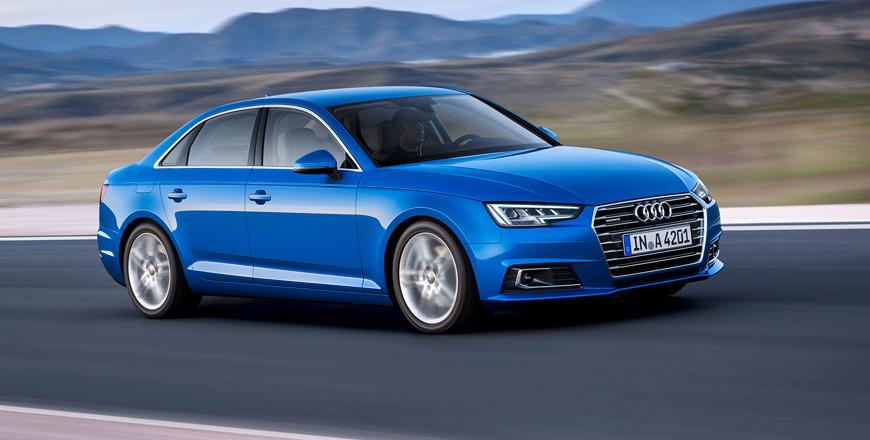 Launched at the Frankfurt Motor Show earlier this month, Audi's latest gambit into the crucial compact executive saloon segment is lighter, sportier, more comfortable, advanced and efficient and better looking than ever. Using more lightweight material, new suspension design and high-tech infotainment and driver assistance systems, the fifth generation Audi A4 also features class-leading aerodynamics.
Raising the bar for new segment entrants like the Jaguar XE and old hand compact executives like the BMW 3-series alike, the new Audi A4 is initially offered with three prodigiously efficient turbocharged four-cylinder engine choices. The front-drive entry-level 1.4-litre version tested impressed with much nimbler handling and more confidently flexible highway performance than was expected.
Crisp and clean
With sharper more defined lines, the new A4 looks clean, crisp and more elegantly sporty than before. Using a hexagonal rather than trapesoidal design, a new grille emphasises its width and is framed by more heavily browed, squinting headlights with sharply angular LED elements. Big gaping side intakes and defined sill lines also lend a sportier look.
Stylishly upmarket but not overstated, the A4's relatively level and elegant waistline provides an airier cabin ambiance, while a big footprint and visually shorter front overhang lend a confident posture. With body design, mirrors, wheel wells and engine underbody cover honed to manage airflow, the A4's best-in-class CD0.23 aerodynamics pays dividends in terms of efficiency and noise reduction.
Built using more lightweight aluminium and high strength steel content in addition to other weight savings, the new A4 is up to 120kg lighter than its predecessor — depending on model — but is nonetheless slightly larger and roomier. Additionally, the new A4's use of aluminium suspension components further reduces unsprung weight for improved ride comfort and handling ability.
Mid-range muscle
Small, efficient and prodigiously powerful, the entry-level A4's 1.4-litre turbocharged direct injection engine develops 148BHP at 5000-6000rpm and even more usefully, 184lb/ft throughout 1500-3500rpm. The lightest A4, the 1,320kg 1.4 TFSI sprints through the 0-100km/h benchmark in just 8.7 seconds and tops out at 210km/h. It returns frugal 5.3l/100km fuel efficiency and low 126g/km CO2 emissions on the combined cycle.
Quick-spooling and more responsive than expected from low-end with little detectible turbo lag, the A4 1.4 TFSI moves off-the line with its driven front wheels digging tenaciously into the tarmac under its low-mounted in-line engine. Smooth and refined, the 1.4 TFSI benefits from a wide and generous torque band, and confidently keeps pace with fast moving European highway traffic.
Best in its muscular mid-range and at the cusp of its maximum power band, the 1.4 TFSI's talents lie in its versatile high torque band, where on-the-move flexibility and responsiveness were effortlessly confident even with three passengers and luggage. With slick-shifting 6-speed manual gearbox — rather than optional automatic — with intuitively light clutch pedal pick-up, the A4 was especially engaging.
Comfort and agility
Developed with new lightweight aluminium five-link, front and rear, suspension with upper links integrated directly into the bodywork for enhanced stiffness, the Audi A4 benefits from enhanced comfort, control and responsiveness. Allowing for more optimal tuning, the A4's new suspension is set-up for comfortable absorption of longitudinal forces and is simultaneously stiff on a lateral plane, for sportier driving.
Along with a more responsive, direct and sporty electric-assisted steering system, the new A4's more sophisticated five-link suspension greatly mitigates its front-biased in-line engine ahead of the front axle and front-wheel drive configuration and weighting. Nimbler and tidier than previous front-drive Audis, the A4's handling was agile and turn-in crisp, especially with the lighter and less powerful 1.4-litre engine.
More eager and seemingly lighter in front, the A4 responsively and precisely tucks into corners, with agility aided by electronic torque vectoring, which subtly brakes the inside wheel through corners. Composed, taut and agile through corners, the A4 is also superbly stable at speed. Fitted with standard fixed-rate dampers and 225/50R17 tyres, it was confident, composed and comfortable over imperfections and settled on rebound.
Sophisticated suite
Smooth riding and highly refined inside, the A4's cabin features a very well-adjustable and ergonomic driving position and good visibility. Driven in a lower specification version with smart breathable cloth seats, the A4 is also available with quality leathers, woods and other materials. Build quality is thorough and cabin design and layout is crisp, fresh, elegant, uncluttered and user-friendly.
Well-equipped in entry-level spec with pop-up screen infotainment system with voice command and Bluetooth connectivity, the A4's optional equipment list is exhaustingly extensive. Of numerous available features, the A4's integrated 3D navigation and virtual cockpit with configurable instrument cluster screen are particularly noteworthy. Also notable are the A4's smartphone integration capabilities, wireless charging and optional detachable tablet-style rear entertainment screens.
With a thoroughly comprehensive suite of advanced driver assistance and safety, the A4's technological tour de force is its optional Tour package. Utilising radar, navigation and other systems, Tour package systems can detect, prevent or mitigate front city collisions and through turns, anticipate and prepare for corners, and self-drive in traffic jams with automatic lane-keeping self-steering up to 65km/h on well-developed roads.
TECHNICAL SPECIFICATIONS
Engine: 1.4-litre, in-line turbocharged 4 cylinders
Bore x stroke: 74.5 x 80mm
Compression ratio: 10:1
Valve-train: 16-valve, DOHC, direct injection
Gearbox: 6-speed manual, front-wheel drive
Top gear/final drive ratios: 0.67:1/3.56:1
Power, BHP (PS) [kW]: 148 (150) [110] @ 5000-6000rpm
Specific power: 106.1BHP/litre
Power-to-weight: 112.1BHP/tonne
Torque, lb/ft (Nm): 184 (250) @ 1500-3500rpm
Specific torque: 179.2Nm/litre
Torque-to-weight: 189.4Nm/tonne
0-100km/h: 8.7 seconds
Top speed: 210km/h
Fuel consumption, urban/extra-urban/combined: 6.8/4.5/5.3 litres/100km
CO2 emissions, combined: 126g/km
Fuel capacity: 54 litres
Length: 4726mm
Width: 1842mm
Height: 1427mm
Wheelbase: 2820mm
Track, F/R: 1572/1555mm
Aerodynamic drag co-efficient: 0.23
Overhangs, F/R: 880/1026mm
Headroom, F/R: 1039/953mm
Luggage volume, min/max: 480/965 litres
Unladen weight: 1,320kg
Steering: Electric-assisted rack & pinion
Suspension: Five-link
Brakes, F/R: Ventilated discs/discs
Tyres: 225/50R17
Related Articles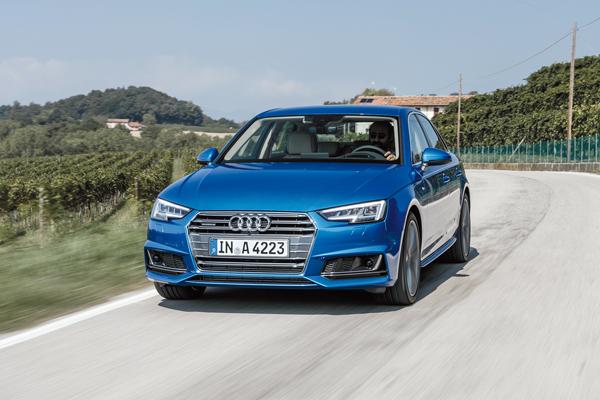 Apr 18,2016
Launched globally at the Frankfurt Motorshow late last year and arriving in the Middle East market earlier this month, the latest generation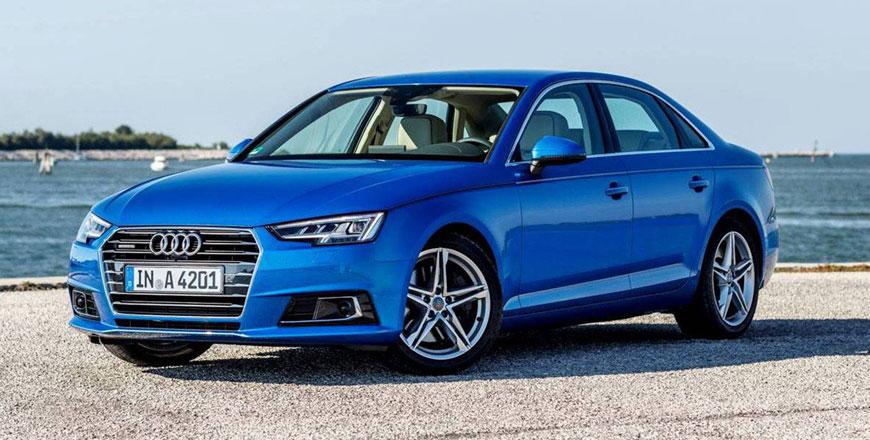 Nov 23,2015
Making its global debut weeks ago at the Frankfurt Motor Show and expected in Amman in early 2016, the new Audi A4 is the Ingolstadt-based f
Dec 24,2017
Among the most well-rounded cars in its class and winner of the Best Compact Premium Sedan segment at the 2017 Middle East Car of the Year a
Newsletter
Get top stories and blog posts emailed to you each day.