You are here
Apple unveils iPhone 7, Nintendo shares jump on new phone games
New phone ditches analogue headphone jack
By Reuters - Sep 07,2016 - Last updated at Sep 08,2016
Phil Schiller, Apple's senior vice president of worldwide marketing, talks about the pricing on the new iPhone 7 during an event to announce new products on Wednesday in San Francisco (AP photo)
SAN FRANCISCO — Apple Inc. unveiled its new water and dust-resistant iPhone 7 with high-resolution cameras at its fall product event on Wednesday, and said a Super Mario game was coming to the new phone and Pokemon Go would feature on its upgraded Apple Watch.
The excitement at the Bill Graham auditorium in San Francisco was not matched on Wall Street as Apple's stock spent most of the session in negative territory before briefly showing small gains.
However, Nintendo Co. Ltd.'s US-listed shares jumped more than 20 per cent to trade around $35 after it announced a new smartphone game in the venerable Super Mario Bros series, Super Mario Run, which will debut in December on the iPhone and iPad.
The world's best-known technology company said the iPhone 7, starting at $649, would have one, zooming 12-megapixel camera. The "Plus" edition, starting at $769, would feature two cameras.
It also removed the analogue headphone jack, as was widely expected. The new headphones supplied by Apple with the phone will plug into the same port as the recharging cord, but it will also work with Apple's new wireless headphones, called Air Pods, available in late October at a price of $159.
The new phone will start shipping in major markets, including the United States and China, on September 16.
"While the camera improvements for the iPhone 7 Plus are nice, they are incremental for most and the lack of headphone jacks could offset that for others," said Bob O'Donnell of research firm TECHnalysis.
He said Apple's new glossy black finish could be more popular than any tech feature, reflecting the slowdown in major tech innovations for smartphones.
Mike Binger, senior portfolio manager at Gradient Investments LLC. in Minneapolis, said the disappearance of the headphone jack "will probably annoy a certain amount of people" but they would likely get over it.
"Every other release tends to be a better release. Most people's two-year contracts are nearing the end, so I think the iPhone 7, just from a replacement basis, will be a successful launch," he said. "We're in good shape for a nice sales cycle here, so I'm encouraged."
Apple typically gives its main product, which accounts for more than half of its revenue, a big makeover every other year and the last major redesign was the iPhone 6 in 2014.
Apple said its Apple Watch Series 2, with a swim-proof casing, will be available in more than 25 countries starting on September 16.
"I predict Watch sales will improve dramatically," said Tech analyst Patrick Moorhead. "Most of the current Watch owners are early adopters and the next wave could be 10 times the size of that market."
Apple also launched a new version of the device called the Apple Watch Nike+, in partnership with the athletic goods manufacturer Nike Inc., featuring GPS so athletes can track their runs.
Shares of Fitbit Inc., which makes activity-tracking bands, fell 2 per cent on the emergence of such a high-profile competitor.
Related Articles
Sep 10,2014
The addition of a mobile payments service to Apple Inc's next iPhone could help to boost sales of the larger-screen phones and claw back market share lost to mobiles running on Google Inc's Android platform.
Sep 09,2014
For the first time in years, Apple's iPhones are not the star of the show. Apple unveiled a smartwatch called the Apple Watch on Tuesday, a wearable device that marks the company's first major entry in a new product category since the iPad's debut in 2010.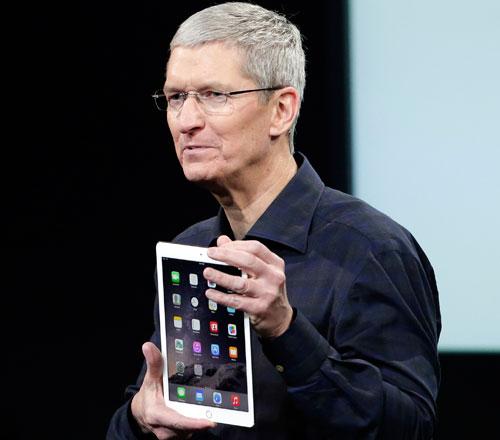 Oct 16,2014
Apple Inc introduced a faster, slimmer iPad Air 2 on Thursday, tacking on modest improvements such as a fingerprint sensor to its mainstay tablet in time for what is expected to be a hotly contested holiday season for mobile devices.
Newsletter
Get top stories and blog posts emailed to you each day.