You are here
Audi A4 45 TFSI Quattro: All-round ability
By Ghaith Madadha - Dec 24,2017 - Last updated at Dec 24,2017
Among the most well-rounded cars in its class and winner of the Best Compact Premium Sedan segment at the 2017 Middle East Car of the Year awards, the Audi A4 is sporty yet classy and user-friendly though loaded with high tech equipment.
Driven in top 45 TFSI Quattro specification — next to "S" or "RS" high performance variants – the A4 is quick yet efficient and refined, and delivers a comfortable ride, composed handling and reassuring road-holding in one package.
Elegant and unpretentious
Quiet, refined and efficient, the A4 is designed with segment-best CD0.23 aerodynamics for base models and Cd0.27, as driven, and features several wind-cheating measures, including and under body cover and an aerodynamic mirror design.
Built using a combination of materials, including high strength steel and lightweight aluminium, it is lighter yet more spacious than its predecessor. Utilising other weight-reduction measures like lighter electric power steering, it makes a 120kg weigh saving, while aluminium suspension reduces unsprung weight for improved comfort and better handling.
An evolutionary design that is sharper and more sculpted than the car it replaces, the A4 is at the same time distinctly smart and assertive in aesthetic, yet, understatedly elegant and unpretentious. Its big hexagonal grille is flanked is framed by strongly browed and slim lights and big side intakes. Surfacing is chiselled and subtly detailed, with prominent sills and tight a crease-line across the flanks. Meanwhile, a level waistline lends it a grounded look that alludes to its Quattro four-wheel-drive, and provides good visibility.
Responsive and refined
The most powerful garden-variety A4, the 45 TFSI is powered by turbocharged 2-litre four-cylinder engine powering all four wheels through a smooth and swift shifting 7-speed automated dual-clutch S-Tronic gearbox with economy and manual modes drive modes, and a stop/start system to help achieve low 6.3-litre combined fuel efficiency. A testament to just how far the combustion engine has developed in recent times, the mid-range A4 45 TFSI is now faster, more powerful and economical than Audi's breakthrough 1980s model and iconic high performance Quattro.
Producing 248BHP at 5000-6000rpm and 273lb/ft throughout a broad 1600-4500rpm range, the 45 TFSI Quattro launches eagerly off the line, with quick spooling turbo and four-wheel-drive traction ensuring power translates effectively to motion. Powering through 0-100km/h in 5.8-seconds and capable of 250km/h, the 45 TFSI is responsive from low-end and effortlessly versatile in mid-range.
Refined and smooth, the A4 has a faint yet distinct growl as it quickly, but progressively climbs to its peak performance top-end. Meanwhile, its intake manifold is integrated into the cylinder head for improved thermal management.
Sure-footed handling
Sure-footed and tenaciously grippy, the A4's Quattro system sends 60 per cent power rearwards for eager dynamics and balance, but can reallocate 85 per cent power rearwards or 70 per cent frontwards for improved handling, road-holding and safety when necessary. For 2018, the 45 TFSI will also be offered with Audi's new Quattro Ultra system, which drives the front wheels in normal conditions and engages the rear wheels as necessary. Reducing friction and improving fuel efficiency, the new system is seamless in operation, it can even pre-empt when four-wheel-drive is necessary.
Riding on five-link front and rear suspension with upper links integrated directly into bodywork the A4 is designed to for supple absorption of longitudinal forces while retaining lateral stiffness. Its new suspension design also makes the A4 handle with tidy and crisp eagerness into corners, regardless of its longitudinal engine being positioned just ahead of the front wheels. Through winding Italian roads on initial test drive, the A4 was committed, fluent and poised, with agility further enhanced by a brake-based torque vectoring system and optional rear sport differential.
Ergonomic and advanced
Whether on imperfect and winding Italian routes or smooth and straight Dubai roads during a second test drive, the A4 — with optional adaptive dampers — proved composed and comfortable at speed and forgiving and settled over more textured segments. Refined inside from vibrations, noise and harshness, the A4's cabin has an airy ambiance and terrific driving position with good visibility, high level of steering and seat adjustability, seating support and perfectly centred seat, steering wheel and pedals position. Rear space was meanwhile better than most in its segment.
Uncluttered, ergonomic and stylish inside, the A4's cabin has a quality feel to its build, textures and materials, including open pore woods. User-friendly and well-equipped, it features a configurable Virtual Cockpit instrument cluster screen, head's up display and optional 8.3-inch infotaiment system with voice control, smart phone integration and rear seat tablet.
An extensive suite of semi-autonomous, safety and driver assistance systems can prevent collisions at 40km/h and reduce severity to 85km/h, and assume steering control on well-developed roads, up to 65km/h, and anticipate and prepare for corners.
TECHNICAL SPECIFICATIONS
Engine: 2-litre, in-line turbocharged 4-cylinders
Bore x stroke: 82.5 x 92.8mm
Compression ratio: 9.6:1
Valve-train: 16-valve, DOHC, direct injection
Gearbox: 7-speed automated dual clutch, four-wheel-drive, self-locking centre differential*
Gear ratios: 1st 3.188; 2nd 2.19; 3rd 1.517; 4th 1.057; 5th 0.738; 6th0.557; 7th 0.433
Reverse / final drive ratios: 2.75:1 / 4.27:1
Power distribution, F/R: 40 per cent:60 per cent
Power, BHP (PS) [kW]: 248.5 (252) [185.3] @5,000-6,000rpm
Specific power: 125BHP/litre
Power-to-weight: 164.5BHP/tonne
Torque, lb/ft (Nm): 273 (370) @1,600-4,500rpm
Specific torque: 186.5Nm/litre
Torque-to-weight: 245Nm/tonne
0-100km/h: 5.8-seconds
Top speed: 250km/h
Fuel consumption, urban / extra-urban / combined: 7.9 / 5.4 / 6.3-litres/100km**
CO2 emissions, combined: 144g/km**
Fuel capacity: 58-litres
Length: 4,726mm
Width: 1,842mm
Height: 1,417mm
Wheelbase: 2,820mm
Track, F/R: 1,572/1,555mm
Aerodynamic drag co-efficient: 0.27** (est.)
Overhangs, F/R: 880/1,026mm
Headroom, F/R: 1,039/953mm
Luggage volume, min/max: 480/965-litres
Unladen weight: 1,510kg
Steering: Electric-assisted rack & pinion
Suspension: Five-link, adaptive dampers
Brakes: Ventilated discs
Tyres: 245/35R19 (optional)
*Optional limited-slip rear-differential
**As tested, with 19-inch wheels
Related Articles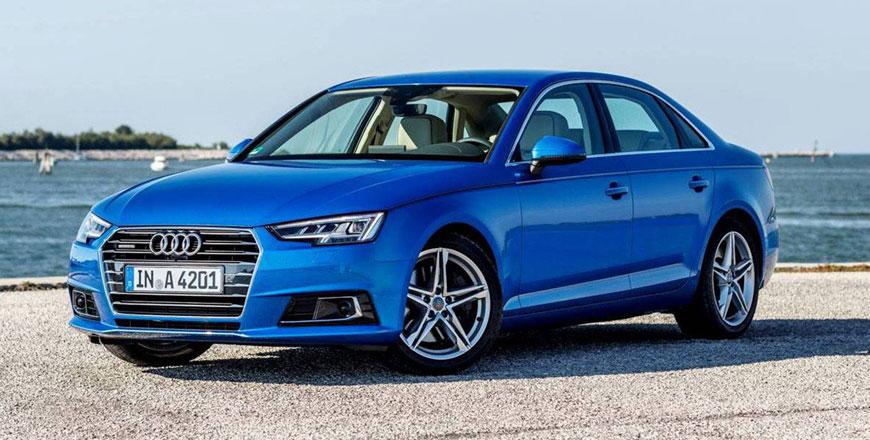 Nov 23,2015
Making its global debut weeks ago at the Frankfurt Motor Show and expected in Amman in early 2016, the new Audi A4 is the Ingolstadt-based f
Jan 26,2015
A breakthrough model for Audi's luxury car ambitions and successor to the four-ring brand's first 1988-93 Audi V8 effort, the A8 effectively pole-vaulted Audi into the heart of the full-size luxury flagship segment.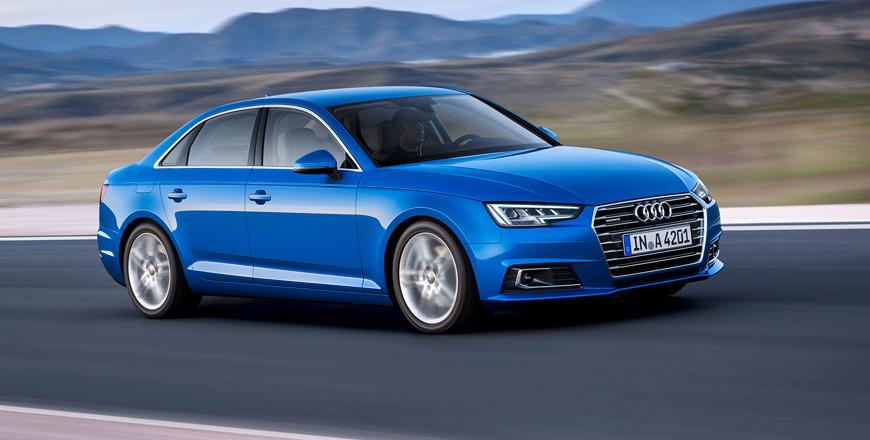 Sep 28,2015
Launched at the Frankfurt Motor Show earlier this month, Audi's latest gambit into the crucial compact executive saloon segment is lighter,
Newsletter
Get top stories and blog posts emailed to you each day.