You are here
Audi A8 55 TFSI: Cutting edge comfort and commitment
By Ghaith Madadha - Oct 23,2017 - Last updated at Oct 23,2017
Launched globally last week and brimming with cutting edge technology, the latest Audi A8 throws down the gauntlet to its almost exclusively German competitors. The fourth incarnation of Audi's full-size luxury flagship, the 2018 A8 is a stately and statuesque design that builds on its predecessors' futuristic appeal, four-wheel-drive dynamics and tastefully plush interiors.
The focus is firmly on high tech and mild hybrid systems and gadgetry, and its pièce de résistance is its first ever production car level three self-driving ability, on a scale of just five levels.
Stately and statuesque
Exuding a distinct and substantial presence, the new A8's focal design point is its vast, tall, wide, seemingly rapacious and now hexagonal single-frame grille. With extensive use of chrome, the grille is flanked by slim, furrowed and bisected LED and laser headlights, and chromed side intakes.
Chiselled and sculpted, the A8's surfacing features sharp ridges and great attention to detail. At the rear, full-length light and chrome strips link the rear lights. However, this makes it somewhat colour-sensitive, with dark blue, as tested, best complementing this particular design element.
From profile, the A8's flowing roofline is almost coupe-like, while its level waistline and proportions lend it a grounded and road-hugging stance alluding to its Quattro four-wheel-drive, and allow for good visibility. Slightly longer, taller and narrower but with more rakish roofline than its predecessor, the new A8, however, deliver improved cabin space, and particularly improved rear headroom.
Built on a light and stiff mixed compound construction incorporating aluminium, steel, carbon-fibre and magnesium, the new A8 is 24 per cent more rigid, which translates into improved ride, handling and safety benefits.
Versatile V6
Initially available in 55 TFSI guise with turbocharged 3-litre V6 engine, the entry-level A8 range soon expands to include more powerful twin-turbo 4-litre V8 and 6-litre W12 petrol versions, and a full hybrid model.
Developing 335BHP at a 5000-6400 plateau and muscular 368lb/ft throughout a broad 1370-4500rpm mid-range peak, the 55 TFSI is a brisk and confident performer, irrespective of upcoming variants. With quick-spooling turbocharger and four-wheel-drive traction, it is quick to launch from standstill, cracking the 0-100km/h benchmark in just 5.6-seconds, and capable of a 250km/h top speed.
Pulling hard throughout a versatile mid-range and urgent at top end, the 55 TFSI delivers smooth, refined and progressive performance. Designed as a mild hybrid from ground up, all A8s feature a 48V battery and electric system, which charges through regenerative braking.
Not part of the A8's driveline, its 48V system does however run various ancillary systems and allows the car to coast briefly between 55-160km/h with engine off, and for the stop/start system to operate from 22km/h. Consequently fuel consumption is reduced by 0.7l/100km to achieve comparatively frugal 7.8l/100km combined consumption.
Adaptive and adroit
Driving all four wheels through an 8-speed automatic gearbox, shifts are slick and responsive, with shorter lower gears for performance and taller top gears for refinement and efficiency.
Meanwhile, the A8's Quattro system delivers sure-footed handling and reassuring road-holding through winding routes, and can redistribute power between front and rear, as necessary for agility and traction.
An optional rear sport differential can also enhance agility and road-holding. Underneath, the A8 rides on sophisticated five-link suspension with standard adaptive air suspension, improved from its predecessor for better ride comfort and handling.
Planted, stable and settled at speed, the A8 is a natural continent-cruncher that is committed and reassuring through fast sweeping bends.
Meanwhile, adaptive air suspension fluently responds to textural changes and remains buttoned down over crests and dips. Supple and smooth is comfort mode, the A8's suspension becomes taut and delivers good cornering body control in dynamic mode. Through narrow and winding mountain routes on the outskirts of Valencia, Spain, the V6-powered standard wheelbase A8 was more agile than expected and seemed to shrink around the driver, and provided tidy and precise turn-in.
Autonomy and ambiance
The A8 can also be optioned with electromechanical suspension, which features an electric motor powered by its 48V system at each corner to individually control each wheel to respond to — and soon even predict — road texture changes. Also operated through the zFAS computer and series of sensors, cameras and radars are the A8's extensive driver-assistance systems, and Audi AI self driving function. Set to be rolled out in individual markets according to prevailing legal situations, the A8's self driving function is activated through the Traffic Jam Pilot system.
Different from previous systems, the A8 self-driving mode doesn't require constant monitoring and can stop, start, steer and brake up to 60km/h under the right circumstances, while remote auto parking is also available. Meanwhile, the A8's cabin features extensive use of fine leathers, suedes, metals, open pore wood, soft textures and tasteful hues.
Spacious, comfortably accommodating and with excellent seat adjustability, it features a clean, focused and horizontal layout. Seamlessly incorporating a configurable digital instrument panel, 10-1-inch infotainment screen and touch buttons and surfaces, the A8's interfaces even features analogue simulation with haptic feedback.
TECHNICAL SPECIFICATIONS
Engine: 3-litre, turbocharged, in-line V6-cylinders
Bore x stroke: 84.5 x 89mm
Compression ratio: 11.2:1
Valve-train: 32-valve, DOHC, direct injection
Gearbox: 8-speed automatic, four-wheel-drive
Ratios: 1st 4.714; 2nd 3.143; 3rd 2.106; 4th 1.667; 5th 1285; 6th 1.0; 7th 0.839; 8th 0.667
Reverse/final drive: 3.317/3.076
Drive-line: self-locking centre differential, optional limited-slip rear-differential
Power distribution, F/R: 40 per cent/60 per cent
Power, BHP (PS) [kW]: 335 (340) [250] @5000-6400rpm
Specific power: 111.8BHP/litre
Power-to-weight: 174.5BHP/tonne (unladen)
Torque, lb/ft (Nm): 368.8 (500) @1370-4500rpm
Specific torque: 166.9Nm/litre
Torque-to-weight: 260.4Nm/tonne (unladen)
0-100km/h: 5.6-seconds
Top speed: 250km/h (electronically governed)
Fuel consumption, urban/extra-urban/combined: 10.3-/6.4-/7.8-litres/100km
CO2 emissions, combined: 178g/km
Fuel capacity: 72-litres
Length: 5172mm
Width: 1945mm
Height: 1473mm
Wheelbase: 2998mm
Track, F/R: 1644/1633mm
Approach/departure angles: 14°/13.7°
Aerodynamic drag co-efficient: 0.27
Luggage volume: 505-litres
Unladen/kerb weight: 1920/1995kg
Steering: Electric-assisted rack & pinion
Turning Circle: 12.5-metres
Suspension: Five-link, adaptive air dampers
Brakes: Ventilated & perforated discs
Tyres: 265/40R20
Related Articles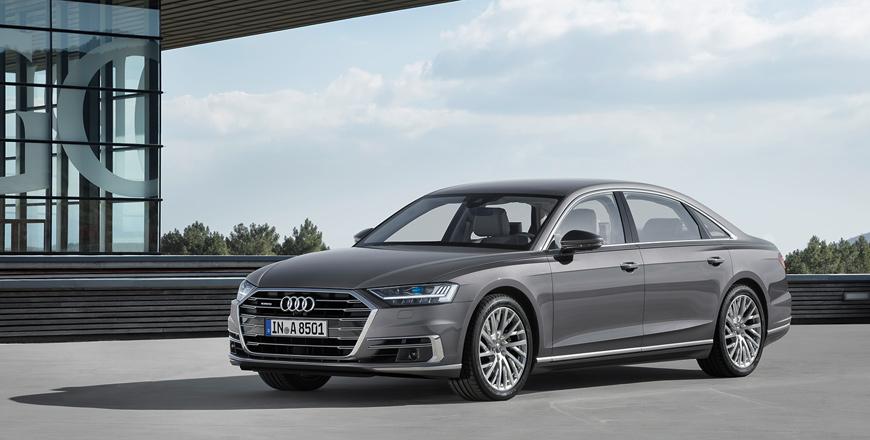 Mar 12,2018
Launched late last year, the latest iteration of Audi's luxury flagship A8 model promises cutting edge technology, comfort and safety.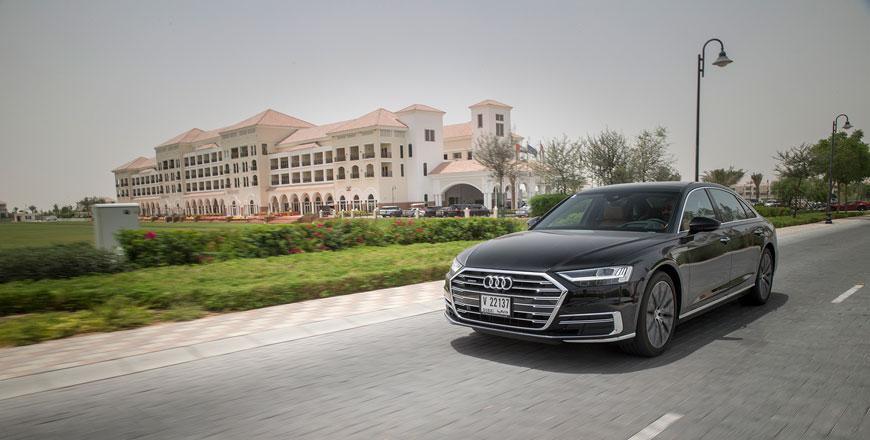 May 28,2018
Arriving to Middle East markets earlier this month and launched internationally late last year as a 2018 model, the fourth and latest genera
Jan 26,2015
A breakthrough model for Audi's luxury car ambitions and successor to the four-ring brand's first 1988-93 Audi V8 effort, the A8 effectively pole-vaulted Audi into the heart of the full-size luxury flagship segment.
Newsletter
Get top stories and blog posts emailed to you each day.