You are here
Contradictions and dualities
By Ica Wahbeh - May 19,2015 - Last updated at May 19,2015
AMMAN — Women — who suffer most in times of conflict — are predominant in Leila Kubba Kawash's paintings exhibited at Orfali Art Gallery.
Titled "Past in the Present", the works do not attempt to only connect the two, but also to give hope for a better future, for, as she says in the exhibition booklet, "the tumultuous current events in the Middle East have challenged my sense of a peaceful life for all. This awareness has led me to contemplate how generations repeat the same deeds of aggression and warfare in contrast with the possibility of great compassion and love," feelings she brightly depicts as well, proving that they can be attained if only mankind wanted.
Alone, or holding the body of a dear one killed because of "missing peace", "waiting for him" or having become "a shadow of herself" because of too much waiting, of pain and death, Kubba Kawash's woman is graceful, dignified, beautifully attired, with a forlorn, wistful look in eyes turned to the future while having to deal with the past and present.
From the titles of the works, it is easy to guess that this artist's women hope for peace, yearn to see a loved one or their children graduate, want normalcy in a life turned upside down by strife and turmoil and where to reach "liberty", this right of every human being, the price is often huge: loss of life.
The paintings, mostly in sober pastel colours, with occasional splashes of vibrant red, yellow, blue or orange, are loaded with obvious and less conspicuous symbols: doves and flowers (peace, hope and love); the balance of justice (eluding many people in the region); calligraphy (like in "Window to Bagdad", this once great city, part of the cradle of civilisation, now left to the whims of power-greedy entities); or explicit script spelling out names of countries (Egypt, Syria, Iraq) or phrases that could very well be the artist's creed or questions.
Apparently randomly juxtaposed in "Missing Peace", words form questions and answers.
"Has the Arab Spring failed?" seems to be answered by "I believe in miracles"; they are phrases amidst words which, in Delphi oracle style, have no punctuation marks, leaving it to the reader to read "dis/unity", "war and peace missing refugees".
It is a powerful painting, if evidently symbolic, framed, frieze-like, by a pistol, the weapon that likely killed the man held by the woman — mother, wife, sister, it does not really matter; all that matters is the sadness, the feeling of despondency seen in her eyes.
Yet not all images are sad. Hope springs like the doves in flight, the blooming flowers or the "graduation" scene where young men playing in an orchestra look happy and carefree, hopeful that theirs will be a normal, promising life.
In a rare presence alive, man appears in the "The Key and the Man", a background figure, a shadow barely there like a wisp of cloud, not the strong support he should be, on which the woman could rely and lean, but a memory.
Is the key symbolic of him, of her or of the couple, the only capable to create life, if not sustain it?
A woman dancing "debke", holding hands with fellow dancers in an interesting composition juxtaposing present and past — modern dance and ancient pyramid — and "Inanna in Flight", moving freely with hair flying loosely around her face and doves keeping company, perfectly capture happiness and freedom, making one forget the ugly world around.
Not for long, though, for the next couple of paintings bring back death and tragedy. In them, women hold the dead bodies of men, not wishing to let go, hoping to be able to give again life to a dear one.
"My paintings based on the Pieta are about the effect of war on daily life and in particular the families and women trying to live with the threat of the tragic and unexpected."
And again changing the mood, because Kubba Kawash's works are all about contradictions and dualities, a triptych of flowers — "Gardens of light" — and a beautiful abstract where letters seem to be "the source" of power and foundation of the city above – display normal peaceful images of exquisite aestheticism.
Born and educated in Baghdad, the artist graduated from the Manchester School of Art and Architecture and later studied at the Corcoran College of Art in Washington, DC.
She participated in several international exhibitions and her works can be found in private and public collections regionally and internationally. She lives and works in Beirut.
Her works are on display until May 27.
Related Articles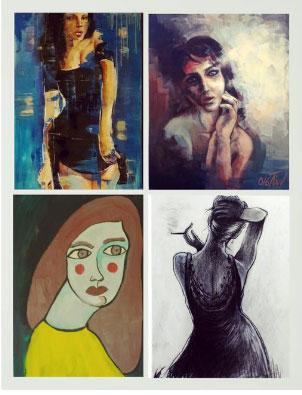 Jan 18,2018
AMMAN — The Zara Gallery on Wednesday inaugurated a group exhibition by Jordanian female artists, under the title "Delicate Lines of Strengt
Sep 05,2016
AMMAN — Inspired by the female identity, Syrian artist Rana Sunaij creates works of art from timeworn furniture to produce functional design
Nov 12,2017
AMMAN — An exhibition depicting the life and depths of women's faces is giving art-enthusiasts the freedom to interpret its colourful and en
Newsletter
Get top stories and blog posts emailed to you each day.