You are here
'Educators changed my life'
By Sally Bland - Dec 13,2015 - Last updated at Dec 13,2015
Relationships That Work
Adam Saenz and Jeremy Dew
New York and London: Routledge, 2016
Pp. 131
Combining personal and professional experience with psychological and educational research, psychologist Adam Saenz and counsellor Jeremy Dew argue that human relationships are the key factor in the teaching and learning process. Knowing that "life's greatest reward, life's greatest treasure, is to be connected to another human being," they view relationships as resources — more valuable than money, education or physical ability in creating people's success and well-being. (p. 15)
"Relational skills — and not just knowledge of specific academic content — are relevant to our students' capacity to make a meaningful and favourable difference in their future world." (p. 23)
Since educators are primary role models for relational skills, the authors invite teachers to look inside themselves, and reflect on their attitudes and practices for the sake of their students' and their own well-being.
The book opens with Saenz recounting how his emotionally and socioeconomically
impoverished background was leading him into criminality, and how he was turned around by caring teachers. Like in Her Majesty Queen Rania's address to the Teacher Skills Forum last week, teachers are at the centre of his narrative: "Education did not change my life; educators changed my life." (p. 17)
"Relationships That Work" elaborates four main questions that are essential to relationship-building, whether with students, colleagues or parents. While educators may understand the importance of relationships, the question is how — especially how to connect to students who are very different from them.
The first question is "Why am I here… doing what I do?" This requires reflection on the part of teachers as to whether their core values are in line with their work — or is teaching just a job for them? "The idea is that in linking our deepest values with what we do on a daily basis, we create access to a fuel source that is pure enough and vast enough to sustain us over the course of our life in our vocation." (p. 39)
In the authors' view, emotions are also fuel, and the second question is "How do I manage my emotions?" so that they can be energy fuelling healthy relationships, sometimes referred to as emotional intelligence. "Apart from academic content, teachers also teach social/emotional content by modelling for students appropriate ways to experience and express intense emotions, such as anger and anxiety." (p. 68)
This is not about denying conflict or anger, but about recognising emotions and what triggers them, and learning that one can choose to express them in ways that build rather than erode relationships.
The third question is "Can I Build a Bridge?" and concerns social relations, empathy and connecting to others. This chapter includes a checklist for assessing whether one is so task-oriented that it gets in the way of teamwork and building bridges. Like the chapter on emotions, the ability to build bridges is pivotal for classroom management and dealing with what the authors term "escalated" students.
"Can I build a fence?" is the fourth question about protecting one's time, space, energy and resources, protecting one's self from abuse and maintaining respect. In the authors' view, demarcating boundaries is just as important for maintaining healthy relationships as is bridge-building.
The above summary is too schematic to give a real sense of the impact of "Relationships That Work". In fact, it's hard to imagine anyone reading this book without doing some soul-searching, reflecting on their own professional and personal life. That, of course, is the authors' purpose. One can hardly remain detached when presented with real-life stories and dialogues revealing the authors' own experience and how educators grapple with problems they encounter with students, colleagues, parents and themselves.
There are examples of teachers who seem to instinctively know how to deal with "escalated" students, instances of those who burn out from work-related frustrations, and stories of others who learn to make changes so their work is more fulfilling. These examples are presented in such a vibrant and compelling way that one automatically thinks: Is this me? Could it be me?
This is not simply a manual proposing better teaching practices (though that should be an end result). It is more a challenge to consciously live a constructive and satisfying life, in which education is the primary focus, though the authors' approach is also applicable to other fields, such as family relations, child rearing, therapy, caregiving and wherever interpersonal relationships are involved, which is virtually everywhere.
Because Saenz and Dew speak logically and persuasively to the heart and the mind, it is hard to avoid their challenge.
Related Articles
Mar 26,2017
Kahlil Gibran: Beyond BordersJean Gibran & Kahlil G. GibranMassachusetts: Interlink Books, 2017Pp.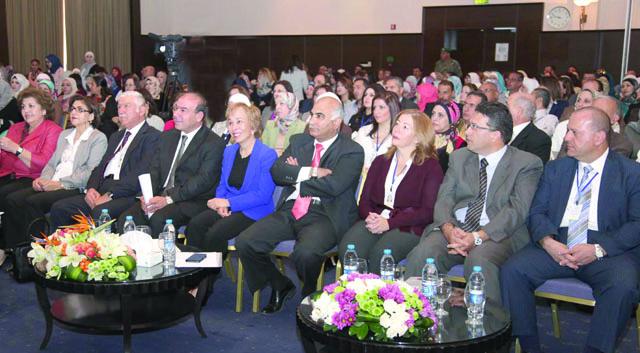 Oct 25,2014
The accelerating influx of information requires empowering teachers to assume new roles, mainly as facilitators of students' interactions with the world around them, education officials said Saturday.
Mar 01,2015
This is a novel that celebrates love, caring, sincerity and intellect, but the opposing forces — intolerance, violence, hypocrisy and ignorance — loom large in the story. Obviously, Saudi author Laila Aljohani is not living in a bubble, but is keenly aware that one is not always rewarded for giving love or sticking to one's principles. What happens to her beautifully crafted main characters when they fall in love, illustrates the point. 
Newsletter
Get top stories and blog posts emailed to you each day.