You are here
The exotic luxury alternative
By Ghaith Madadha - Sep 21,2015 - Last updated at Sep 21,2015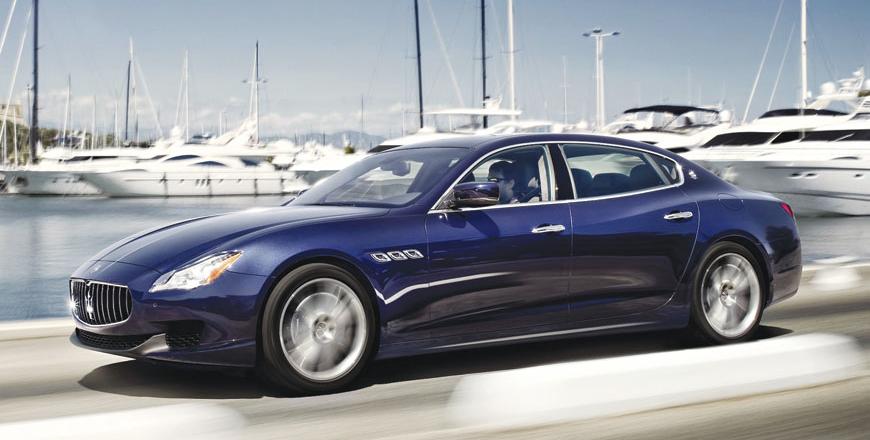 Photo courtesy of Maserati
The car that virtually invented the luxury super saloon back in 1963, the Maserati Quattroporte has always been a rare, exotic and sporty alternative in a segment renowned for its conservatism. Larger and more spacious and efficient than ever, the current Quattroporte aims to achieve a greater presence in the full-size luxury segment.
Swift, smooth and sporty even in entry-level guise, the enlarged Quattroporte is complemented by a smaller Ghibli executive saloon sister in a dual-track approach to expanding market presence. Meanwhile, the more luxurious new model trades its predecessor's thirsty but seductive high-revving V8 engines for more power and fuel efficient Ferrari-sourced twin-turbo V6 and V8 engines.
Swooping lines
Beautifully seductive, the previous Pininfarina-designed 2003-2012 Quattroporte set the design bar high. Longer, wider, taller and designed squarely for the full-size luxury segment rather than with one foot in the executive saloon segment like its predecessor, the current model however well incorporates its greater size with a similar silhouette and more aggressive fascia.
Reminiscent of the large and stately 1979-90 Quttroporte generation, the current incarnation of the Italian luxury car emphasises the segment's key attributes. Luxuriously refined, spacious and with high equipment levels, the new Quattroporte features an indulgently long twin-bulge bonnet and flowing wavy profile leading to wide rear haunches, with a gracefully rising and descending roofline.
Glamorously indulgent, the Quattroporte strikes an assertively athletic yet sophisticated figure, with its squinting headlights upturned edge trailing to a curvy front wing, and side ports, swooping lines and voluptuous Coke-bottle hips. Exotically moody, the Quattroporte's broad hungry vertical slat grille features the brand's evocative Neptune's trident badge.
Swift and smoth
Powered by a 3-litre twin-turbo direct injection V6 engine, the Quattroporte develops 325BHP at 5000rpm and 406lb/ft throughout a broad 1750-4500rpm range. Swift even in entry-level guise as driven, the Quattroporte completes the 0-100km/h dash in 5.6 seconds, and tops 263km/h, but returns 9.8l/100km fuel efficiency and 228g/km CO2 emissions on the combined cycle.
With quick-spooling turbos providing healthy low-end response, the Quattroporte suffers little off-the-line turbo lag, and delivers an abundant and early supply of flexible mid-range torque. Building up on a crest of mid-range muscle, the power builds with a smooth urgency and peaks early in the rev range for effortless accessibility and overtaking versatility.
Confidently quick acceleration on inclines, the Quattroporte's versatility is aided by an 8-speed automatic gearbox driving the rear wheels, with a broad variety of ratios to eke its best performance and efficiency. Quick and smooth shifting, the Quattroporte's gearbox features adjustable driving response modes, including manual sequential shift mode, through steering column-mounted paddle shifters.
Fluent footwork
Luxuriously comfortable on highways, the quick Quattroporte is a continent-shrinking luxury car. Riding on a sophisticated double wishbone suspension with adaptive two-mode electromagnetic Skyhook dampers, the Quattroporte is refined, forgiving and stable at speed yet composed through corners. Well-suited for lumps, bumps and imperfections, Skyhook adapts to road textures with seamless fluency, despite low profile tyres.
Driven on Jordanian roads, the Quattroporte is smooth, supple, refined, sure-footed and alert on highway, ever-ready to fluidly absorb imperfections or change of direction, and is settled on vertical rebound. Fluent and supple on straights, the Quattroporte's Skyhook suspension tightens up for through corners to provide tautly poised body control for its 1,860kg mass.
With its smaller V6 engine positioned back in its long bonnet, short front overhang and near perfect weight distribution, the Quattroporte is balanced through snaking switchbacks, and more agile and eager than its size and weight would suggest. Tidy into corners, the Quattroporte's long wheelbase provides good rear grip, and predictable and progressive at the limit characteristics.
Spacious and stylish
With light but accurate steering, comfortable, supportive and well-adjustable driving position and highly refined cabin ambiance, the Quattroporte provides a welcoming and relaxing ambiance, shielding one from noise, vibration and harshness. Indulgently luxurious and elegantly designed and finished, the Quattroporte's cabin, features high-quality woods and leathers and extensive optional personalisation possibilities.
Spacious, sumptuous and airy inside, the Quattroporte's cabin is accommodating in front and rear, with passengers benefiting from generous leg, hear and shoulder room. Featuring clear instrumentation, logical layouts and a user-friendly and intuitive touchscreen infotainment system, the Quattroporte also features tasteful colours, materials and design, in addition to plenty of refined textures.
Well-equipped, the Quattroporte comes with hard-working and effective six-piston Brembo front brakes, adaptive bi-xenon headlights, LED running lights, front and rear parking sensors, dual-zone climate control, hill hold function and many other standard features. Keyless entry, power sunroof, remote car start, rear side window blinds, rear view camera, satellite navigation and other features are optional equipment.
TECHNICAL SPECIFICATIONS
Engine: 3-litre, in-line, twin-turbocharged V6 cylinders
Bore x stroke: 86.5/84.5mm
Compression: 9.7:1
Valve-train: 24-valve, direct injection, variable valve timing
Gearbox: 8-speed, automatic, RWD, limited-slip differential
Power, BHP (PS) [kW]: 325.5 (330) [243] @5000rpm
Specific power: 109.3BHP/litre
Power-to-weight: 175BHP/tonne
Torque lb/ft (Nm): 406 (500) @1750-4500rpm
Specific torque: 167.8Nm/litre
Torque-to-weight: 268.8Nm/tonne
0-100km/h: 5.6 seconds
Top speed: 263km/h
Fuel consumption, highway/city/combined: 7.2-/14.2-/9.8 litres/100km
CO2 emissions, combined: 228g/km
Fuel capacity: 80 litres
Length: 5262mm
Width: 1948mm
Height: 1481mm
Wheelbase: 3171mm
Track, F/R: 1634/1647mm
Overhang, F/R: 968/1123mm
Kerb weight: 1860kg
Weight distribution F/R: 50:50
Luggage volume: 530 litres
Suspension, F/R: Double wishbone/multi-link,
Dampers: Adaptive electro-magnetic
Brakes, F/R: Ventilated discs, 360/350mm, 6-/4-piston
Stopping distance, 100-0km/h: 34 metres
Steering: Power-assisted rack & pinion
Turning circle: 11.8 metres
Tyres, F/R: 245/45R19/275/40R19
up
61 users have voted, including you.
Related Articles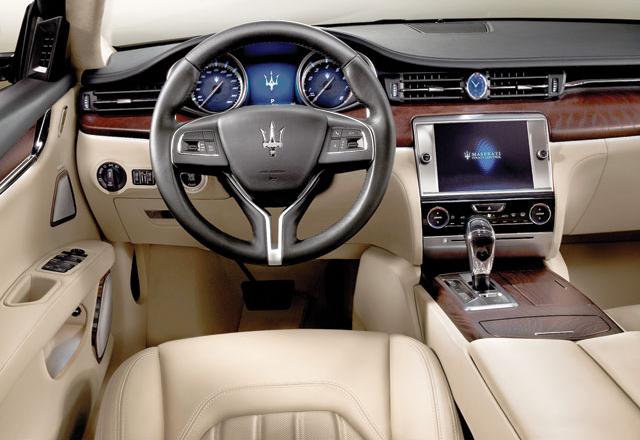 May 04,2015
A tough act to follow, the previous 2003-2012 generation Maserati Quattroporte was one of the standout designs of its milieu. 
Feb 24,2015
Resurrected in 2013 after a 15-year absence, the Ghibli is among the exotic Italian carmaker's most exotic nameplates and like many Maseratis, is named after a wind. Bearing the hot dust-bearing North African wind's Libyan moniker, the Ghibli nameplate first arrived as a curvaceously sultry 1967-73 sports car and then muscularly angular 1992-98 four-seat coupe.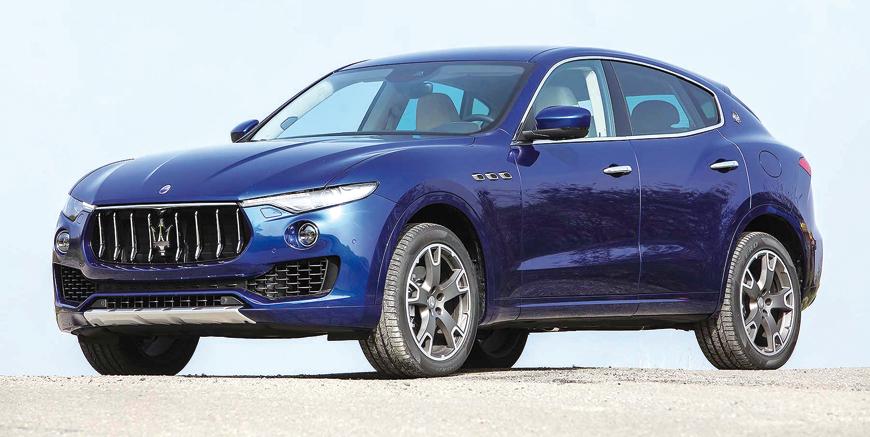 May 16,2016
Renowned as a maker of fine luxury and sports cars and with a rich racing tradition, Maserati now enter the SUV market with the long-awaited
Newsletter
Get top stories and blog posts emailed to you each day.