You are here
Ford Fusion Hybrid: Well-blended economical powerhouse
By Ghaith Madadha - Oct 21,2019 - Last updated at Oct 21,2019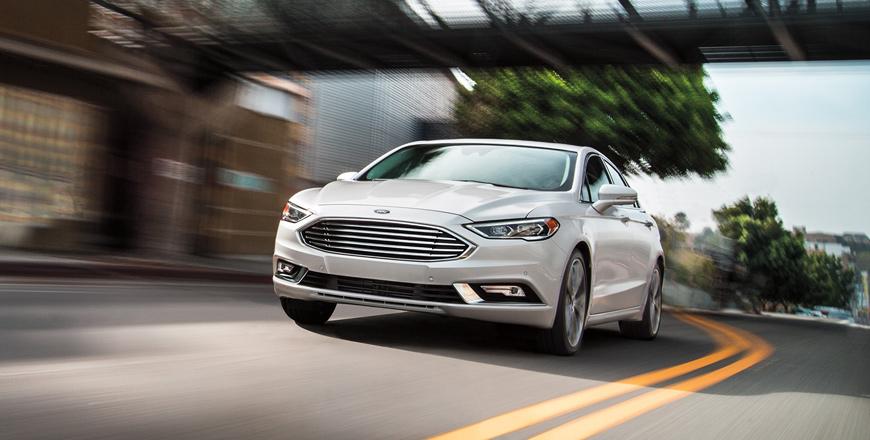 Launched right from the beginning of the current model's late 2012 introduction and soon joined by a plug-in version, the Ford Fusion Hybrid is a more economic take on the Blue Oval's mid-size saloon offering. A spacious, stylish and relatively big and economical saloon, the Fusion Hybrid has since become a particularly popular car in Jordan, where it is largely an independent import. More telling perhaps is that the Fusion Hybrid seems to have become a somewhat unofficial car of choice for ride-hailing app drivers.
Virtually indistinguishable from regular petrol-powered Fusion variants apart from its discrete badges, bar the powerful, but now outgoing Fusion sport, the Fusion Hybrid is also available with similar trim level choices. Sharing the same sleek low roofline, high flanks, small glasshouse, huge grille, slim headlights and high-set almost diamond shaped rear light, the Fusion Hybrid cuts an aggressive presence. An undoubtedly attractive car, the Fusion Hybrid ubiquity over time and in numbers, however, make it stand out less than it should among more anonymous segment rivals.
Responsive and confident
Behind its wide Aston Martin-esque and dramatically squinting headlights the Fusion Hybrid is powered by a naturally-aspirated 2-litre four-cylinder engine running on an efficient Atkinson cycle and developing 141BHP at 6,000rpm and 129lb/ft at 4,000rpm, combined with an electric motor producing 47BHP. With its combined system output of 188BHP and 177lb/ft driving the front wheels, the Fusion Hybrid is responsive at low speeds, with near instant electric output lending it a hint of torque steer, as it accelerates through 0-100km/h in an estimated 9-seconds or less.
Setting off in electric mode with the petrol chinning in moments later, the Fusion Hybrid an however drive in electric only mode for brief moments at speeds up to 137km/h. Recharging its battery through regenerative braking and the combustion engine, the isn't as muscular as or responsive to demanding throttle inputs, but is confident on inclines, before the batteries are depleted after a few minutes of spirited heavy throttle hill climb driving, and it then has to rely on the petrol engine to carry its 1,663kg.
Cornering competence
With its electric motor helping reduce low speed urban traffic consumption, the Fusion Hybrid is, however, also an accomplished highway cruiser with a stable, composed and reassuring ride quality. Meanwhile its continually variable transmission (CVT) is smooth and efficient, but isn't quite as engaging or rewarding as torque converter automatic gearbox, as fitted to non-hybrid Fusions. Like any CVT, the Fusion's CVT tries to maintain engine revs at an efficient band, which can mean that revs, throttle inputs and acceleration don't always feel direct or connected.
If not the fastest in its segment, the Fusion Hybrid is, however, one of the sporties and most rewarding cars to drive in a largely uninspiring and decidedly un-sporty and mid-size front-drive hybrid saloon segment. Accurate, responsive and quick, but lacking the excellent feel, feedback and intuitiveness of Ford's European hatchbacks and certain other models, the Fusion Hybrid's steering however complements its decent in-class handling ability. Turning in tidier and cornering with more agility, it feels more competent and focused through winding roads than many competitors.
Smooth and settled
About as close to a sports saloon as hybrids in segment get, the Fusion Hybrid retains much of the standard petrol version's dynamic abilities, despite the additional 100kg or so of weight, mostly concentrated under the boot. Settled yet supple over imperfections and comfortable riding, the Fusion Hybrid, and feels reassuring and buttoned down through fast bends and delivers good body control through corners. Its brakes lack initial feel, but transition well between regenerative and mechanical functions, and are also reassuring in their stopping ability.
Refined, smooth and quiet and only slightly disturbed by high rev engine noise, the Fusion Hybrid is otherwise a calm, pleasant and environment with a good driving position and front space. Well-equipped with standard and optional safety, driver assistance, convenience and infotainment features, its stylishly sleek and low roofline however makes headroom a premium for tall rear passengers, and slightly obstructs rear and over-shoulder visibility. Featuring plenty of thoughtful storage spaces and fold down rear seats, the Fusion Hybrid's heavy battery pack however reduces boot volume to 340-litres.
TECHNICAL SPECIFICATIONS
Engine: petrol/electric hybrid, 2-litre, transverse, 4-cylinders & permanent magnetic AC synchronous motor
Compression ratio: 12.3
Valve-train: 16-valve, DOHC
Battery/capacity: Lithium-ion/1.4kWh
Gearbox: Continuously variable transmission (CVT) auto, front-wheel-drive
Final drive: 2.57:1
Power–petrol engine, BHP (PS) [kW]: 141 (143) [105] @6000rpm
Power–electric motor, BHP (PS) [kW]: 47 (47.5) [35]
Power–combined, BHP (PS) [kW]: 188 (190) [140]
Torque–petrol engine, lb/ft (Nm): 129 (175) @4000rpm
Torque–combined, lb/ft (Nm): 177 (240)
0-100km/h: approximately under 9-seconds (estimate)
Electric mode top speed: 137km
Fuel consumption, city/highway/combined: 5.73-/5.47-/
5.6-litres/100km
Fuel capacity: 53-litres
Length: 4,871mm
Width: 1,851mm
Height: 1,473mm
Wheelbase: 2,849mm
Track, F/R: 1,582/1,574mm
Headroom, F/R: 995/960mm
Legroom, F/R: 1,125/972mm
Shoulder room, F/R: 1,468/1,445mm
Hip room, F/R: 1,391/1,381mm
Seating capacity: 5
Luggage volume: 340-litres
Kerb weight: 1,663kg
Steering: Electric-assisted rack & pinion
Suspension: MacPherson struts/multi-link
Brakes, F/R: Ventilated discs/discs, regenerative
Newsletter
Get top stories and blog posts emailed to you each day.