You are here
A frightening loss of habitat
By Sally Bland - Sep 29,2019 - Last updated at Sep 29,2019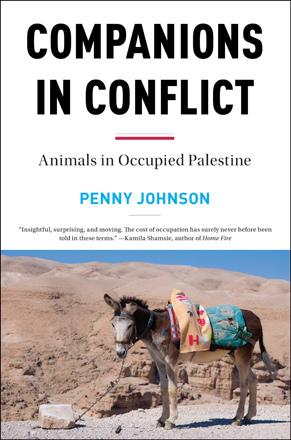 Companions in Conflict: Animals in Occupied Palestine
Penny Johnson
Brooklyn-London: Melville House, 2019
Pp. 238
"Companions in Conflict" approaches Palestine from a totally new angle: animal welfare and its relationship to human welfare. The author, Penny Johnson, is a veteran activist for justice for the Palestinians. She has lived in Ramallah since the early 1980s, working as a human rights advocate, researcher and founding member of the Institute of Women's Studies at Birzeit University, and writer/editor of numerous publications on Palestine.
In the introduction, she names "two particular measures… that led me to think about the lives of animals other than humans in this fragile land: times of walking and times of war". (p. x)
With an expansive empathy for both human and animal suffering and dilemmas, a commitment to truth, and elegant prose, Johnson conveys her careful observations and research into Palestine's fauna.
Johnson has walked the land in many parts of Palestine, particularly the West Bank, and spoken with Palestinian farmers, bedouin and environmentalists. Her most frequent companion on these forays was her husband, Raja Shehadeh, the well-known Palestinian human rights lawyer, who has also written about walking in books such as "Palestine Walks" and "A Rift in Time".
Starting with the camel, the book devotes chapters to domesticated animals such as goats, sheep, donkeys and cows, considered useful by humans. Also explored is the status of wild animals from the beautiful gazelle and ibex, to others which are feared or considered threats, like hyenas, wild boars, wolves and jackals. For each species, Johnson traces its history in Palestine, as well as attitudes, fables and literature attached to it, often spiced with absurd or amusing anecdotes.
There is the camel arrested by Israeli police in Jerusalem for not having a permit, and Beit Sahur's dairy cows being declared dangerous to the state of Israel by the military governor, both clear parallels to human experience under the occupation. Then, there is Israeli Prime Minister Netanyahu bragging that "a Jewish cow… a computerised cow" produces more milk than any other cow, in an odd confusion of terms. (p. 122)
It soon becomes clear that Johnson is not more concerned about animals than people. To her, it is not a zero-sum game but a question of interdependence: "I am all too aware of what we humans, Palestinians and those of us who live in Palestine, have in common with other mammals: a disturbing, even frightening loss of habitat. I explore how the lives of animals help us understand what is happening to all of us..."
(pp. xii-xiii)
Just as Israeli land confiscation and settlements deprive Palestinians of their homes and livelihood, the patterns of animal life are disrupted. In addition to climate change, drought and rapid urbanisation that are affecting much of the world, it is the occupation's land-and-water-grabbing measures that are most often found to be the reason for the diminishing number of animals, whether wild or domesticated. Israel's electronic fence along Gaza deters animal as well as human circulation, and blocks access to water sources, as does the Wall itself. One species reported to be on the rise is the wild boar, which B'tselem attributes to "raw sewage runoff from the massive settlement complex of Ariel polluting water sources near Salfit and killing other wildlife while drawing wild pigs to its delicious detritus". (p. 136)
There are many other violations. Obviously, when curfews or military attacks threaten human lives and food supplies, the same applies to animals. Johnson also points out harmful Palestinian practices, such as unregulated hunting. Crucially, she shows how the occupation's unhuman treatment of humans makes it difficult for Palestinian animal welfare advocates to plead their case. Here irony abounds: "It is no wonder that many Palestinians, even those concerned with the environment and animal welfare, are cynical about Israeli environmentalists advocating passage for animals, but not people, through the Separation Wall." (p. 43)
Another example came in 1916, when an international animal welfare organisation rescued a Bengal tiger named Laziz from "the worst zoo in the world" in Khan Younis, at a time when, as now, neither people nor products could easily get out of Gaza even for much needed medical treatment. "Gazans have a right to wonder [and, as is their wont, to joke] why Laziz's life is valued over theirs." (p. 199)
Johnson's wholistic outlook on how humans could potentially interact with, benefit from and enjoy nature, including animals, courses throughout "Companions in Conflict". She tells a story that has not been told before and which needs to be told, and which is especially timely as environmental issues gain more and more international urgency. Her tone is one of genuine inquiry. She has no ax to grind except for concern about the future of Palestine, its people and its nature, which she sees as interlinked. Though she is never polemical, the facts she presents reconfigure a discussion that Israel has tried to monopolise by presenting its policies as environment-friendly, when in fact its anti-Palestinian policies have wreaked havoc on the land it covets. Johnson also deserves much thanks for bringing to light the serious work of Palestinian environmentalists and the original environmentalists, the farmers and bedouin of Palestine.
Newsletter
Get top stories and blog posts emailed to you each day.