You are here
Lamborghini Huracan LP580-2: A special breed of Italian fighting bull
By Ghaith Madadha - Sep 26,2016 - Last updated at Sep 26,2016
Photo courtesy of Lamborghini
A special and particularly desirable breed of Lamborghini, the Huracan LP580-2 may not be the most powerful, expensive, extravagant or outlandishly extrovert of the storied Sant'Agata supercar maker's current line-up. In fact this is the most basic — if you can call it that — and least powerful car they offer, pitched not so much for the supercar poseurs or headline those obsessed with headline specifications.
The Huracan LP580-2, as its nomenclature denotes to those in the know, is, however, the Lamborghini for the auto enthusiast for whom the means are more important than the ends. Powered by a slightly detuned V10 engine producing 572BHP — or 580PS metric horsepower — the LP580-2 is Lamborghini's only rear-wheel drive offering and a more scintillatingly delicate, involving and visceral sister to the regular four-wheel drive Huracan LP610-4.
Rear-drive rewards
A follow-up to the current Huracan model line Gallardo predecessor's well-received Gallardo LP550-2 Balboni special edition, the LP580-2 is virtually indistinguishable visually from the regular Huracan LP610-4 save for new base 19-inch alloy wheels, revised rear bumper and tailpipes, and wider front intakes for improved front down-force. Otherwise, the rear drive Huracan shares the regular model's same sharp lines, pouncing silhouette and moody front and rear fascia.
Jutting, seamlessly rakish and menacingly assertive, the mid-engine Huracan sits wide, squat and ready to attack, with both variants sharing same rigid and lightweight carbon fibre and aluminium hybrid frame and construction, and double wishbone suspension. Underneath however, the LP580-2 lacks the LP610-4's four-wheel drive components and is as a result 33kg lighter, weighing in at just 1,398kg, with a 2 per cent alteration of weight distribution for a slightly greater rear-bias at 40:60, front to rear.
More eager, delicate and sharper than the four-wheel-drive version, if not without the same outright traction, grip and capability, the rear-drive LP580-2 receives revised set-ups for its steering and suspension including springs, dampers and anti-roll-bars. The LP580-2 also gets re-calibrated stability, traction and power management systems, driving modes alter damper rates for a more emphasised rear-drive feel and balance in "sport" setting.
Snarling, searing and stratospheric delivery
Powered by the same naturally aspirated direct injection 5.2-litre V10 engine positioned behind the cabin and ahead of the rear axle, the Huracan LP580-2's output is slightly detuned by 30BHP and 15lb/ft to reflect its lower weight and lesser traction next to the four-wheel drive version. Viciously powerful and startlingly swift nonetheless, the LP580-2 develops 5,72BHP at 8,000rpm — 250rpm lower than the 610-4 — and 398lb/ft at 6,500rpm.
With its enormous 305/30R20 rear tyres digging hard into tarmac and generating phenomenal grip in the absence of four-wheel drive, the LP580-2 rockets through the 0-100km/h sprint in just 3.4 seconds and to 200km/h in 10.1 seconds — both down just 0.2-seconds from the LP610-4. Capable of achieving 320km/h, the LP580-2 is just 5km/h slower, but in return posts improved fuel efficiency and emissions ratings, consuming just 11.9l/100km, or 0.6l/100km less than the LP610-4.
A charismatically high-revving high compression engine with razor sharp responses and a sonorous high-strung soundtrack that builds from mechanical low rev staccato to resonant metallic snarl and hardens to a wailing howl and intensely searing delivery as it tears into the upper reaches of its stratospheric rev range. Eagerly progressive in character and delivery, it, however, pulls hard from low down and digs deep in mid-range to deliver muscular versatility.
Agile adjustability
The Huracan's intense delivery is linear and long-legged for more consistency and reach within each gear, while pinpoint accurate throttle control allows one to dials in exact and immediate power increments for fluent handling and management of grip and slip through corners. Meanwhile, its dual-clutch automated gearbox delivers seamlessly swift shifts, with incrementally more aggressive and succinct selectable shift modes. Alternatively, one can self-shift through steering column-mounted paddle-shifters for more driver involvement.
Engineered to be a more involving and fun drive with more cornering adjustability rather than outright grip and composure, the LP580-2 is in its element through quick winding hillclimbs. With recalibrated steering and slightly softer front damping the LP580-2's is dartier and more eager into corners. Turning in tidy and crisp, its revised weighting lends it a more balanced feel, and with its superb throttle control and chassis, allows one to adjust a cornering line on throttle or with a quick jab of the brakes.
Though designed with on-track sideways slides in mind for owners wishing to push it to the limit, the LP580-2 nevertheless and reassuringly develops huge levels of lateral grip to prevent sudden unwanted oversteer. Lighter and with more driving purity, the LP580-2 is an agile corner carving instrument. Tucking and weaving through switchbacks with a connected composure and intuitive involvement, it delivers a sense of progressive clarity to lateral weight shifts and dynamic limits.
Modern old school charm
Delivering more steering and chassis feel and feedback, the LP580-2's dynamic character can be slightly altered through its selectable driving modes, with its default "Strada" mode altering its optional adjustable adaptive magnetic dampers for a slightly more predictable tendency for understeer at the limit. Meanwhile, "sport" mode shifts the balance for more oversteer if pushed for that intent, while "Corsa" mode hones and sharpens the car for maximum dynamic ability, focus, driver engagement and autonomy.
The LP580-2 is unflinchingly stable on the highway, with committed directional stability and buttoned down rebound control, while ride quality is certainly firm and focused, but not uncomfortably so, and in "Strada" mode absorbs textural imperfections with more fluency and suppleness than expected. Manoeuvrable and easy to drive, the Huracan offers excellent front visibility, but being a low and wide mid-engine supercar, rear visibility is greatly aided by a rear-view camera and scissor doors, which one can raise for better visibility when parallel parking.
Well-crafted and well-equipped with improved cabin ergonomics than its predecessor, the Huracan's supportive seats and thick steering wheel provide a focused driving position, but lower seat mounts would add a few welcome centimetres of headspace. Unique among mid-engine competitors, the LP580-2's savagely willing naturally aspirated engine and rear-wheel drive make it a thoroughly modern car with old school supercar charm, but an optional manual gearbox would make the supercar of choice, if driver involvement and visceral thrills were the criteria.
TECHNICAL SPECIFICATIONS
Engine: 5.2-litre, mid-mounted, dry sump, V10 cylinders
Bore x stroke: 84.5 x 92.8mm
Compression ratio: 12.7:1
Valve-train: 40-valve, DOHC, direct injection
Gearbox: 7-speed automated dual clutch
Driveline: rear-wheel-drive, multi-plate clutch, limited-slip differential
Power, BHP (PS) [kW]: 572 (580) [426] @8,000rpm
Specific power: 109.7BHP/litre
Power-to-weight: 411BHP/tonne
Torque, lb/ft (Nm): 398 (540) @6,500rpm
Specific torque: 103.7Nm/litre
Torque-to-weight: 388.7Nm/tonne
0-100km/h: 3.4 seconds
0-200km/h: 10.1 seconds
Top speed: 320km/h
Fuel consumption, urban/extra-urban/combined: 17.2-/8.9-/11.9 litres/100km
CO2 emissions, combined: 278g/km
Fuel capacity: 80 litres
Length: 4,459mm
Width: 1,924mm
Height: 1,165mm
Wheelbase: 2,620mm
Track, F/R: 1,668/1,620mm
Dry weight: 1,389kg
Weight distribution, F/R: 40 per cent/60 per cent
Steering: Electric-assisted rack & pinion
Turning circle: 11.5 metres
Suspension: Double wishbones, adaptive magnetic dampers
Brakes, F/R: Ventilated, perforated discs 365 x 34mm/356 x 32mm
Brake callipers, F/R: 8-/4-piston callipers
Tyres: 245/30R20/305/30R20
Related Articles
Mar 26,2018
With no shortage of desirable, fast and viscerally styled cars to its name since it was founded in 1963, the recently launched Lamborghini H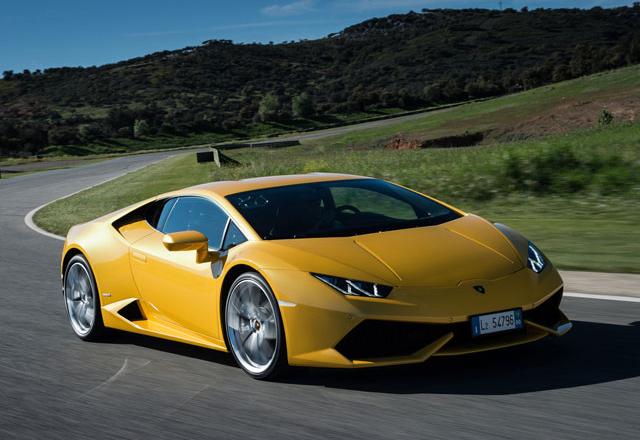 Mar 30,2015
With theatrically aggressive designs, viciously powerful engines and albeit unintended boxing associations, Lamborghini is automotive machismo distilled.
Sep 11,2017
Audi's fastest production road car and winner of the 2017 Middle East Car of the Year accolade, the Audi R8 V10 is a sensational performer a
Newsletter
Get top stories and blog posts emailed to you each day.