You are here
'Life is a right'
By Sally Bland - Oct 09,2016 - Last updated at Oct 09,2016
The Weight of Paradise
Iman Humaydan
Translated by Michelle Hartman
Massachusetts: Interlink Books, 2016
Pp. 244
In "The Weight of Paradise", Iman Humaydan tells the story of three women, a great love, an expired love, a fleeting but fateful love and a potential one. Noura and Maya are both writers concerned with human rights, particularly for women, but they never meet. Sabah, who connects them, is uneducated but experiences first-hand what they write about. All three long for truth, justice and passionate love. All are haunted by the past.
Noura, a journalist, comes to Beirut in the early 70s, to escape repression in her native Syria. The story she most wants to tell is why her sister, Henaa, committed suicide after becoming pregnant by an army officer. Inspired by her Armenian grandmother's mantra: "Life is a right", Noura publishes the story but pays with her life in 1978. (p. 125)
Prior to her murder, she meets and marries Kemal while on assignment in Turkey, and gives birth to their child in war-torn Beirut, before they manage to reunite and immigrate to France as planned. Kemal and the child hold the keys to the story's future.
Maya returns to Beirut from Paris in 1994, and is working on a film about reconstruction of the downtown. Instead of sorting out her fraught relation with her son after the death of his father, from whom she was estranged, she throws herself into absorbing the stories of others, the present and former residents of the buildings being demolished to make room for the new. "She didn't understand why the company had asked her to document the memory of these places, without noticing that it was in fact completely erasing this memory". (p. 44)
Still, she finds her own purpose when she discovers a small suitcase filled with mouldy letters, photos, diaries and miscellaneous papers in a half-destroyed house. With long experience in restoring antique books, she carefully unfolds and reads them all, leading her to Sabah's house in an old quarter overlooking the downtown. Seeing these artefacts unleashes Sabah's memories of Noura and her own life.
Born in Mardin, Sabah almost suffers a fate similar to Henaa's after she takes off on a grand motorcycle tour with her lover. Instead, her family marries her off to an impotent cousin in Beirut. She makes the best of it, but when the war breaks out, her husband is kidnapped, putting her at the mercy of gang-like militias who take over the area. Noura is one of her few friends. The day she is killed she entrusts all her papers to Sabah, who adds some of her own, leaves them at her employer's house, and tries to forget the pain of the past as she is again left alone to witness the horrors of the war raging below her.
The three women's stories illustrate their shared conviction that life is a right, but also the many threats to this right, violations which Humaydan has protested in her previous novels — killings, forced disappearances, sectarianism, repression, false morality and intolerance. In this novel, she adds another dimension by broadening her scope beyond Lebanon to encompass Syria and Turkey.
By virtue of her characters' origins and migrations, she shows the demographic and cultural commonalities of these three diverse societies, but also how diversity is threatened by the same factors that threaten life, plus the ethnic intolerance generated by narrow nationalism. Armenians, Kurds and the Arabs of Antakia all figure into the narrative as do the Jews of Beirut who left after the departure of the PLO, which had afforded them protection.
In his love letters to Noura found in the suitcase, Kemal writes of the perpetuation of violence that has destroyed much of the region's potential. Referring to the massacres against Armenians, he notes, "When a regime starts to make such bloody choices, stopping is difficult — indeed impossible". (p. 59)
The structure of this novel is intriguing: the characters' stories mostly unfold in retrospect via memories, diary entries and letters, interspersed with chapters in now-time, creating a fragmentation that conveys the real ruptures in their lives. This focuses attention on their similarities rather than their differences. At some points, the individuals blur into a generic human daunted by man's inhumanity to man. Humaydan skilfully draws together many stories and themes to reach a conclusion which is actually a new beginning.
The act of writing is also a theme in the novel. Noura writes in her diary that "good writing begins with despair. It's the compass of writing — that's when we know that the blue hour, that moment between twilight and darkness, dawn and morning light, is near and that words are waiting to come out into the light". (p. 131)
While writing the truth can set one apart from family, land one in prison, tear up one's life or end it, it can also pave the way to healing. Humaydan writes to reveal truths that are often forgotten or deliberately hidden. She writes to reveal another version of people's history that has been distorted by authoritarian states and false nationalism. She writes to reveal the possibilities for love and compassion if people insist on looking for them.
Related Articles
Oct 12,2014
Returning to her native country, Lebanon, after fifteen years spent in Australia and Kenya, gives Mariam final proof of her state of displacement and transience — always being on the verge of leaving (symbolised by thirteen suitcases kept on the ready in her Mombasa home).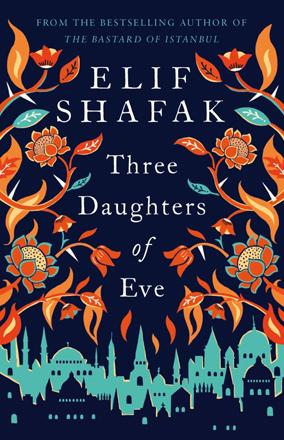 Jun 11,2018
Three Daughters of EveElif ShafakUK: Viking/Penguin Random House, 2016Pp.
Sep 04,2016
The Hidden Light of ObjectsMai Al-NakibDoha: Bloomsbury Qatar Foundation Publishing, 2014Pp.
Newsletter
Get top stories and blog posts emailed to you each day.