You are here
Mercedes-AMG S63 4Matic+: Big Benz is far more than brisk brute
By Ghaith Madadha - Apr 16,2018 - Last updated at Apr 16,2018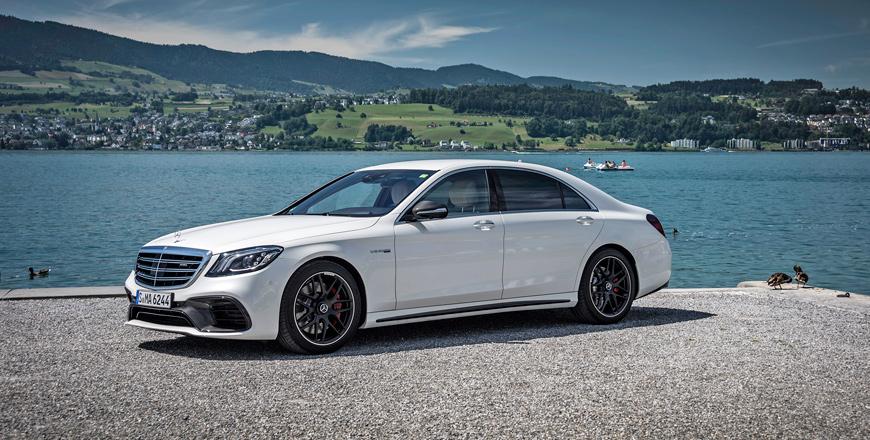 Photo courtesy of Mercedes
A harmonious combination of the two things that the Stuttgart tri-star brand does especially well, the Mercedes-AMG S63 4Matic+ is a brutally powerful full-size luxury saloon. Commands recognition and attention on the road, yet discretely blending in with traffic rather than being a flashy overstatement, the S63 is in fact one of two high performance S-Class flagships available from Mercedes' skunkworks AMG division.
Taking a leaf out of the classic Audi playbook, the 4-litre V8-powered four-wheel-drive S63 maybe slightly less powerful than the 6-litre V12 Mercedes-AMG S65, yet, is the faster of the two uber-Mercs.
Outgunning opposition
Outgunning what little current competition it has outside the Mercedes brand, the S63 is a quicker, lighter, more sophisticated, efficient and agile alternative, with an additional pair of gears and driven wheels than the pricier S65.
Faster and more spacious than Jaguar's recently updated yet ageing XJR flagship, the S63's only true alternative would have been the recently discontinued Audi S8 Plus. With virtually a clear field and unique position for the moment, the S63 faces sits almost unrivalled until an Autobahn-storming high speed incarnation of the all-new Audi A8 arrives.
Noticeably more assertive with its deeper bigger air intakes, more chiseled and lower side skirts, quad rear pipes, big alloys and small spoiler, the S63 is neither demure nor overstated. It is rather the sort of car that draws discreet attention in the little visiual differences, but, whether in Amman, Dubai or elsewhere, would for the untrained eye blend in with commonly seen garden-variety S-Classes.
Subtle yet distinctly sporty, the AMG styling treatment brings out an edgier and more urgent side to the S-Class' familiarly formal fascia, flowing lines and tapered rear quarter.
Abundant ability
Nestled behind its broad grille and under its long bonnet, the S63 is powered by a highly and suitably tuned version of AMG's twin-turbocharged direct injection 4-litre V8 engine. Developing an immense 603BHP at 5500-6000rpm and a colossal 664lb/ft torque plateau at 2750-4500rpm, the S63's headline figures are staggering for a full-size two-tonne luxury flagship, with 0-100km/h dispatched in a supercar-like 3.5-seconds and top speed optionally de-restricted from 250km/h to 300km/h.
Quicker than the 180kg heavier S65 by 0.8-seconds in acceleration, the S63's combined cycle 8.9l/100km fuel efficiency is comparatively restrained, when driven with a light touch.
Smooth and silent in daily driving, the S63's mighty V8 becomes a thunderously bellowing bass-heavy brute when driven with intent, and with its active exhaust engaged. A quick-spooling twin turbo beast with little by way of low-end lag, the S63 makes a refined welling transition to an indefatigably abundant mid-range and un urgently volcanic top-end. Engineered to behave with the stately manners and refinement e3xpected of a luxury flagship and vicious accelerative potential of a supercar, the S63's throttle pedal and tuning, play a big part in smoothly integrating both briefs.
Settled, supple
and stable
With long pedal travel, firm resistance and little chance of one dialing in too much throttle to unintentionally upset traction or ride serenity, the S63 requires one to push deep and progressively to access it awesome potential. Moreover, the S63's subtle four-wheel-drive seemingly works with a light, barely detectible, but effective touch.
Driving with a distinctly rear-drive character and agility, the S63 allocates power towards the front and where necessary to maintain tenacious rear traction, stability and road-holding under hard driving.
Meanwhile, engine, throttle and gearbox settings can be tailored for different levels of comfort and responsiveness.
Smooth and supple yet settled at speed and on vertical rebound, the S63 well absorbs bumps and lumps. Comfortably absorbent but without being vague, wallowing or floaty, the S63 rides with a planted and heavy-on-the-ground feeling of stability that is a traditional trademark of Mercedes' larger and more luxurious offerings.
Built for long distance and sustained high speed motorways, the S63 may not exactly be nimble in the absolute term, but is a more agile and eager handling car, with a tidier turn into corners, than its size and stature would suggest.
Control and comfort
Quick and controlled into a corner, the S63 features accurate yet light and well-damped steering. Leaning slightly through corners when riding in its adaptive air suspension's "comfort" mode, the S63 body control tightens ups considerably in "sport" mode, with tauter damping keeping it flatter through corners and more buttoned-down on straights, but without altering its core character or making it unsettled or lumpy. With balanced weighting and chassis working well with its four-wheel-drive and long wheelbase, the S63's lateral grip limit is high and is telegraphed to the driver. Meanwhile, huge optional carbon ceramic brakes provide ample and tireless stopping ability.
Highly refined and insulated inside, the S63's cabin is a fine-leather and Alcantara clad cocoon of extensive luxury and high tech convenience, infotainment and safety systems. Huge armchairs-like seats contort for comfort and support, and offer various massage settings, while vast rear space and adjustable seats provide first class levels of comfort.
Finished in fine materials including quilted leather dash elements, the S63's cabin design is elegant and ergonomic, while a chunky flat-bottom steering wheel and gearbox paddle shifters add a sporting flavour. Its 470-litre boot however loses some utility with the inclusion of a spare for regional specification.
TECHNICAL SPECIFICATIONS
Engine: 4-litre, twin-turbo, in-line V8-cylinders
Bore x stroke: 83 x 92mm
Compression ratio: 8.6:1
Valve-train: 32-valve, DOHC, direct injection
Gearbox: 9-speed automatic, four-wheel-drive
Ratios: 1st 5.35; 2nd 3.24; 3rd 2.25; 4th 1.64; 5th 1.21; 6th 1.0; 7th 0.86; 8th 0.72; 9th 0.6
Reverse / final drive: 4.8 / 2.82
Power, BHP (PS) [kW]: 603 (612) [450] @5500-6000rpm
Specific power: 151.5BHP/litre
Power-to-weight: 303.5BHP/tonne (unladen)
Torque, lb/ft (Nm): 664 (900) @2750-4500rpm
Specific torque: 226Nm/litre
Torque-to-weight: 451.1Nm/tonne (unladen)
Rev limit: 7000rpm
0-100km/h: 3.5-seconds
Top speed, electronically governed / de-restricted: 250km/h / 300km/h
Fuel consumption, combined: 8.9-litres/100km
CO2 emissions, combined: 203g/km
Fuel capacity: 93-litres
Length: 5296mm
Width: 1905mm
Height: 1499mm
Wheelbase: 3165mm
Track: 1643mm
Ground clearance: 130mm
Headroom, F/R: 1008/950mm
Legroom, F/R: 1052/1095mm
Shoulder room, F/R: 1516/1501mm
Luggage volume (without spare tyre): 470-litres
Unladen / kerb weight: 1995/2070kg
Steering: Electric-assisted rack & pinion
Steering ratio: 15.5:1
Suspension: Multi-link, adaptive air dampers
Brakes, F/R: Ventilated, perforated ceramic discs, 420 x 40mm / 360 x 32mm (optional)
Brake calipers, F/R: 6-/1-piston
Tyres, F/R: 255/40ZR20 / 285/35ZR20 (optional)
Related Articles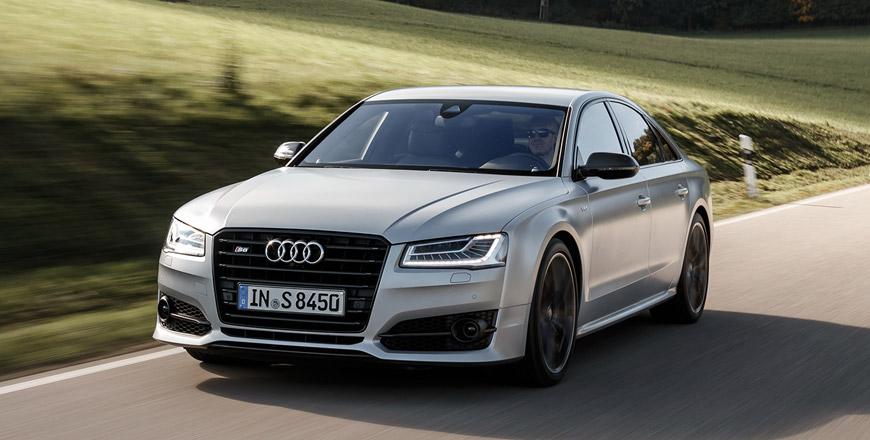 Jul 03,2017
Almost unrivalled in its very niche segment and winner of the 2017 Middle East Car of the Year awards' Large Premium Performance Sedan categ
Oct 20,2014
A brazenly brutish and beguilingly brisk Benz, the E63 AMG S-Model 4Matic re-draws the boundaries of the super saloon. Powered by the more powerful 577BHP version of Mercedes-Benz' AMG performance arm's 5-litre twin-turbo V8 engine and channelled through four-wheel-drive traction, the E63 AMG S-Model 4Matic is a luxury executive saloon, whose astonishing 3.6-second 0-100km/h acceleration belies its size, weight, and delves into bona fide contemporary supercar territory. 
Apr 23,2018
By virtue of occupying the same position in Audi's range as a high performance coupe variant based on the same basic platform as the brand's
Newsletter
Get top stories and blog posts emailed to you each day.