You are here
Mercedes-Benz C200 Cabriolet: Confident, comfortable and convenient cabrio
By Ghaith Madadha - Dec 11,2017 - Last updated at Dec 11,2017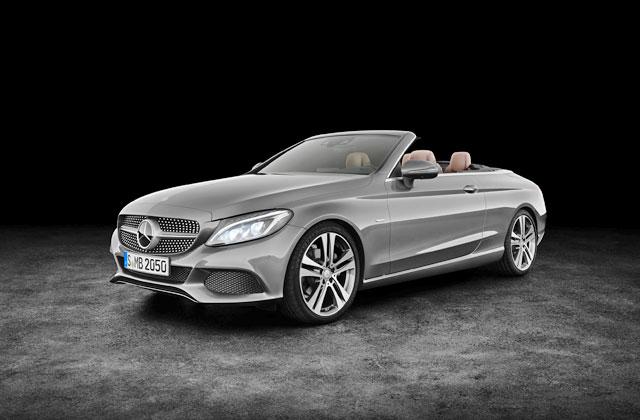 Photos courtesy of Mercedes
With five convertible models including a pair of two seat folding roof roadsters and three soft-top four seat saloon-based models, Mercedes has become a go-to brand for practical yet luxurious open top motoring.
The smallest four-seat convertible the Stuttgart maker has to offer, the C-Class Cabriolet is a well-equipped, safe and highly useable drop top. Echoing its larger E- and S-Class Cabriolet sister models, the C-Class Cabriolet is not an outright sports car, but more of a comfortable yet capable grand tourer.
Head turner
Stylish, elegant and with the tri-star badge atop its bonnet, the C-Class Cabriolet proved something of a head-turner during test drive, garnering numerous positive glances and comments. Designed with smooth curves and edges, flowing lines and subtly muscular surfacing, the C-Cabriolet's fascia features a broad and hungry grille with a concave studded mesh background and a large metallic emblem. Big deep side intakes lend the C-Class Cabriolet more assertive presence, while its sweptback headlights feature an LED strip that trails off towards a side character line extanding across the flanks.
Bearing resemblance to Mercedes' other four-seat drop tops, the C-Class Cabriolet has an elegantly smooth appeal to its design, with its electrically folding fabric roof stowing away behind the rear seats and into the boot for an elegantly flush waistline. Despite a smaller boot lid, the Cabriolet's full luggage volume is comparable to the C-Class Coupe. However, with the roof folded down, luggage volume is reduced from 360-litres to a still very useful 285-litres, while rear headroom is marginally improved, albeit along with reduced shoulder room.
Smooth and responsive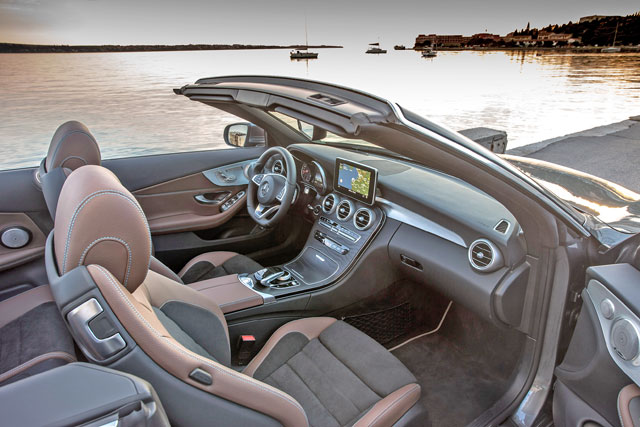 Owing to its roof folding mechanism and the extensive bracing and reinforcement to compensate for the expected loss of structural rigidity in the absence of a fixed roof, the C-Class Cabriolet is some 140kg heavier than the corresponding version. Though heavier than the Coupe version, the turbocharged 2-litre, four-cylinder C200 Cabriolet, as driven, is only marginally slower in acceleration and maximum speed than the C200 Coupe, but its performance provides brisk capabilities that are well-suited to its more relaxed but still mildly sporting character and dynamic abilities.
The second to entry-level model in the range, the C200 Cabriolet develops 181BHP at 5500rpm and 221lb/ft torque 1200-4000rpm. Driving the rear wheels, the C200 Cabriolet accelerates through 0-100km/h in 7.8-seconds, attains 233km/h, and returns efficient 6.2l/100km combined cycle fuel efficiency.
Slick and smooth, Mercedes' new 9-speed automatic is much improved on the previous 7-speed. With better responsiveness and a broader range of ratio, and well-mated to a versatile engine, improves responsiveness from standstill, enhances mid-range flexibility and provides for low rev high speed refinement and efficiency.
Confident and comfortable
With faint four-cylinder chatter at idle, the E200 is smooth and quick-spooling off the line. Settling into a generous and wide maximum torque mid-range, the C200 Cabriolet makes confident on the move progress. Best exploited in its mid-range in town and on highway, the C200 Cabriolet also revs smoothly and eagerly when driving through snaking switchbacks or winding hill climbs.
Confident, consistent and as quick as it needs to be to be enjoyable the C200 Cabriolet's 2-litre engine — in a more aggressive state of tune — also powers 208BHP and 242BHP C250 and C300 Cabriolet versions.
Stable, planted and refined inside, even with a fabric roof, the C200 Cabriolet is consummate grand tourer, happily, confidently and comfortably crunching long distances. Like Mercedes' other convertible offerings, the C200 Cabriolet is particularly well suited for topless winter and night-time driving, with a subtle windshield top deflector directing wind away from the cabin.
Meanwhile, a combination of a powerful heater, toasty heated seats and seat back neck height Airscarf hot air vents provide a warmer environment for the driver and passengers even with the top open and exposed to the elements.
wSupportive and sporty
Comfortable and confident on the highway, the C200 Cabriolet rides somewhat on the firm side, especially through corners, where taut body control keeps it flat and poised. However, it is also adequately comfortable in the city, with its variable dampers taking the edge off sharper lumps, bumps and road imperfections, despite its staggered low profile 225/40R19 front and 245/35R19 rear tyres.
Adequately accommodating four adults inside, the practical C200 Cabriolet's front seats are however spacious and supportive, with an ergonomic, highly adjustable driving position that lends itself to confident driving.
Meanwhile cabin ambiance is welcoming and elegantly sporty, with plenty of convenience and quality materials.
Though not an outright sports coupe like stiffer and more focused Mercedes-AMG variants of its Coupe sister model, the C200 Cabriolet is adept through corners, with quick and precise steering, and tidy and crisp turn-in.
An intuitive drive, it is eager entering corners, and flat and balanced throughout. It is, however, set-up to be slightly on the tail happy side, and in Sport+ driving mode allows one some leeway before its electronic stability controls intervene. More rewarding when driven briskly yet smoothly and with well-timed and progressive throttle input, one does not have to rely on the electronics to keep the rear tyres dug into the ground.
TECHNICAL SPECIFICATIONS
Engine: 2-litre, turbocharged, in-line 4-cylinders
Bore x stroke: 83 x 92mm
Compression ratio: 9.8:1
Valve-train: 16-valve, DOHC, variable timing, direct injection
Gearbox: 9-speed automatic, rear-wheel-drive
Ratios: 1st 5.35; 2nd 3.24; 3rd 2.25; 4th 1.64; 5th 1.21; 6th 1.0; 7th 0.86; 8th 0.72; 9th 0.6
Reverse / final drive ratios: 4.8 / 3.07
Power, BHP (PS) [kW]: 181 (184) [135] @5500rpm
Specific power: 90.9BHP/litre
Power-to-weight: 108.7BHP/tonne
Torque, lb/ft (Nm): 221 (300) @1200-4000rpm
Specific torque: 150.6Nm/litre
Torque-to-weight: 180.1Nm/tonne
0-100km/h: 7.8-seconds
Top speed: 233km/h
Fuel consumption, combined: 6.2-6.6-litres/100km
CO2 emissions, combined: 140-150g/km
Fuel capacity: 66-litres
Length: 4686mm
Width: 1810mm
Height: 1409mm
Wheelbase: 2840mm
Track, F/R: 1563 / 1546
Overhangs, F/R: 790 / 1056mm
Aerodynamic drag co-efficiency: 0.28
Headroom, F/R: 1021 / 914mm
Shoulder width, F/R: 1392 / 1214mm
Luggage volume min/max (without spare tyre): 285-360-litres
Kerb weight: 1665kg
Steering: Electric-assisted rack & pinion
Turning Circle: 11.22-meters
Suspension: Multi-link, variable damping
Brakes: Ventilated discs / discs
Tyres, F/R: 255/40R19 / 245/35R19 (optional)
Related Articles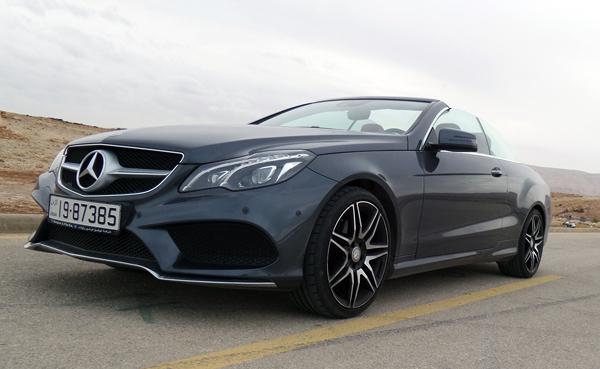 Jan 25,2016
Elegant and indulgent but practical and efficient, the Mercedes-Benz E250 Cabriolet is as much at home on the school run as on the open road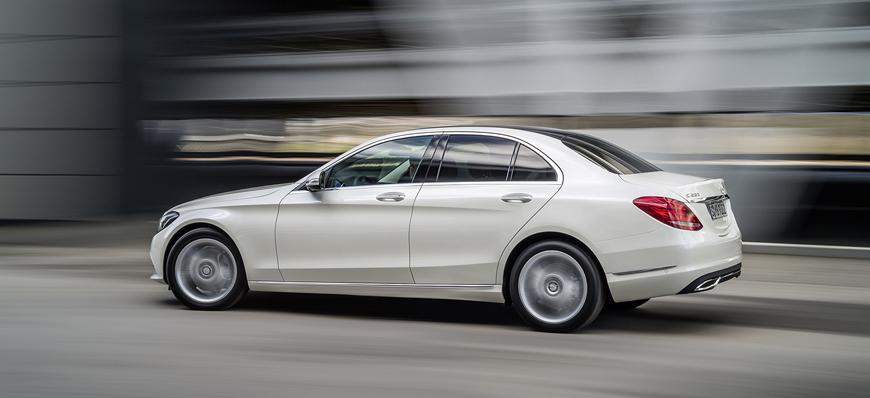 Jul 11,2016
Launched in 2014 as Mercedes' fifth compact executive saloon since the 190 first appeared in the 1980s, the C-Class has become a more luxuri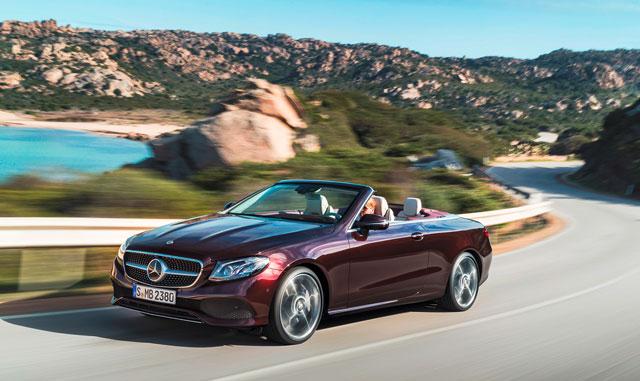 May 14,2018
Sitting right in the middle of a broad range of two-seat roadster and four-seat boulevardier convertibles offered across the Mercedes-Benz r
Newsletter
Get top stories and blog posts emailed to you each day.